In an already overwhelming week, I got this card in the mail: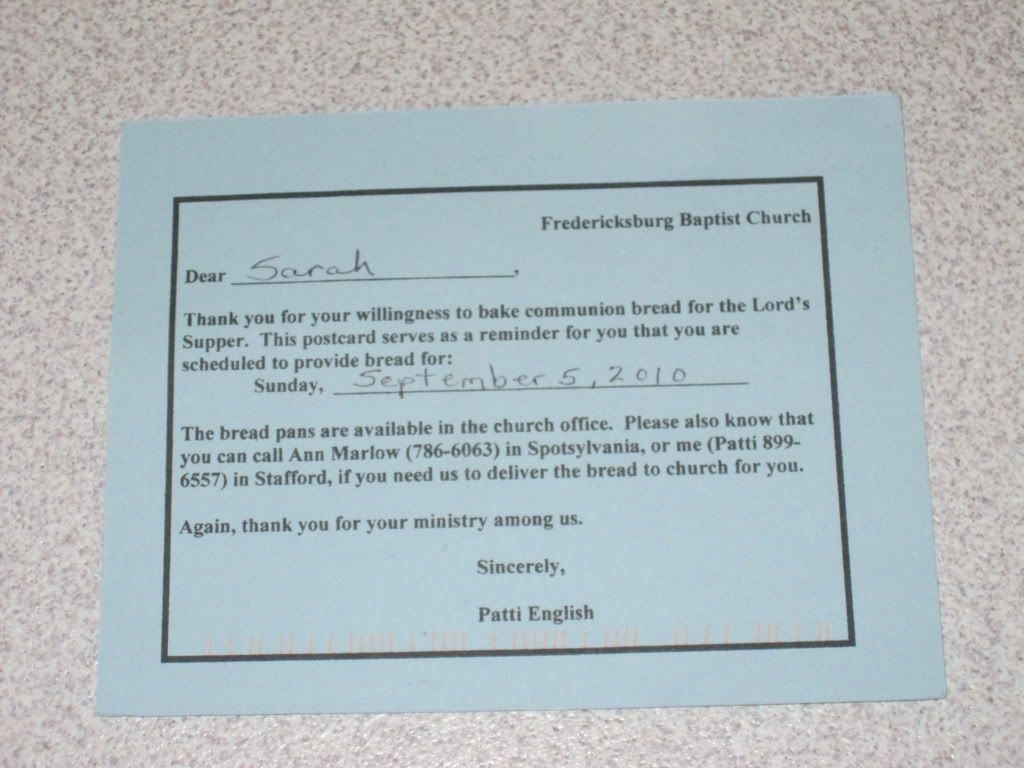 It reminds me that I have the task of making bread for worship, which is hilarious since I don't know how to make bread. The only bread I've ever made is out of a box (like Tastefully Simple's Beer bread, which seems a tad inappropriate for a communion table at a Baptist Church).
The sentimental reason to the oddity of my getting the task is that my Mother in Law, Susie, baked bread, including the bread for this service. After Susie died, I think her family and friends wanted to give me a connection to her, and maybe wanted to hope I had her talents, which I'm pretty sure they have learned by now that I emphatically do NOT! I tried to tell BJ that I was not as kind, giving, loving, selfless or thoughtful as his mother. I think he has learned that lesson in spades; who knows about the church family??!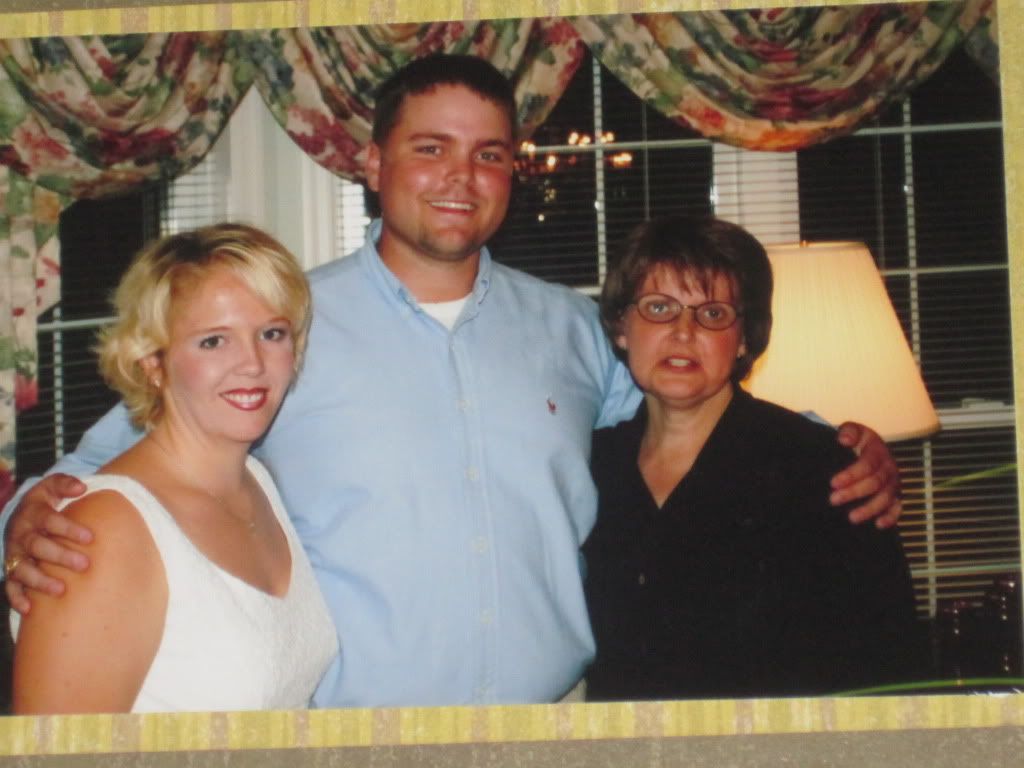 From the stories I've heard, Susie baked bread as fellowship. On Fridays, she baked bread with Mrs. Elizabeth Gravatt who was a generation (or two) older than she. After Ms Elizabeth died, Susie and Mrs. Gravatt's daughter, Marian, continued the tradition. And usually when I get this card, Marian has already scheduled a time for me to come to her home so I can "help"...also a bit of a joke, since she sees that it rises, bakes it, and takes it to church.
But this time, I called Patti to see if she and Anna Cate would like to do it, so bread was actually made here in my kitchen, by Susie's granddaughter, and namesake (Susanna Catherine is AC's actual name).
I googled a recipe.
Susie made sour dough bread, which is the best bread EVER, by the way. This was not sour dough, as one needs starter for that.
Patti knew what she was doing. I like to say that Patti has a Ph.D in hospitality, which is sort of true. She has a Ph.D and she wrote her dissertation on the spiritual discipline of hospitality. She also tried to explain what communion is for us believers, and I would add in my heart that there lies a lot of mystery in it still for me as I do value its ritual.
But she let Anna Cate think she was in charge.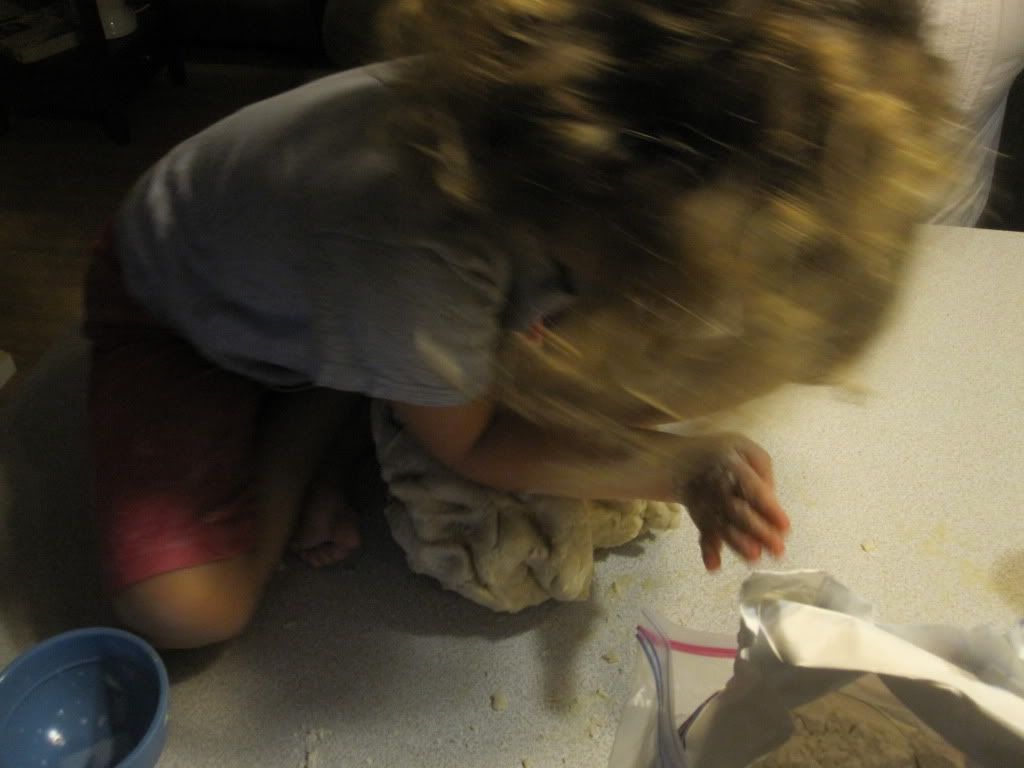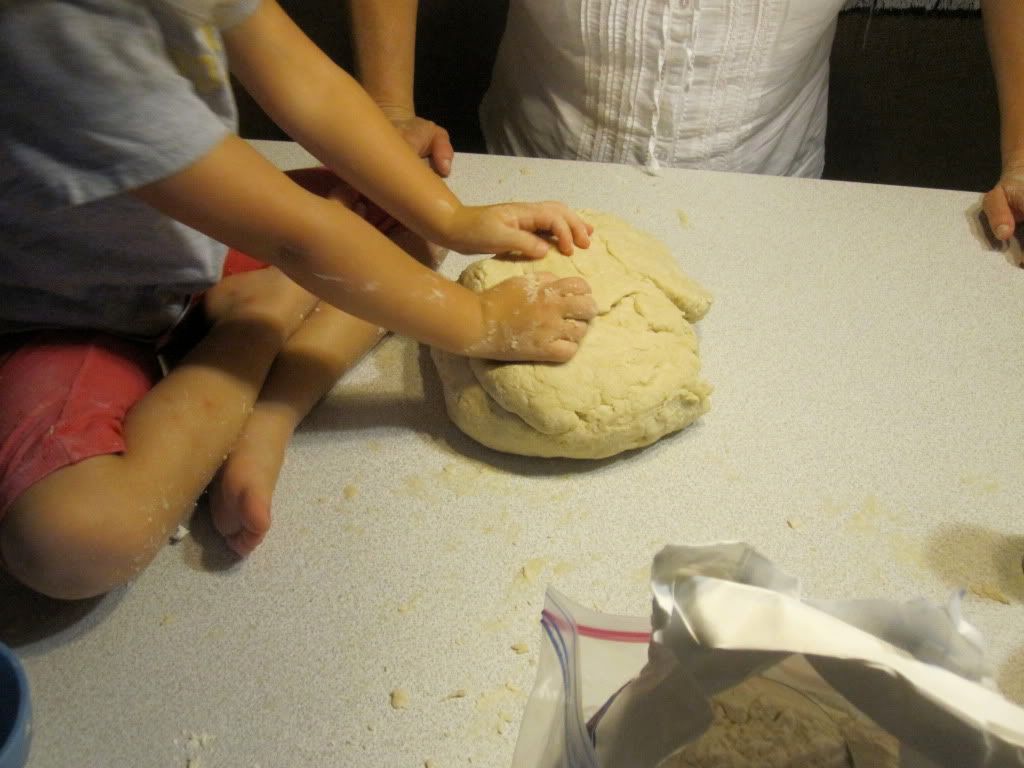 We shared a simple supper together as the bread rose and baked. Since it was Thursday, Anna Cate really was annoyed that we were eating at our house since Patti and she usually go out. It was special to have Patti at our table and share in the routine of our home, and we let BJ sit on the couch since it was college football's opening night.
And the finished product was beautiful, but I didn't take a picture. Anna Cate was sad she didn't get to try it during the service, and BJ said he thinks Susie would have slipped her a piece. Not I. We did let her try it after church, which I hope wasn't too sacrilegious.
I struggle with much of Christian theology, but I cling on to what I can claim as truth in my heart. Today it was gratitude and awe that during worship, I broke bread made my daughter with my family of faith, many of whose hands had broken bread in this same ritual made by her grandmother, Susie.
And it was not lost on me that the last time Susie made bread was with Marian for communion at BJ at my impromptu first wedding since her time here was short.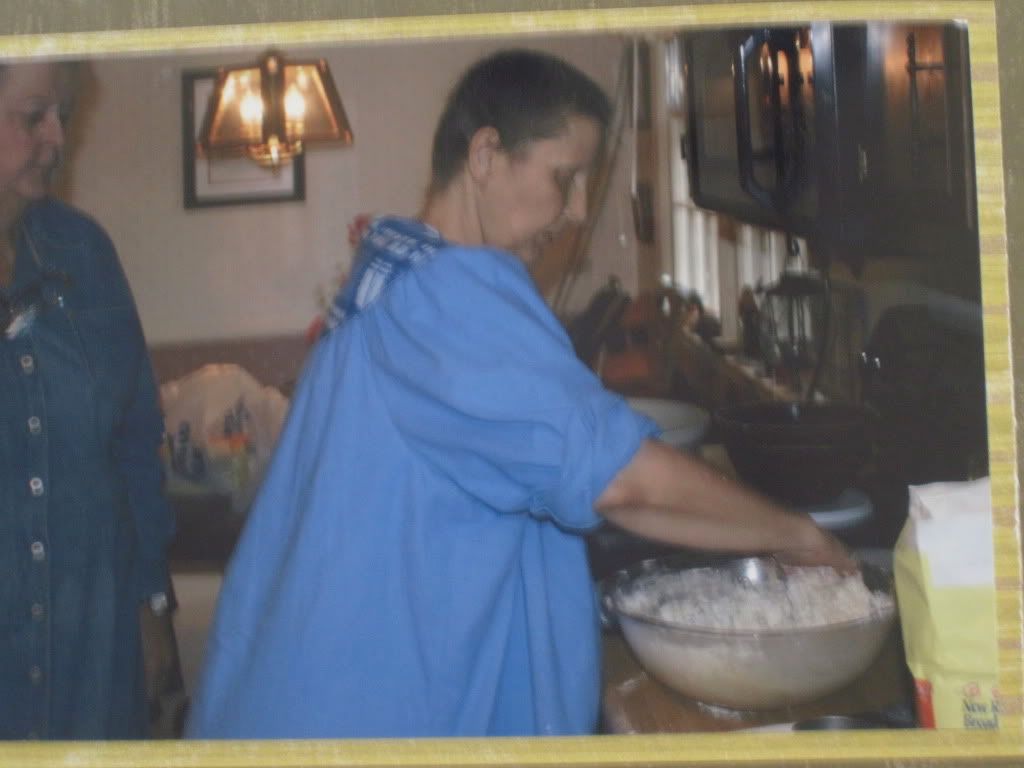 It was the last time she made the bread for her final earthly communion in her last time in the sanctuary of her beloved church with her dear church family. (you can see the bread on the table in the center)
Perhaps the "communion" lies in
both
the making and breaking of the bread, deepening the layers of beauty in this mystery.