A couple weekends ago, I met a beautiful woman who said to me, "Do you like to get dressed up and shop?" (duh...yes). "You should come to a cocktail shopping party this Friday night," she added. And what I should have said, "oh well let me explain about my likes. They are not always my priority when I'm deciding how to spend my time." And, alas, I had not the energy to make that effort for that little party. Because "liking" some thing doesn't necessarily mean I like them enough to sacrifice my family time (or money) to do them. And, I'm ok with that.
And, speaking of like, I really like my kids, both the ones I have at home and the ones I teach at school. I know it is all about perspective, and I would rather be spending all my time with my own daughters, but I'm quite thankful to be liking the 8th graders I teach this year. But I had to take some time away from them because Anna Cate was home last week for a few days with the croup. I stayed home with her a couple days, BJ stayed home a couple more. We played candy land and relaxed a bit among other stay-at-home things, like not getting out of our pajamas until after the nap.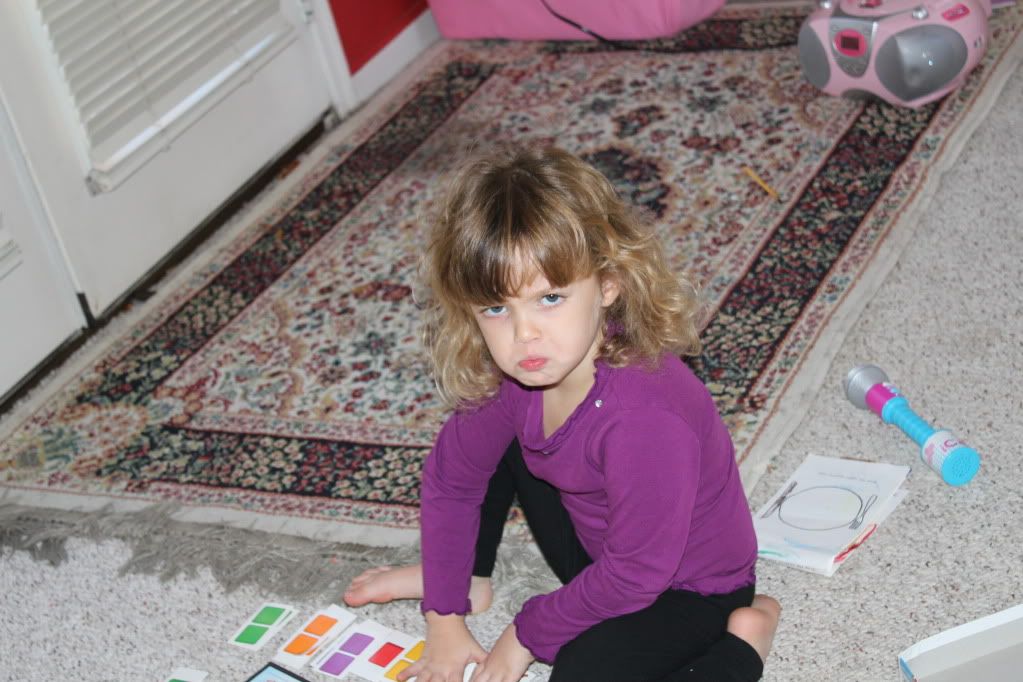 While I don't like thinking about my girl being under the weather, I do steal a lot of cuddle time and savor the time at home with my girls. Molly loves to stand, and my new love for her legs are these leg warmers. The dreaded style from the 80's look fabulous on these chunky legs: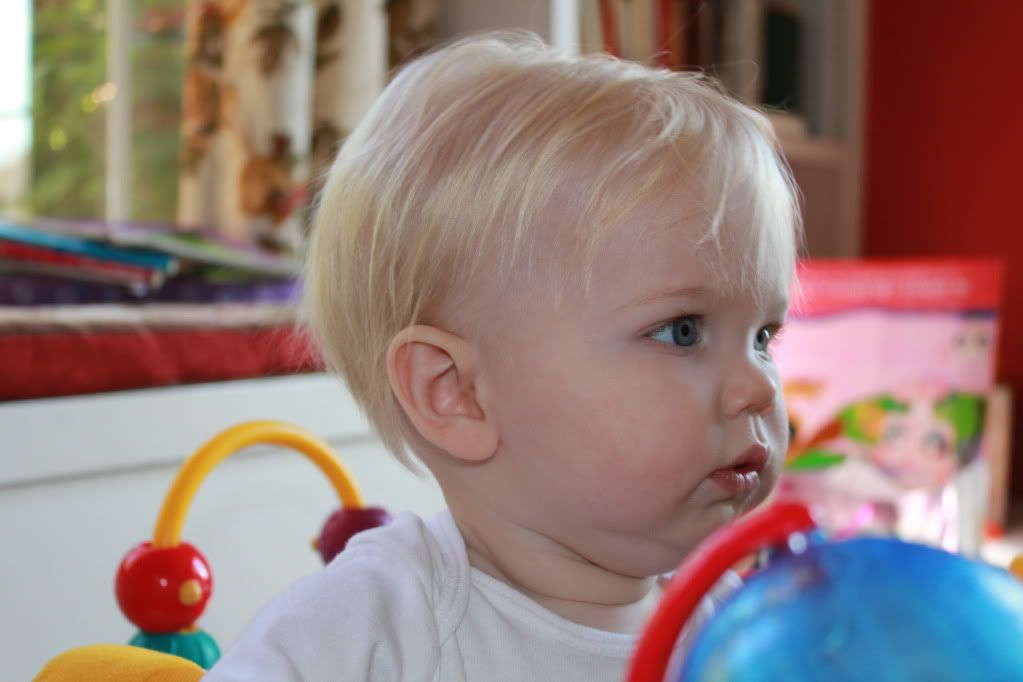 When BJ stayed home with the girls,
I came home to crock pot dinners; a warm bowl of chili with fresh grated cheese provided a worthy excuse to skip the gym Thursday night for a glass of wine and some Hokie Football.
I got this email Diana mid morning on Friday upon Anna Cate's return to day care...
"Anna Cate just got here and I said, "are you feeling better?" Response, "yes". Ethan then says, "Leana and Luke are sick." AC says, "What's wrong with them?" I say, 'They have a bad cough." AC says, "Ahhhhhh, I hope they don't have the crap." Then she thinks for a minute and says "What's it called?" I say, "Croup".
As my dad says, "she's a character." I like that Diana seems to appreciate that, too.
The weekend was filled with family and friends, sprinkled with exercise and great food...just how I like it.
On Saturday morning, it was the gym for Mommy and a play date.
Molly enjoyed herself...sans hot coco.
Then the four of us met out at the Silvers' farm so Erin could watch the girls, and BJ and I could run downtown. It is so beautiful out there... the scenery and the friends.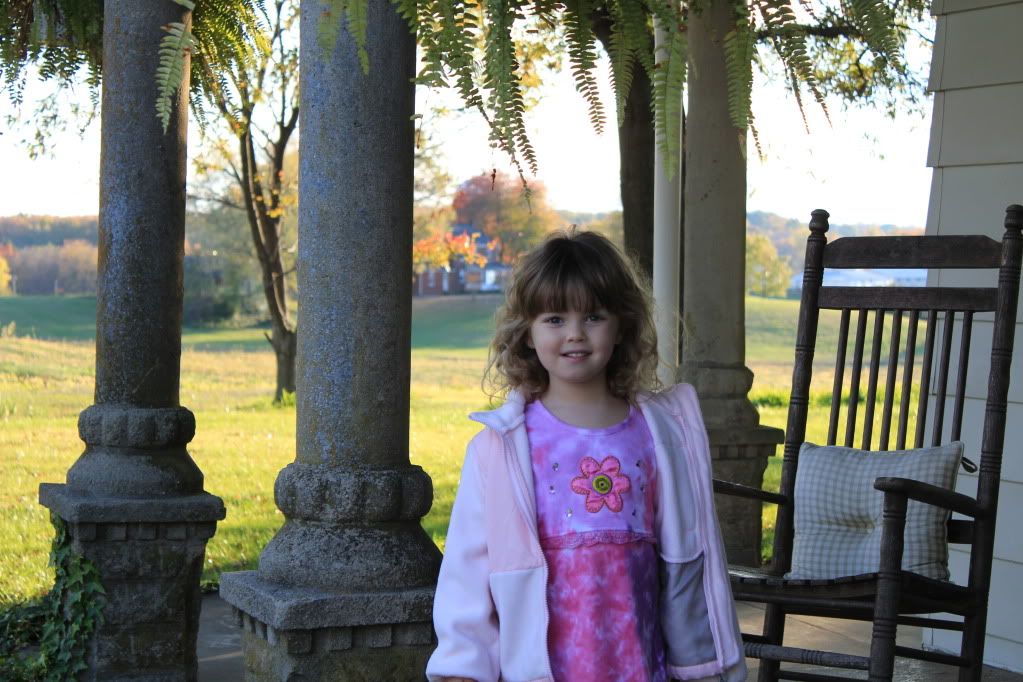 BJ grew up knowing the Silvers, loving their family and their farm so it is always special to be out there. BJ and Michael have been friends for decades, and I am thankful for my newfound friendship in Erin, his bride as of August 2009. She is beautiful, kind, wise, fun, generous and honest.....and seems to love my kiddos. I'm so grateful that although treasured friendships abound, the universe doesn't seem to stop introducing me to new ones.....one is silver and the other gold.
Saturday we ran 6, and it was our last training run together, and I have teased that BJ is a little bit of pre madonna when it comes to running. I like to run in the battlefields out in nature; he doesn't like the way the roads slant and he gets bored. I like to run hills; he has to know where the hills are so he can mentally prepare for them. I like to run on pavement; he likes to run downtown on sidewalks. I love to be downtown so it is a good compromise. I am just thankful he is running! We have arranged for friends and family members to care for the girls and even paid babysitters for these training runs together, and the time together running has been special, adding a new layer to our connection, a fresh dynamic to our partnership. I like it.
On Sunday, we enjoyed the extra hour of sleep and the dedication service for sweet baby Quinlan Haun, followed by lunch at Eileen's.
The Hauns are essentially BJ's family here, and Brad and BJ have been close friends since they were babies. Even though I don't think BJ does the best job at keeping in touch, I know his friendship is dear to BJ. Anna Cate thinks Maeve is pretty special (so do we).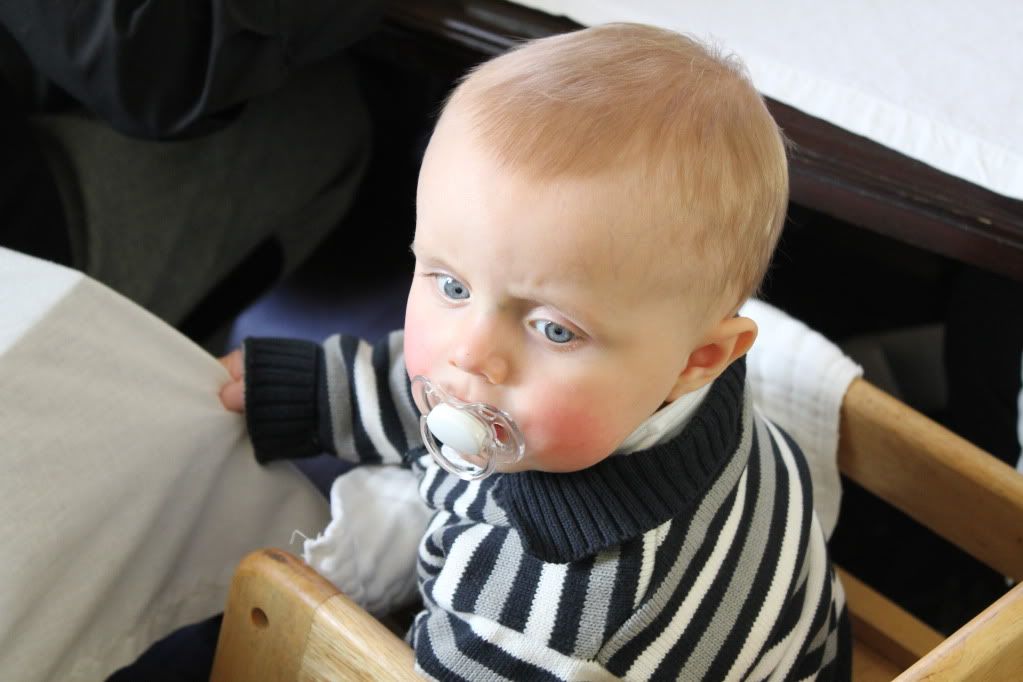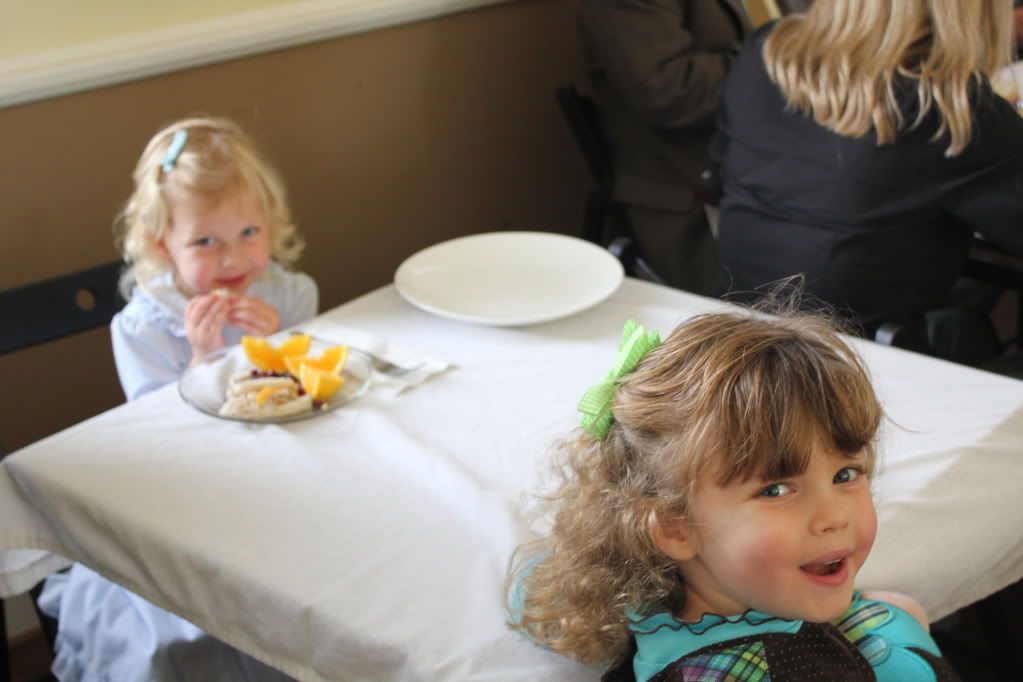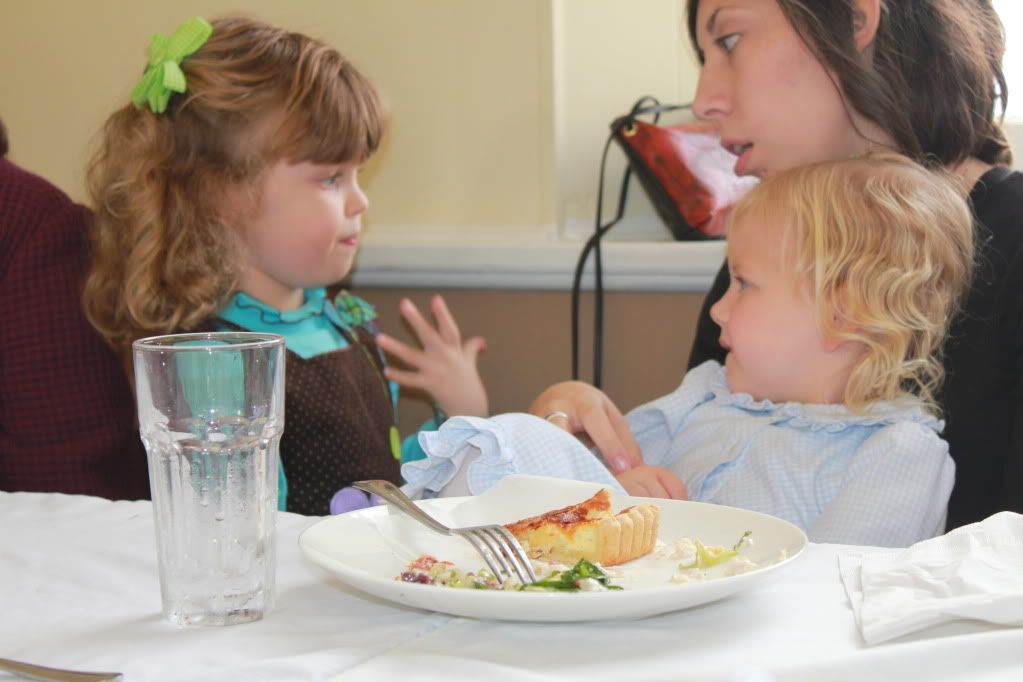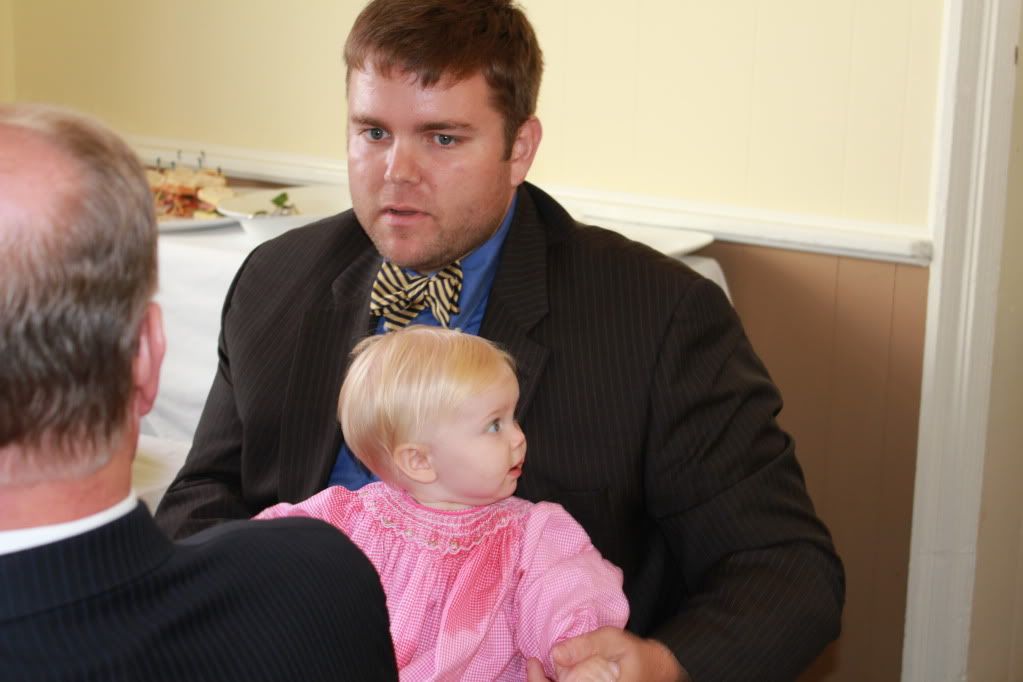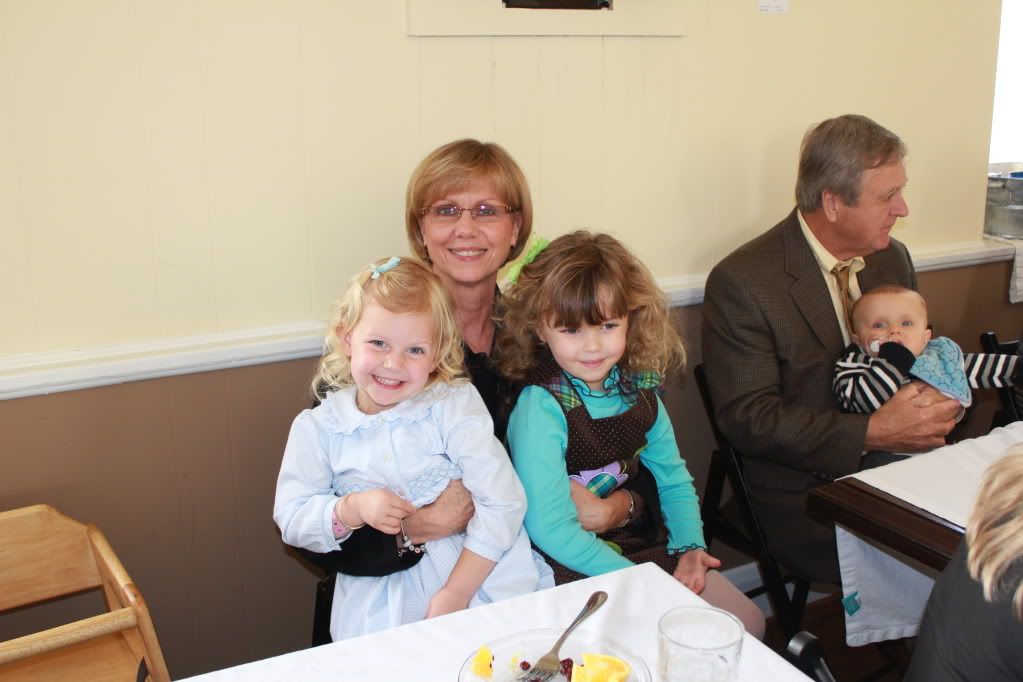 The climax of the weekend was hosting my neice Kitty for a play date! Becki, my sister-in-law, was visiting her brother in Charlottesville and made the trip up to see us Sunday. So for a beautiful Fall afternoon, my girls got to kick it with their cousin: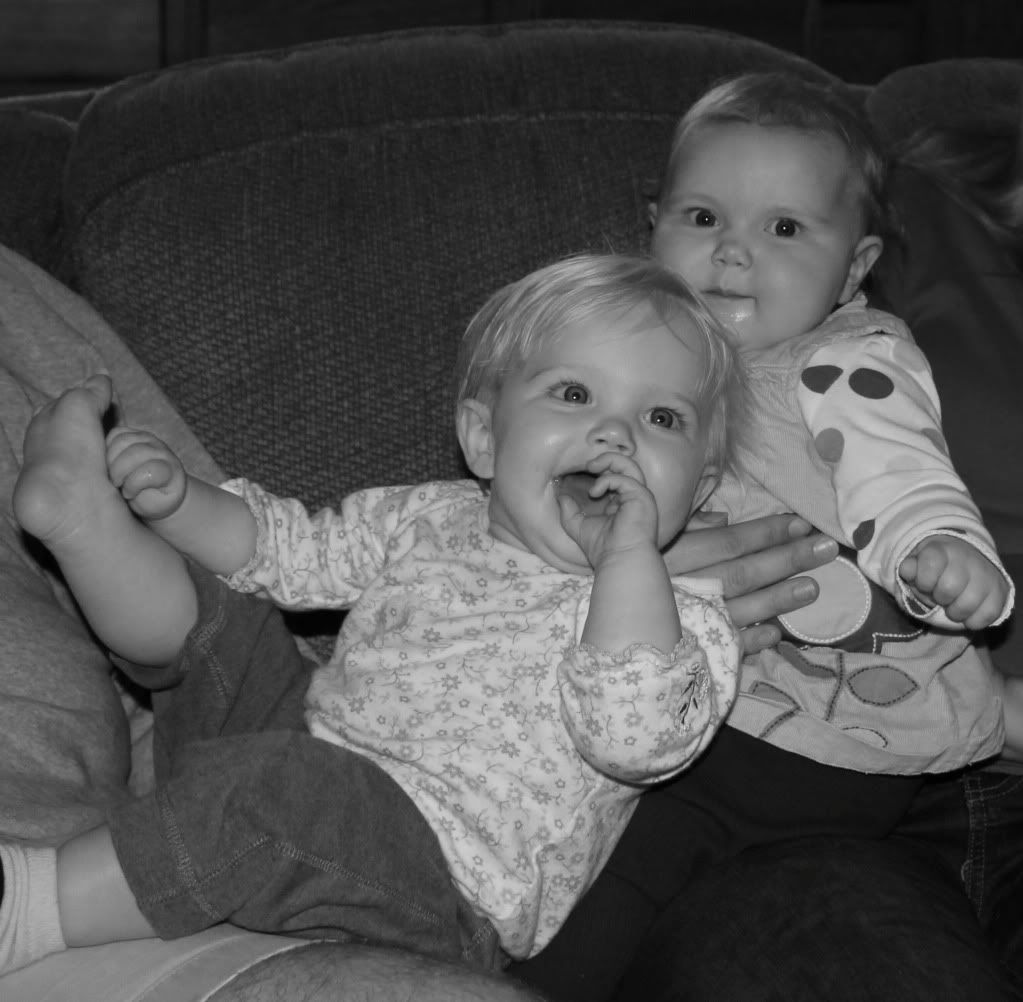 Becki and I got to love on each other's girls...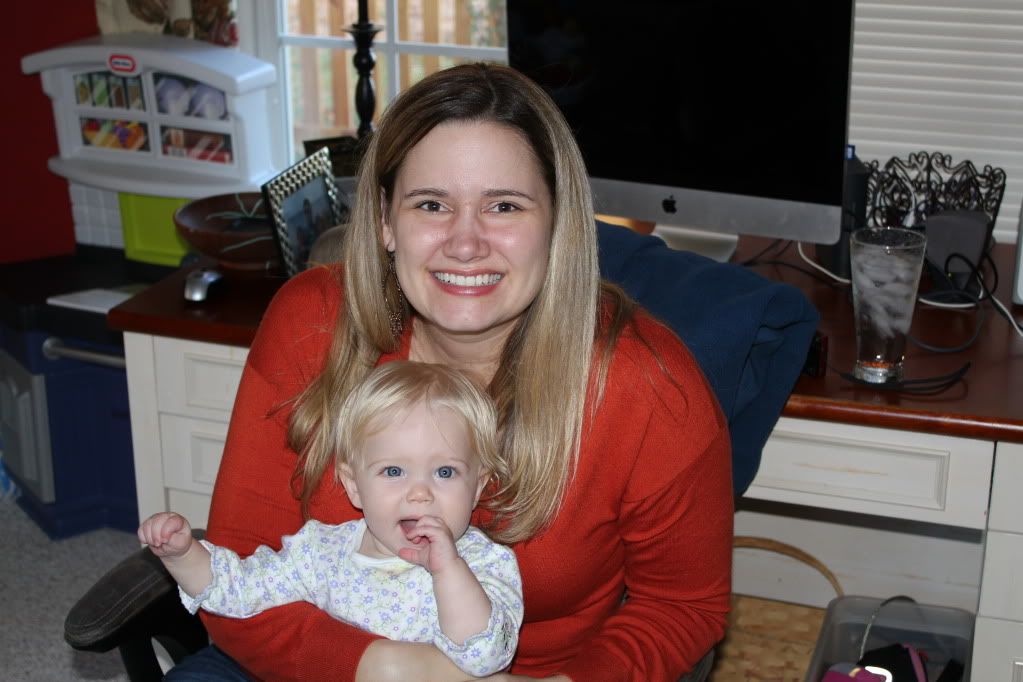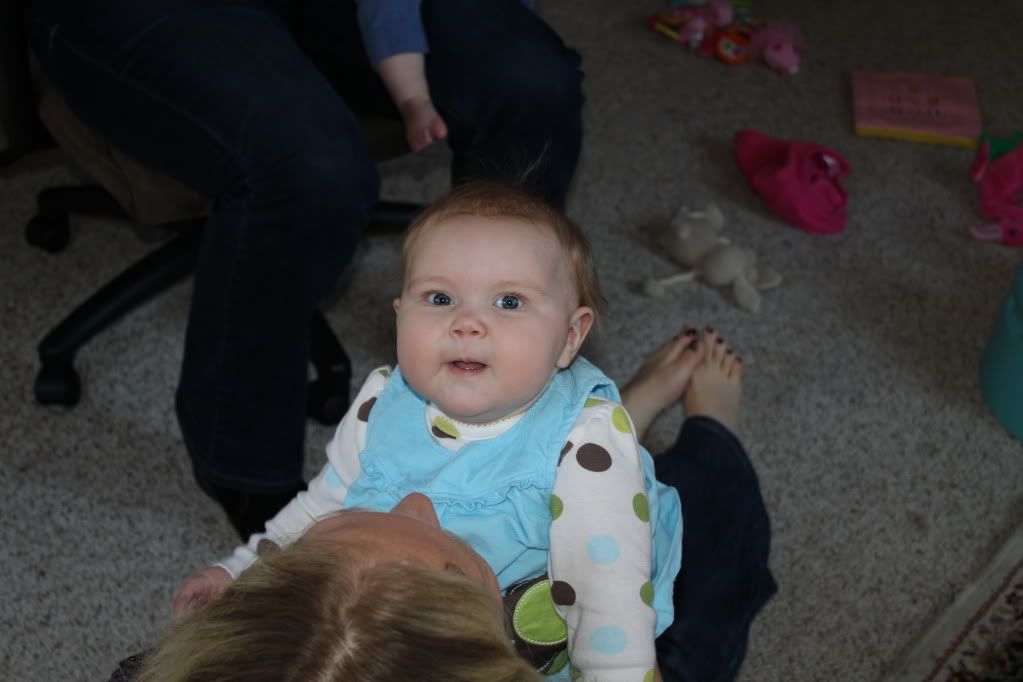 We tried to stage a photo-shoot out back, but with a wiggly baby like Molly, it was hard to get the three of them to "pose." Su
ch is life, right?!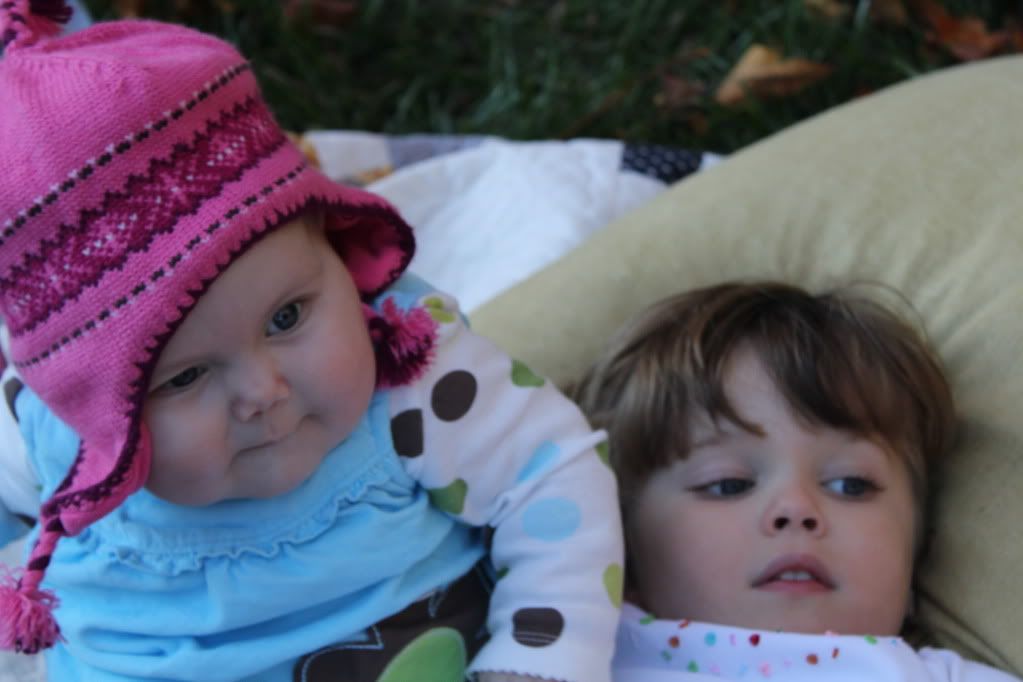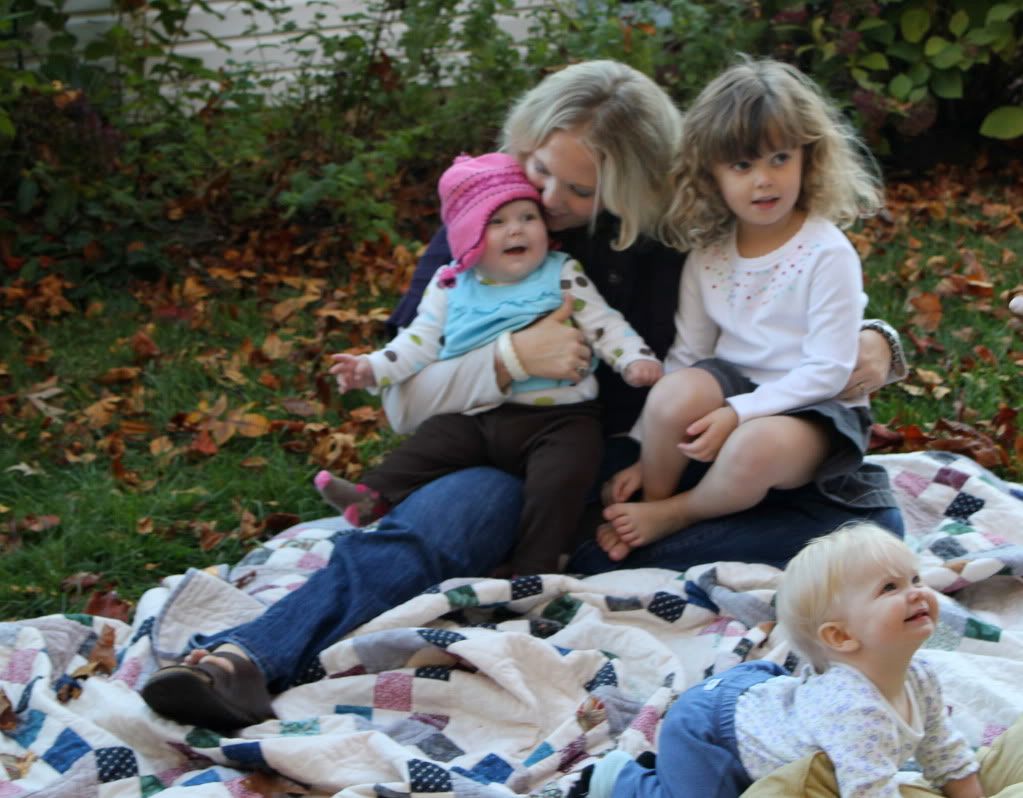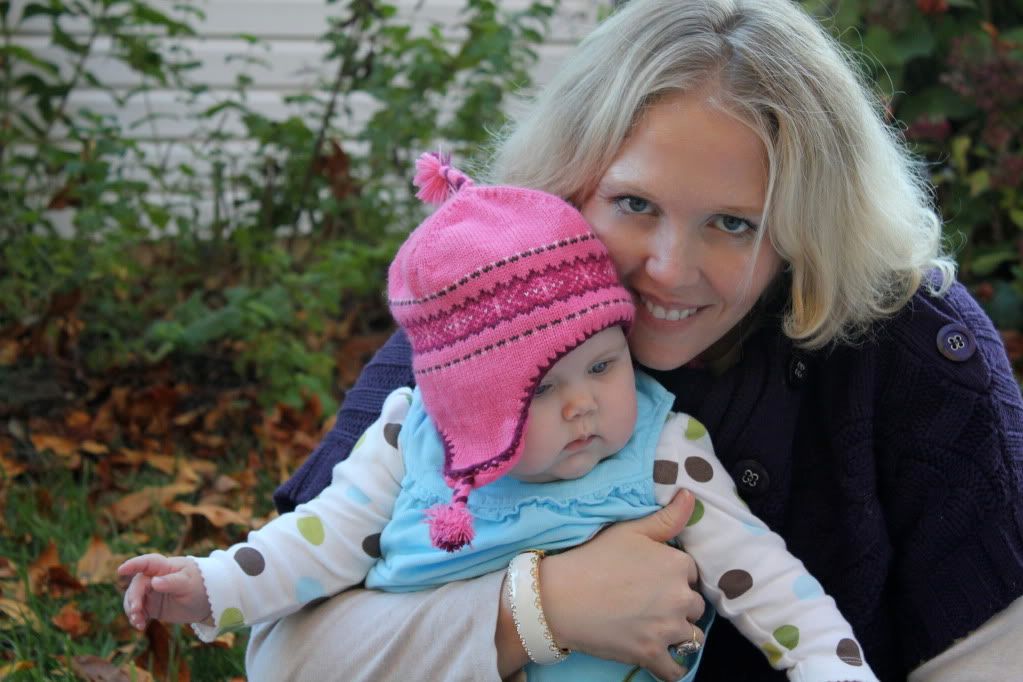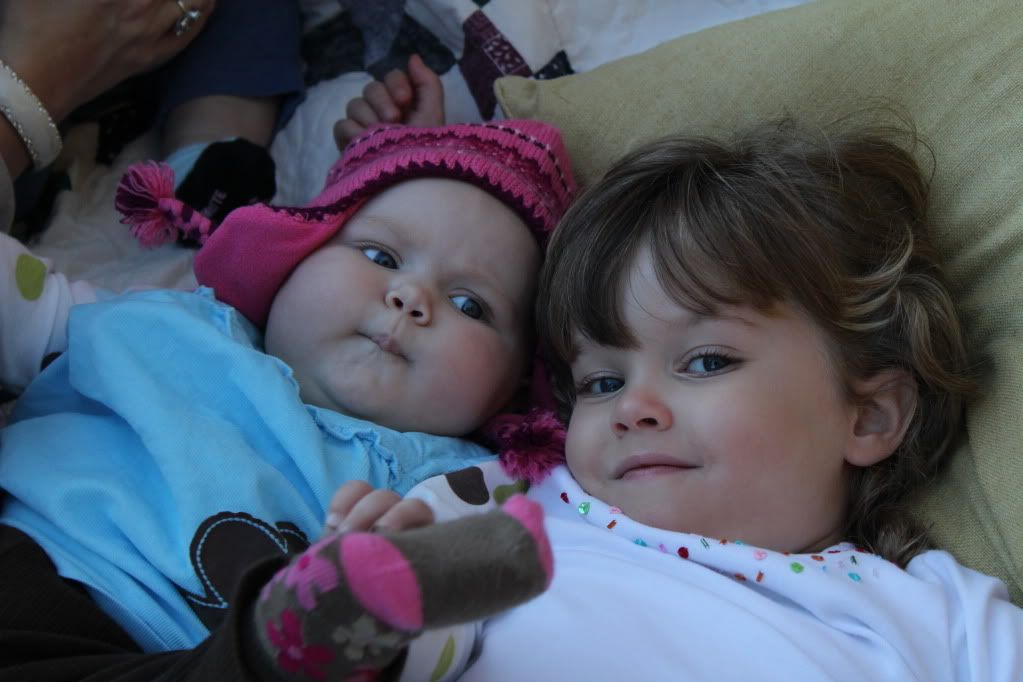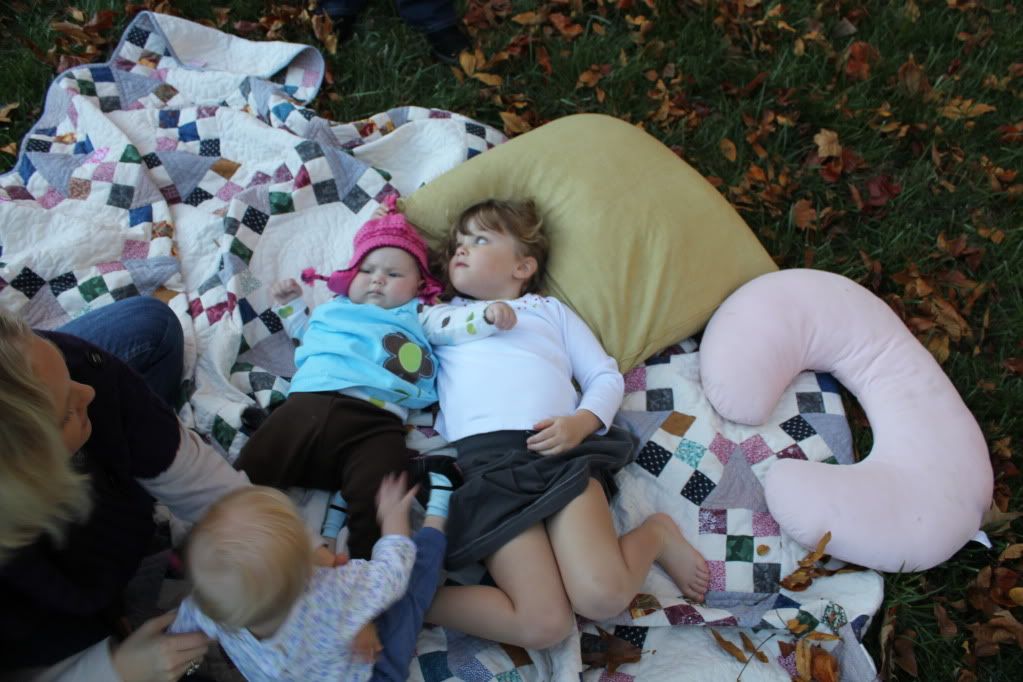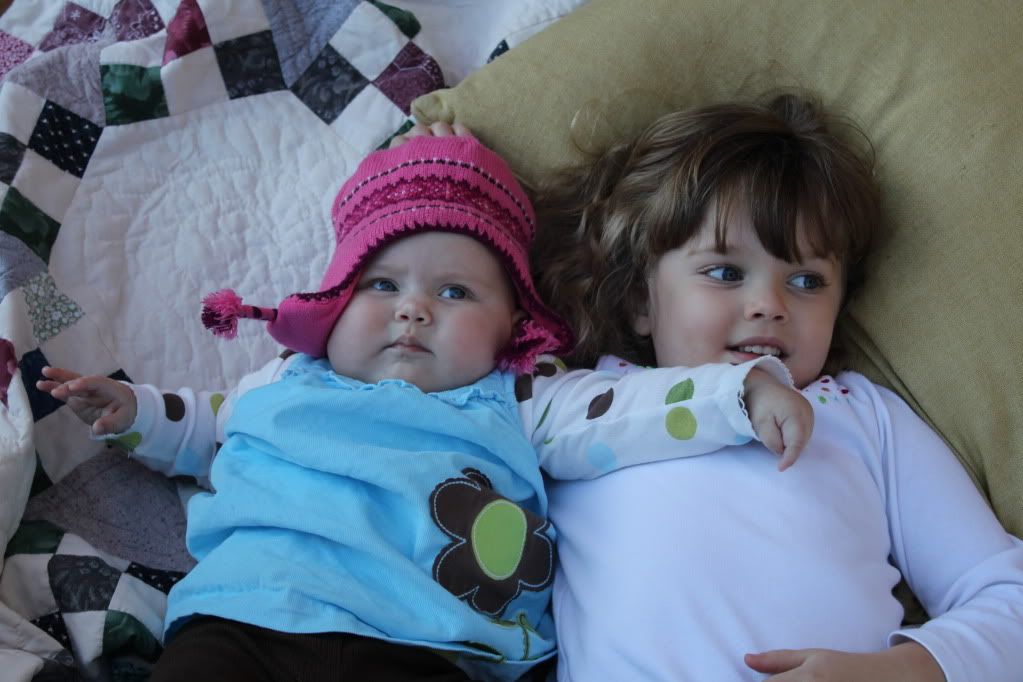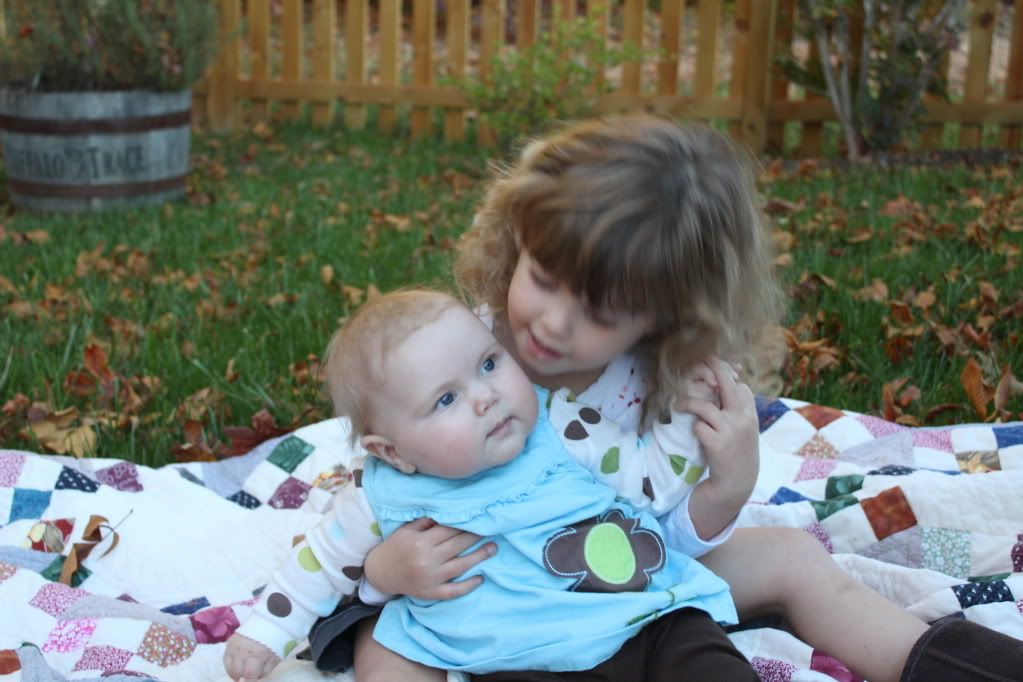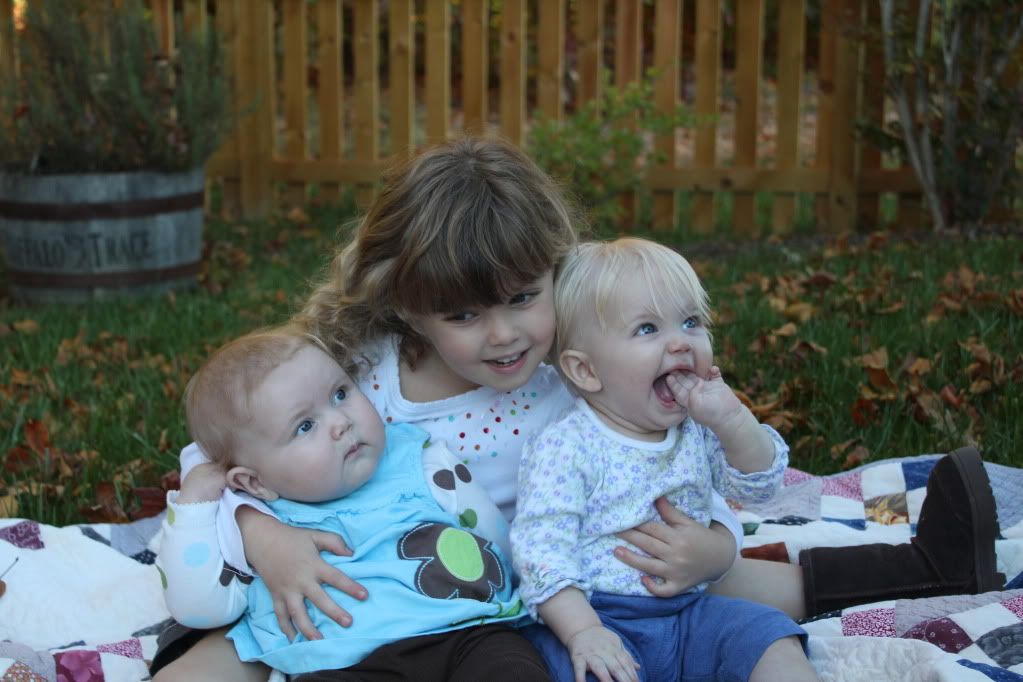 Oh well, you get the picture...we had fun!
Becki and BJ are kindred spirits and I'm venturing that here are the four most laid-back members of our family: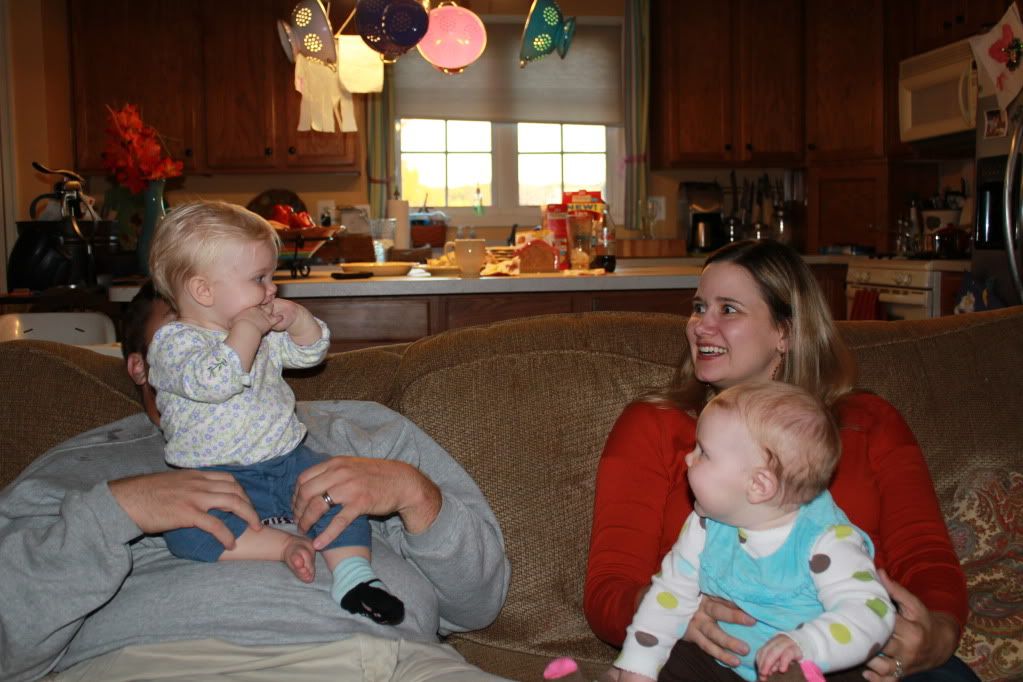 Thank you so much, Becki and Kitty, Beth and Stephen for coming to play!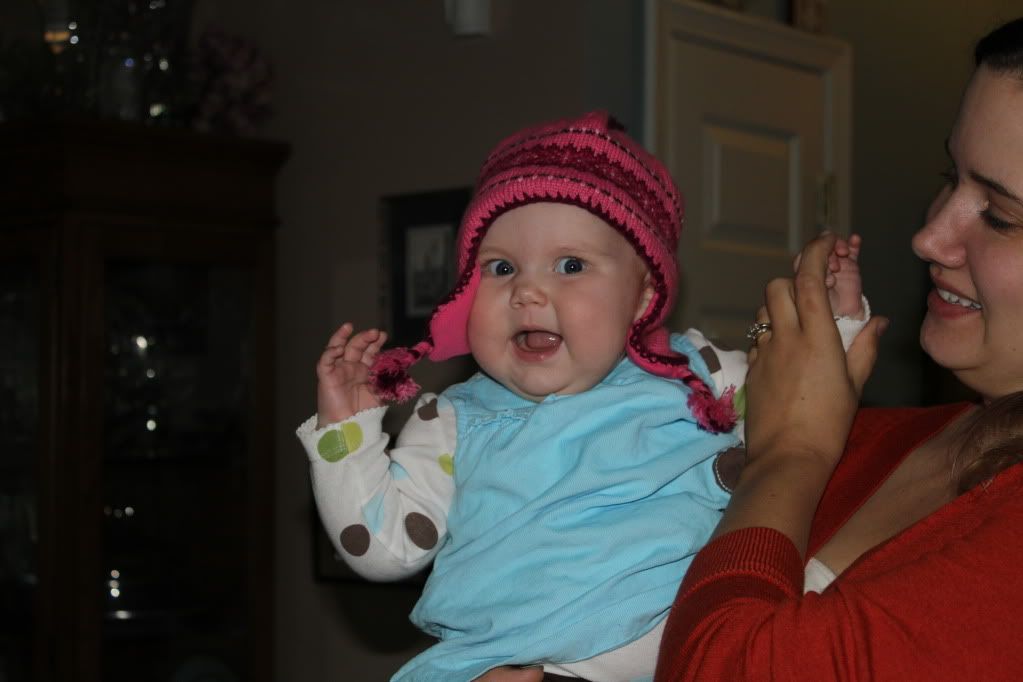 Last night as I was going to bed with Anna Cate, her prayer was, "thank you, God. It was a wonderful day here in Virginia." I love hearing her joyful gratitude in and for life. I would like to believe that God wants all of us to be enjoying life here, too.

Exhausting though it may be, THIS is grand, and THIS is it, and it's a package deal.

The stress that accompanies planning my day around my milk supply commingles itself with the open mouth grins from my baby who hops her body and flails her arms when I walk in the room saying MAMAMA.

My drawing bathwater by candlelight for a quiet retreat becoming a pretend beauty salon for Anna Cate as she wiggles her body over my head to tangle, I mean wash my hair is what I get with the sweet prayers of the character who only knows the joy in the life that is hers. I want Anna Cate's brand of gratitude and perspective.

So, yep.....I like dressing up and shopping and having the zest on a Friday night to do it with girlfriends; but, also I love the exercising, the good food, the dear friends, and the blessed time with family. So, in the big picture, I'm getting what I love, really. And sometimes I just have to do without what I like. Because with a family like this, it is beautiful here, God. Thank you.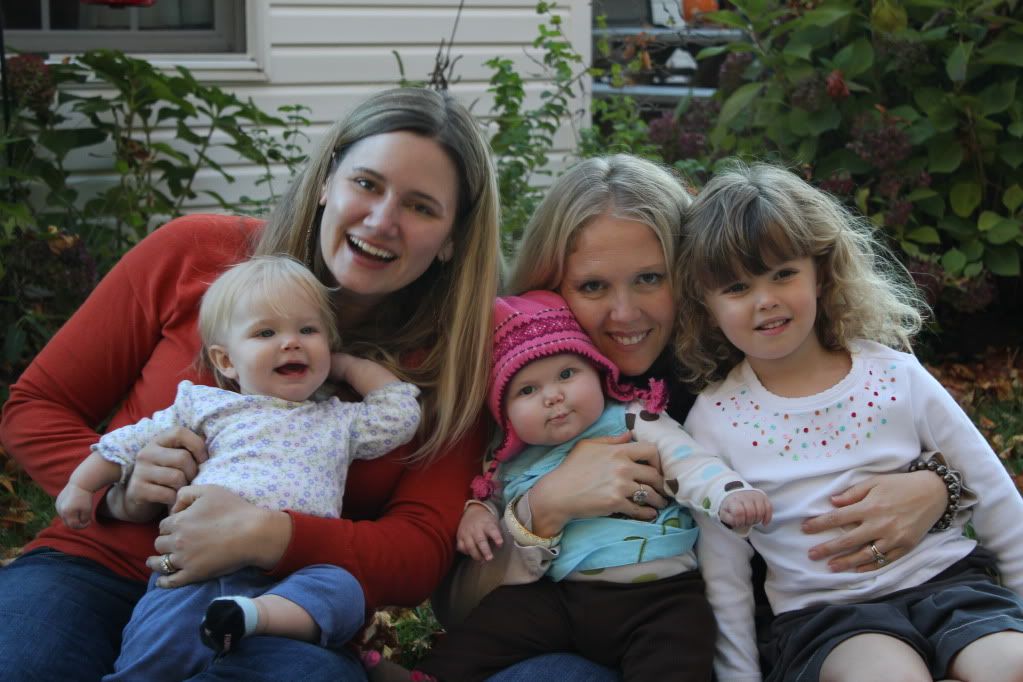 "The Big Moment, unfortunately, is an urban myth. Some people have them, in a sense, when they win the Heisman or become the next American Idol. But even that football player or that singer is living a life made up of more than that one moment. Life is a collection of a million, billion moments, tiny little moments and choices, like a handful of luminous, glowing pearl. It takes so much time, and so much work, and those beads and moments are so small, and so much less fabulous and dramatic than the movies.
But this is what I'm finding, in glimpses and flashes: this is it. This is it, in the best possible way. That thing I'm waiting for, that adventure, that move-score-worthy experience unfolding gracefully. This is it. Normal, daily life ticking by on our streets and sidewalks, in our houses and apartments, in our beds and at our dinner tables, in our dreams and prayers and fights and secrets – this pedestrian life is the most precious thing any of us will ever experience........I want my everyday to make God belly laugh, glad that he gave life to someone who loves the gift."
—
Shauna Niequist
(
Cold Tangerines: Celebrating the Extraordinary Nature of Everyday Life
)