Since I'm a procrastinator, we just now made some time to go see Santa...at the mall....on the last Sunday before Christmas...with over 100 families AHEAD OF US IN LINE!! So there was my Christmas "cheer" along with the hustle and bustle of Christmas.
During the course of this adventure, I slipped Molly out of line to go sit in a dressing room to nurse her. I paraded Anna Cate down the mall to grab a mess free lunch. I anxiously anticipated BJ's patience running out that this just wasn't worth it, which thankfully never happened. It was a family adventure, and what I will remember most is
not
this, although I'll bring it out with joy every year...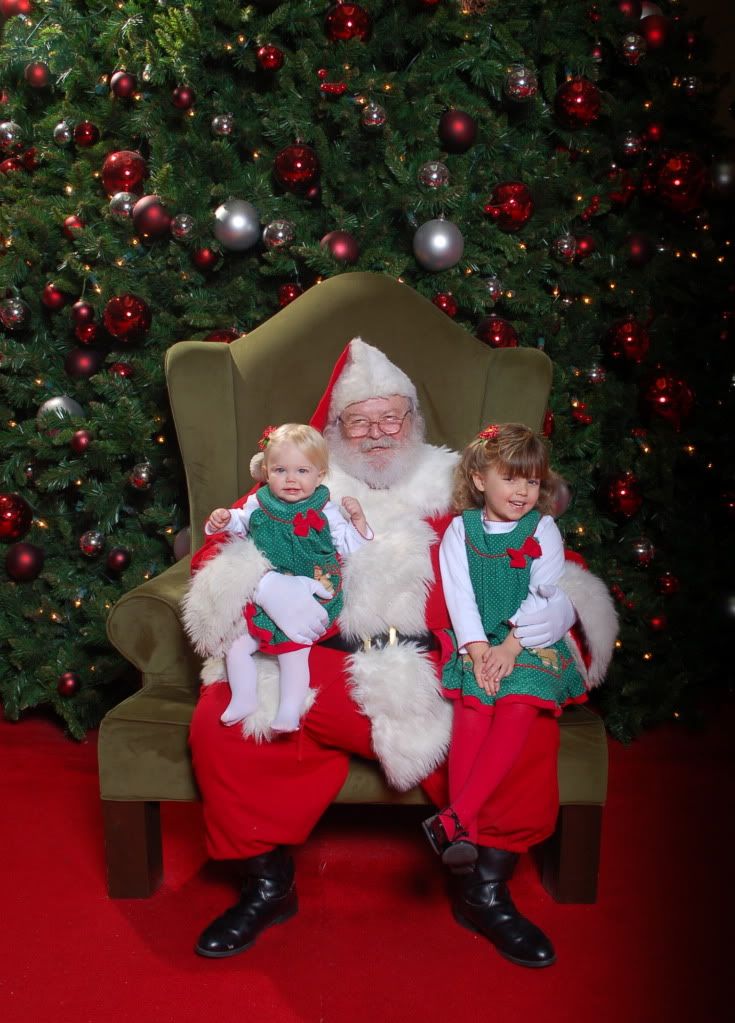 As we were in line, I hear this man talking about children. He said, "Mom, here is a sweet baby in a green dress, oh and there is her beautiful little sister in the same dress." I look around and say hi to the pair on the opposite side of the rope. A man is pushing a very old lady in a wheelchair, and he explains to me that his mother will soon be 101 and he brought her out to see the children in line. I squatted down to talk to her, Cora so she could shake Molly's hands and get a smile from Anna Cate. Her son said that this gives her so much joy to just see the children, and after I told her how beautiful she was and oohed and awed with Anna Cate over the fact that she was 100, Cora looked directly into Anna Cate's eyes and said, "Merry Christmas, sweetheart."
Merry Christmas is right. And in a moment of hassle, I caught the christmas spirit, not from Santa Claus, but from a dear little lady and her son. The long line of children that was my hassle was the treat for her day. She's been on this earth for 100 years and this world had not lost its newness to her in the joy of my children's faces, as she delighted in them for one of those moments. Her sweet greeting and smile warmed my heart. That and the fact that I've gotten "picture with Santa" checked off my list....but I really wish I would have thought to grab my camera and get a pic of Cora because her Merry Christmas was as good as St. Nick's!