Last night as I started this post, Anna Cate and BJ were in the living room wrapping my Christmas presents with a big sign in the hallway in Anna Cate's handwriting saying NO as my signal to not enter. Tonight, Anna Cate is laying on the couch after a day of wrapping presents and rum cake baking with me on a snow day watching Charlie Brown Christmas.
I've got a lot to catch up on here, so I'll start by saying we are enjoying the first snow of winter...Molly's first ever. Anna Cate went out with BJ as soon as he got home.
My mom grew up in New York, and loves the snow...so does her namesake. Molly went down the slide with BJ, and giggled as she played with it afterwards.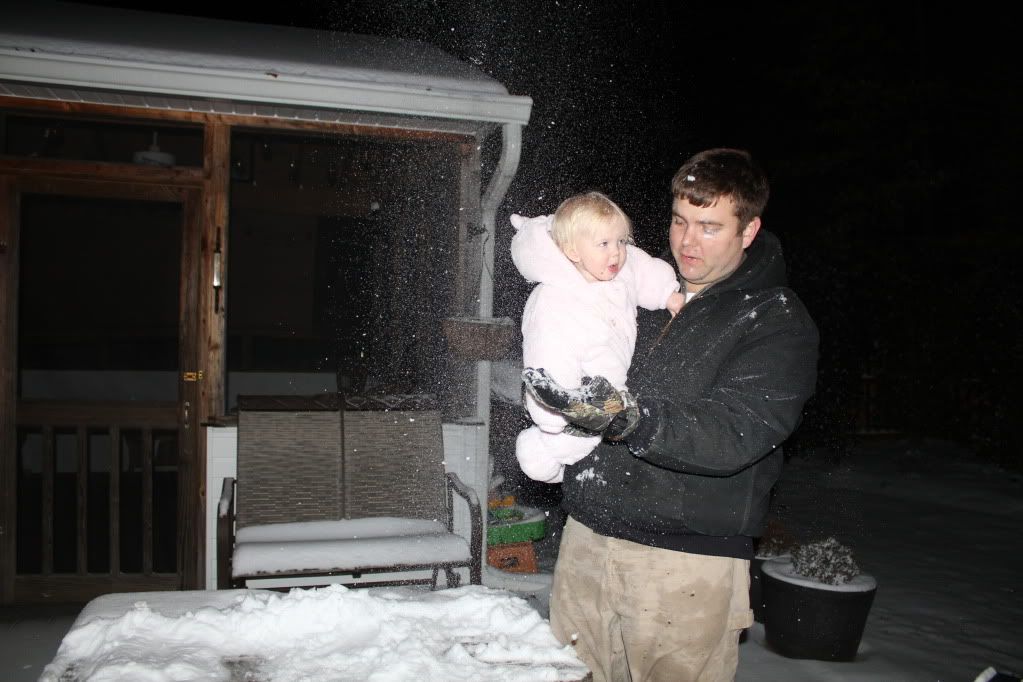 So on to catching up...we've been busy making holiday memories.
A few weekends ago, the big event in our household was AC's first sleep over. It was all together fitting that the guest of honor was Leana.
(Leana and Molly at Jackson's 3rd birthday celebration)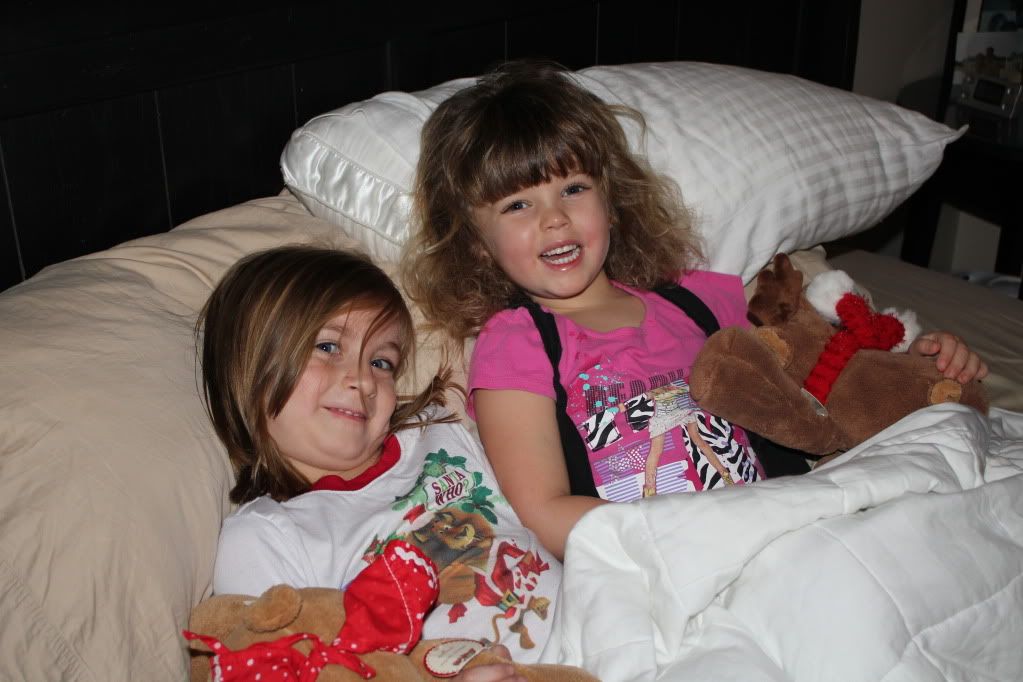 Leana is 4 weeks younger than AC and thankfully, her best friend. Not only is her mom Norah my dear friend as well, Leana is a very easy child...the type child I admire from afar. ha! My children are in the grand scheme of things easy, I know, but they are not calm like sweet Leana.
So we had a little get together for the VT game with Norah and our friends Erin and Mike with some crafts for the children to make Christmas presents. I was inspired by this
blog
about how easy it is to be crafty. Not so much but it was fun. Luckily we are giving the gifts to people I think REALLY love Anna Cate. Anna Cate said to me a few days ago, "Mommy, you could TRY to be a crafty mother?"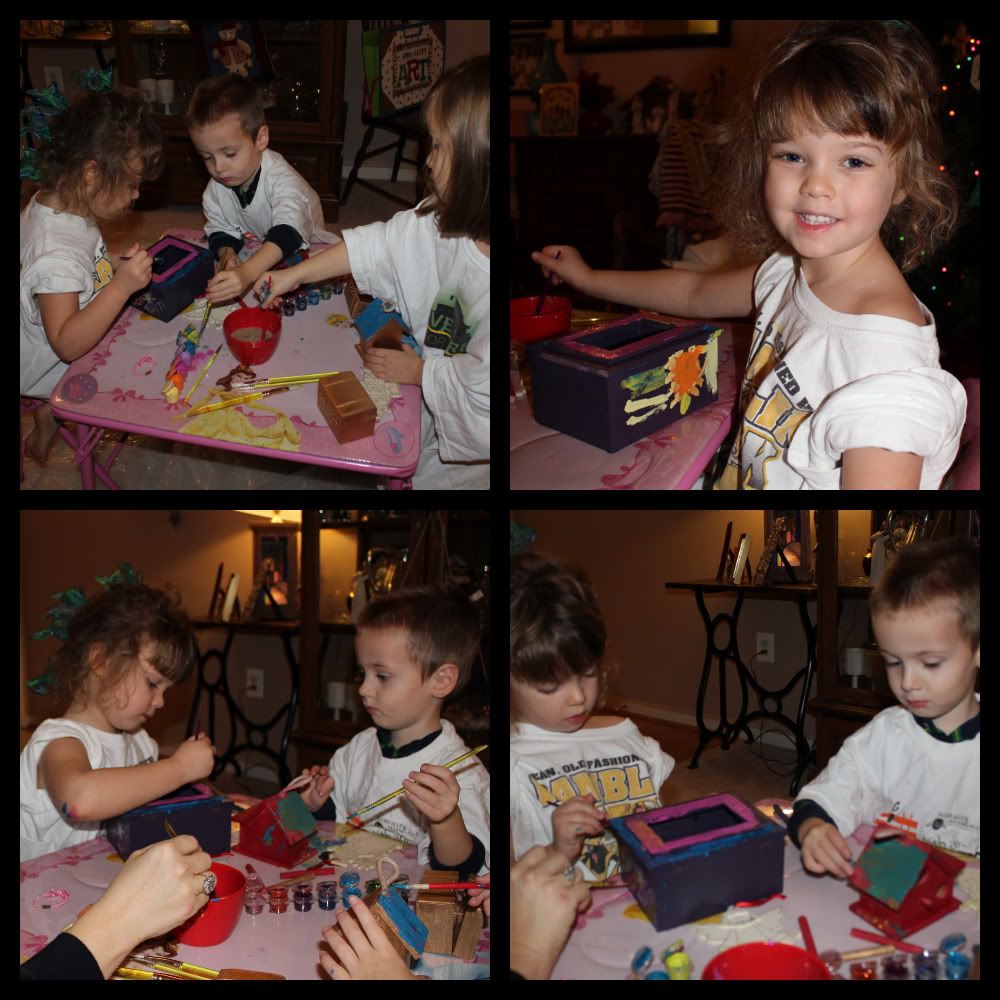 And, the girls actually slept...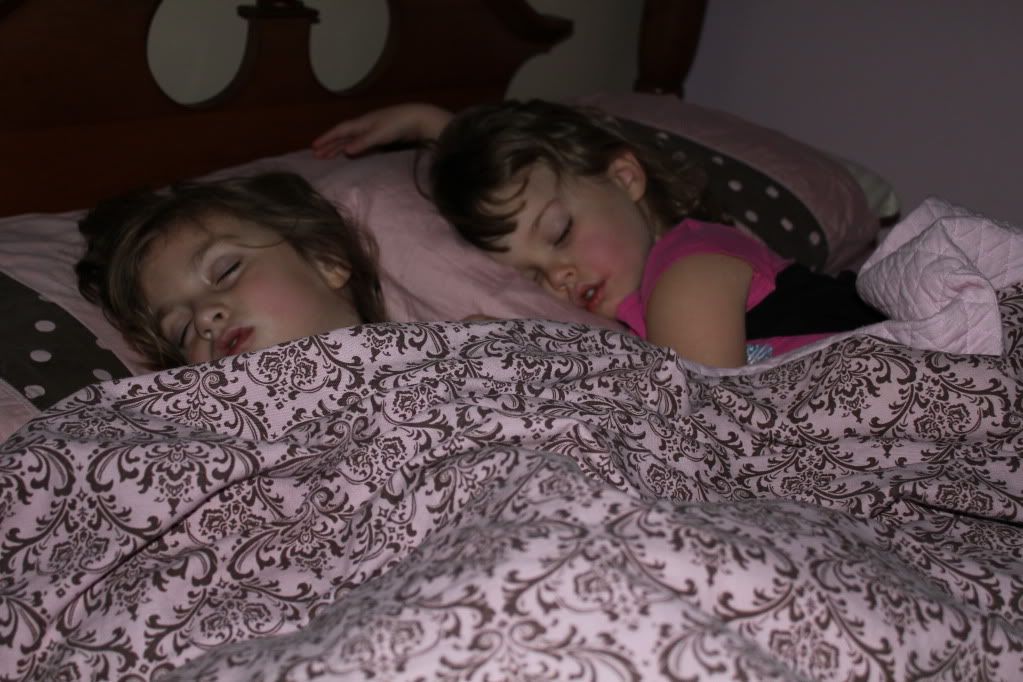 Anna Cate goes to children's choir on Wednesday nights, and has performed these songs under the direction of her beloved "Miss Dawn." They performed twice...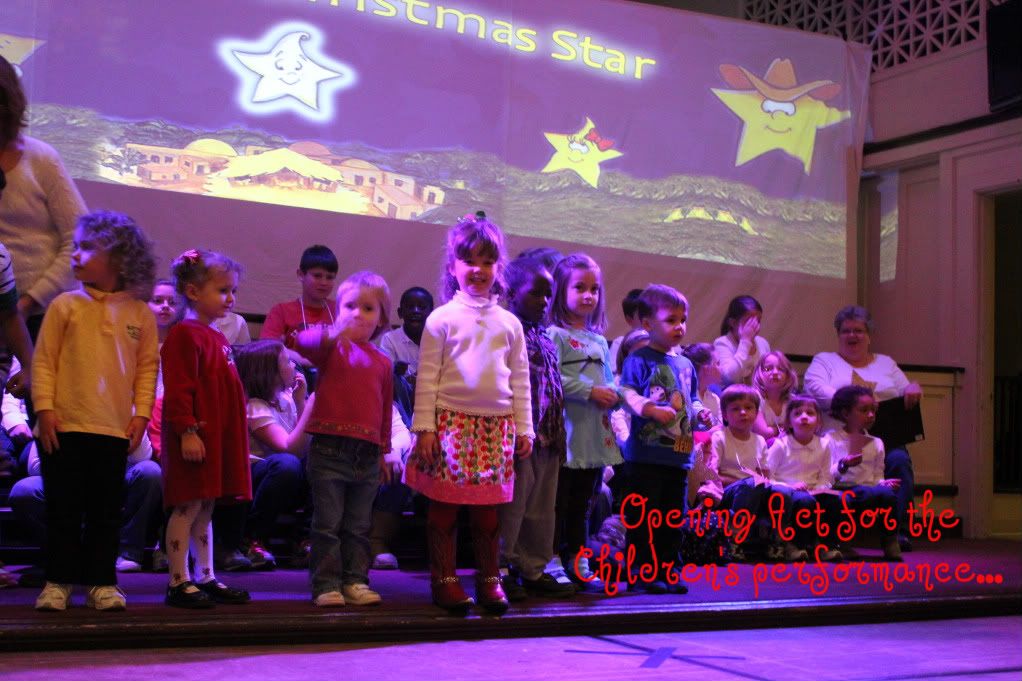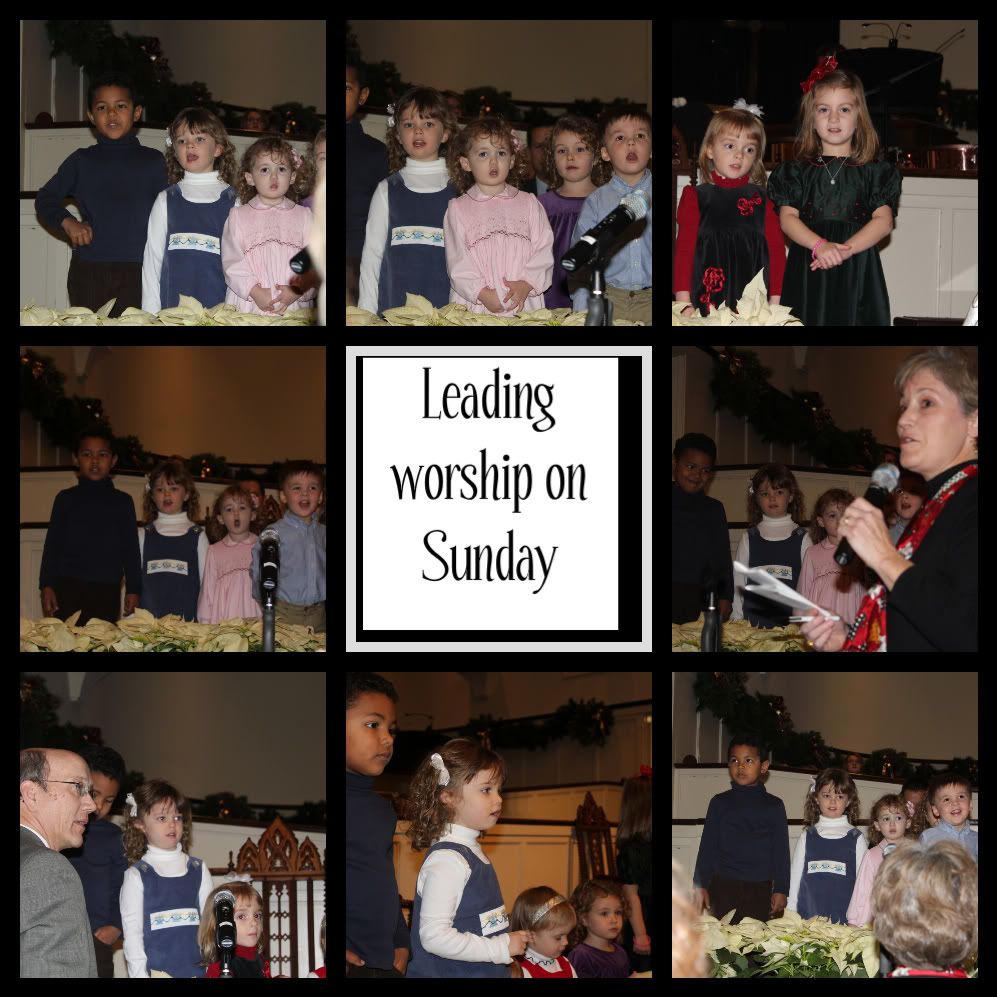 Each time beforehand, I've tried to catch the perfect Christmas picture to send out. The girls have adorable matching outfits, their hair is clean, brushed and adorned with bows, but I guess 9 months is not the right age for that "sit under the christmas tree" look I was going for.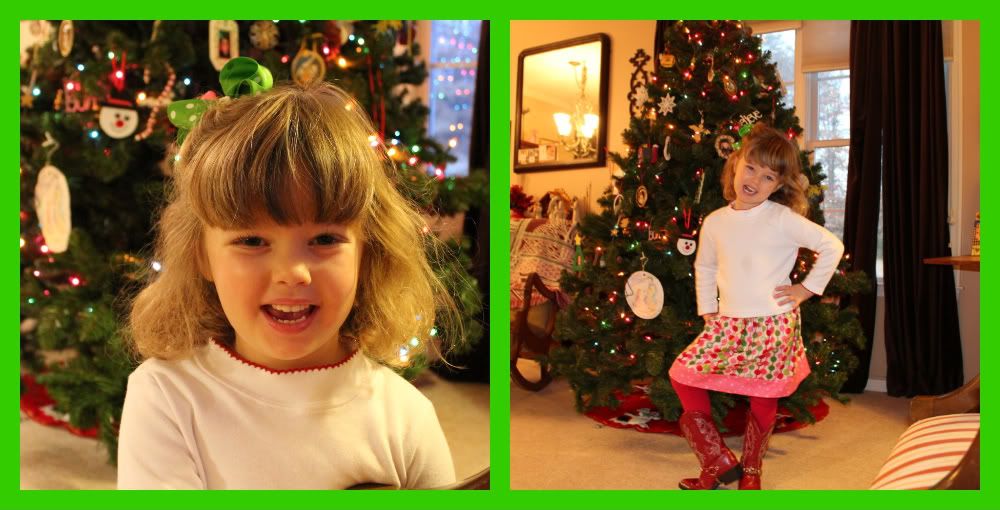 My big girl knows how to pose and smile, but Molly is displeased about the stronghold...
Or on the move...
A few weeks ago, I tried to get a babysitter so BJ and I could go hear the
Community Chorus
presentation of The Messiah. I failed and was ready to go by myself but asked a friend, Kelly (who made the adorable skirts and bows you see in the pics above) went with me.
It was absolutely breathtakingly beautiful. (click here to go to their Facebook page and see them on youtube) The music stirred me in exactly the way I remember it when my Dad took me for the first time about 20 years ago to hear it in Nashville. I was moved to tears through the whole performance, and I was even more in awe of the fact that these were volunteers. Many educators who hadn't given up their personal talent because they weren't professional musicians; One soloist was a retired electrical engineer. All of them wore the robe of their home church choir. The minister who introduced them told the story of King George standing during the Hallelujah chorus, so the crowd stood as it was custom to stand when the king stood. The minister then added that he believed that King George rose because he knew that in fact King George was in the
presence
of the King.
It was during this rather spiritual experience I enjoyed in the presence of such talent -- of the performers who sang and played their instrument as well as of the composer 250 years ago or the prophet who wrote thousands of years ago -- I felt wrapped up in Christmas, connected to humanity in the true magic of this season. I am thankful for my father introducing me to the love of this piece, for culture transcends circumstances; it is available to all. What a gift we can give our children by introducing them to lasting treasures. I dare say I can remember very few material Christmas gifts from childhood, and certainly none give me the joy of a lifetime like hearing Handel's Messiah.
My mother also introduced me to lasting gifts by taking me often to the Nutcracker as a child. I distinctly remember the first time I saw it with my dear friend, Melanie. I also remember with fondness seeing in December of 1999 at the Bolshoi in Moscow, Russia with Nicole. I remember taking my brother to see it when he was a Senior in college and his line of... "wow, they steal a lot of music from Christmas commercials."
So last Saturday, Anna Cate and I went on our annual (since last year) date to the Nutcracker. This year our friends, Megan and Isabel, met us there for the little girl wonder.
On Sunday, Larry's sermon encouraged us to think about the advent week theme of joy, he excitedly called it "pink candle Sunday." To think of joy as substantial and happiness as temporary, circumstantial. I had been mulling around in my head, searching for the perfect words to describe my sentiments about the Nutcracker and the Messiah in contrast to all the presents we buy at stores. And
substantial
fits. A new watch makes me happy; listening to the words of the Messiah or watching Anna Cate's eyes shine with the same wonder I see as the girls on tip-toes dance to the beauty of Tchaikovsky bring me joy.
Hearing the music or watching the ballerinas (
or watching the children perform or appreciating the talent and generosity of those that lead them)
provides seasonal joy of substance, of human talent available for all. And therein lies the message of the King in whose honor we rise for the Halelujah chorus. A gift is available to all of us, regardless of circumstances. I believe it is indeed a spiritual experience of substance. So in this spirit of making memories for my girls, I hope I let them know that the meaningful gifts of Christmas we value is of our human condition to love and cherish each other, to share and/or appreciate human talents.
Although the baking for friends and gift giving and receiving is a lot of fun...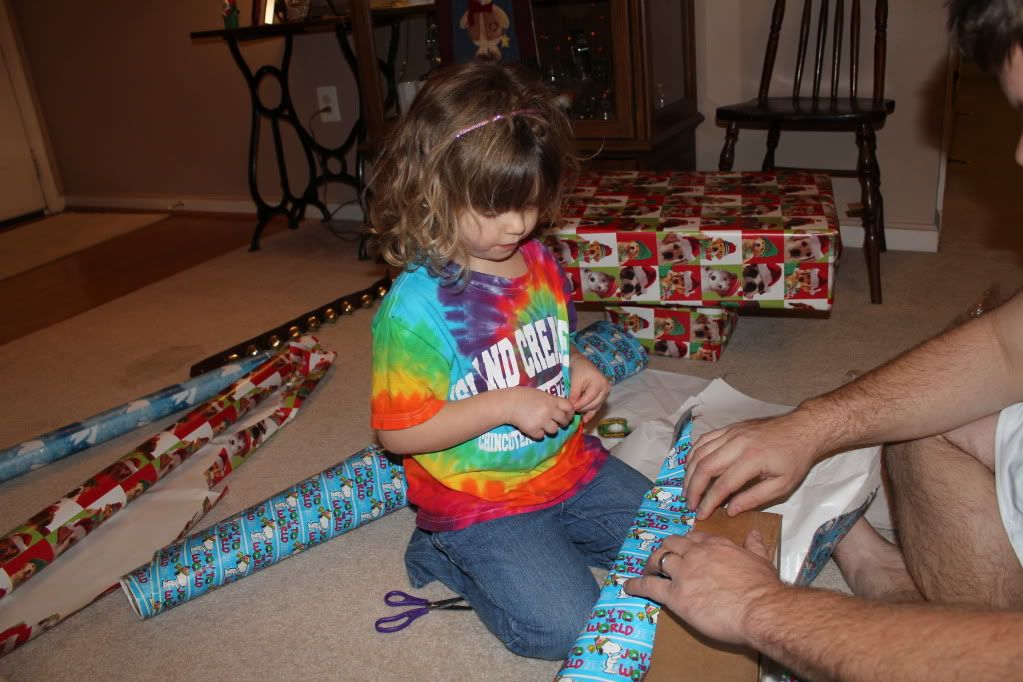 it isn't the substance of who we are or of the lasting gladness this season provides.