When people asked me what my plans were for spring break I would just say "oh not much," and almost a little sad I didn't get a trip planned, but I was excited all the same just to be at home with my family. What I should have said when asked was that I want to "work out, clean out, and hang out" and that is exactly what we did. The garage is a little cleaner, the laundry is caught up, the closets have been changed out with spring clothes and I enjoyed quality time spent with my girls...not in that order, of course. I thoroughly enjoy being a part-time, full time Mommy. I am blessed that when I'm with my children and in my home, I feel fully present and that this is exactly where I should be. Spring Break felt like Summer and I really didn't want to go back to school, but once I was there, I felt happy (ok, happy may be pushing it, but I was content) to be there as well.
Last week gave me some moments of clarity and profundity in experiencing Holy Week and Easter with Anna Cate, but that is the subject of another post. The pleasures outside of the religious significance were mostly of the simple joys, which probably has some religious undertones as well, but back to the simple indulgences of Spring Break:
We participated in a beautiful Palm Sunday afternoon Easter Egg hunt with our church friends and family. It brings me so much joy on this journey of life to be raising our kids with friends. I know that I married into this family of faith as BJ grew up in this church, but it makes me proud all the same to be sharing these dear folks with my children.
Like look at these two:
Owen and Molly, not BJ and the Easter Bunny.
They are genuine friends whose precious faces' light up when they see each other...you can tell they are buddies as are these two girls. Anna Cate and Leana were partners in the three-legged race,
as well as the Egg toss, which they won. It is a good thing it is called an "egg toss" not an egg catch because neither of them ever caught the egg.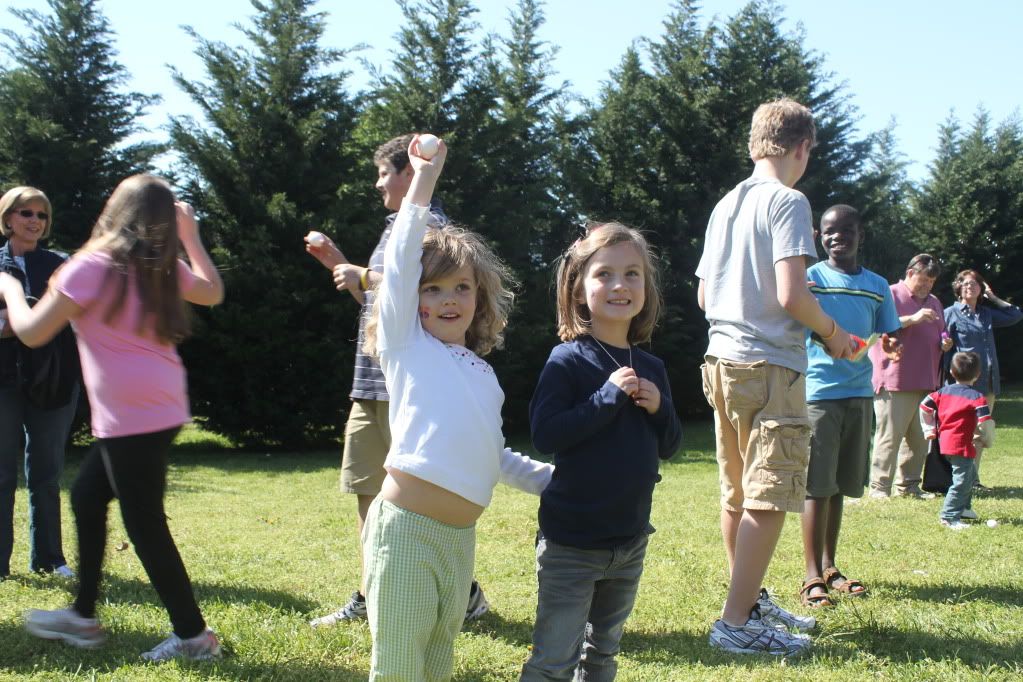 Both of the girls enjoyed a sack race:
Yes...BJ actually ran with Molly like that.
Of course, there were the perfunctory hunting of eggs: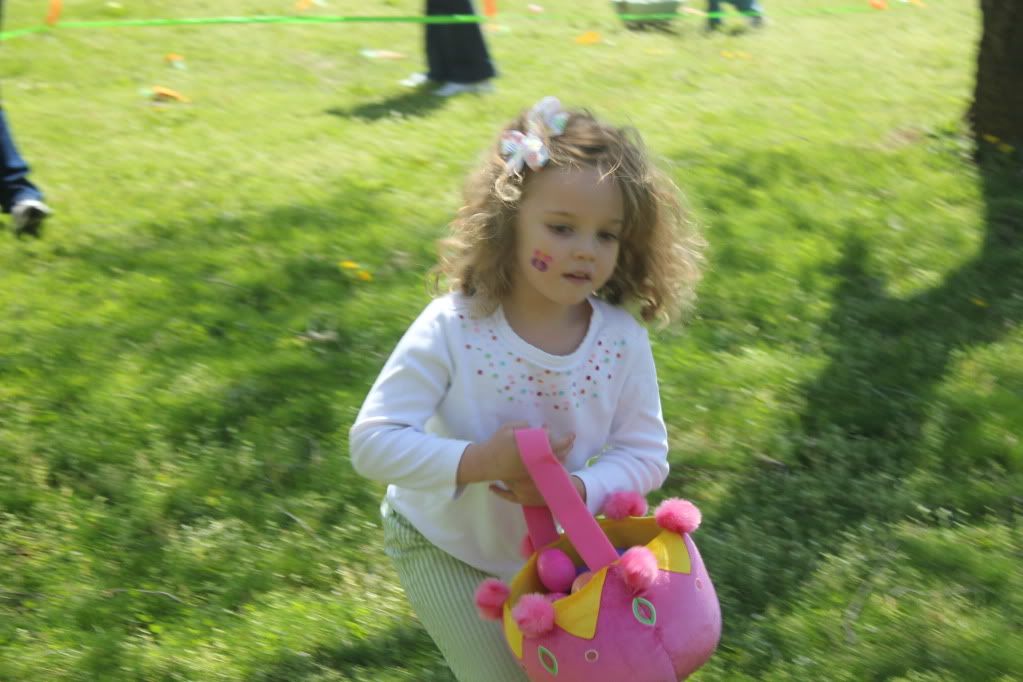 Or just checking out to see what Mommy put in the basket: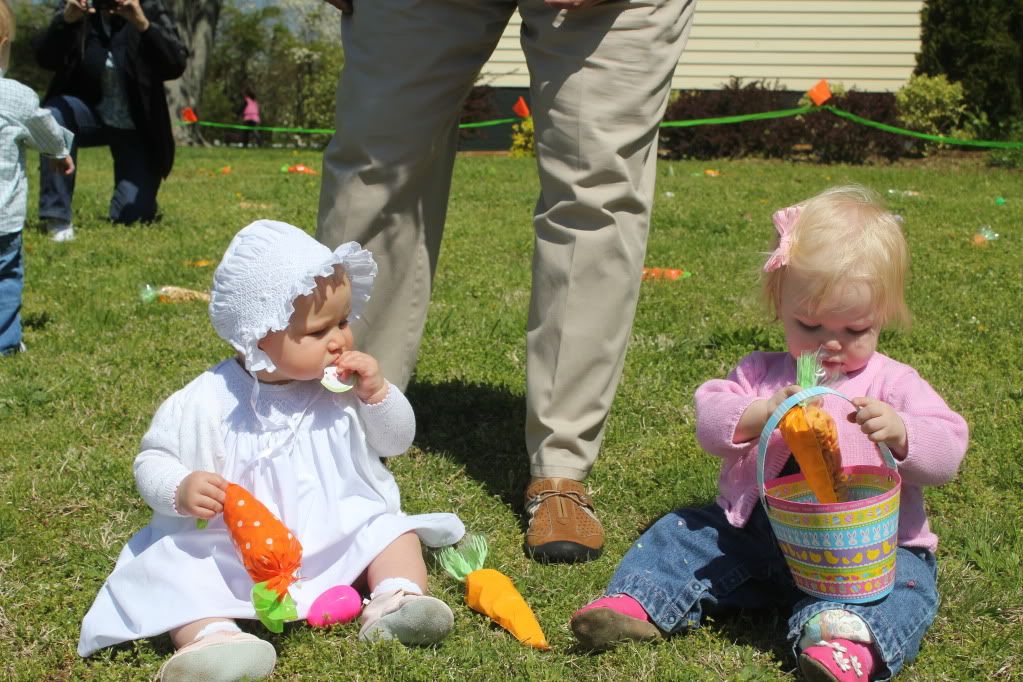 It was an all round grand afternoon.
I'm happy when they are happy.
Spring break at home let me sleep in a bit and som
e quality cuddle time with Anna Cate.
But hearing MAMA MAMA MAMA MAMA MAMA MAMA and this sweet smile was worth getting up for
That and a hot cup of decaf coffee with vanilla soy milk on leisurely mornings. Yeah, I'm not easy to please in the morning.
Almost every day, we went to the gym and Anna Cate and I fit in a Mommy and me
Pitaiyo
class.
Speaking of physical activity....Anna Cate learned to ride her bike. We live a bit on a hill so figuring out the inclines in both directions were frustrating so I took her to the track at a nearby school and the girl got her groove or her wheels going.
Molly enjoyed running in the field, but thought it was exhausting teaching Sissy how to ride a bike.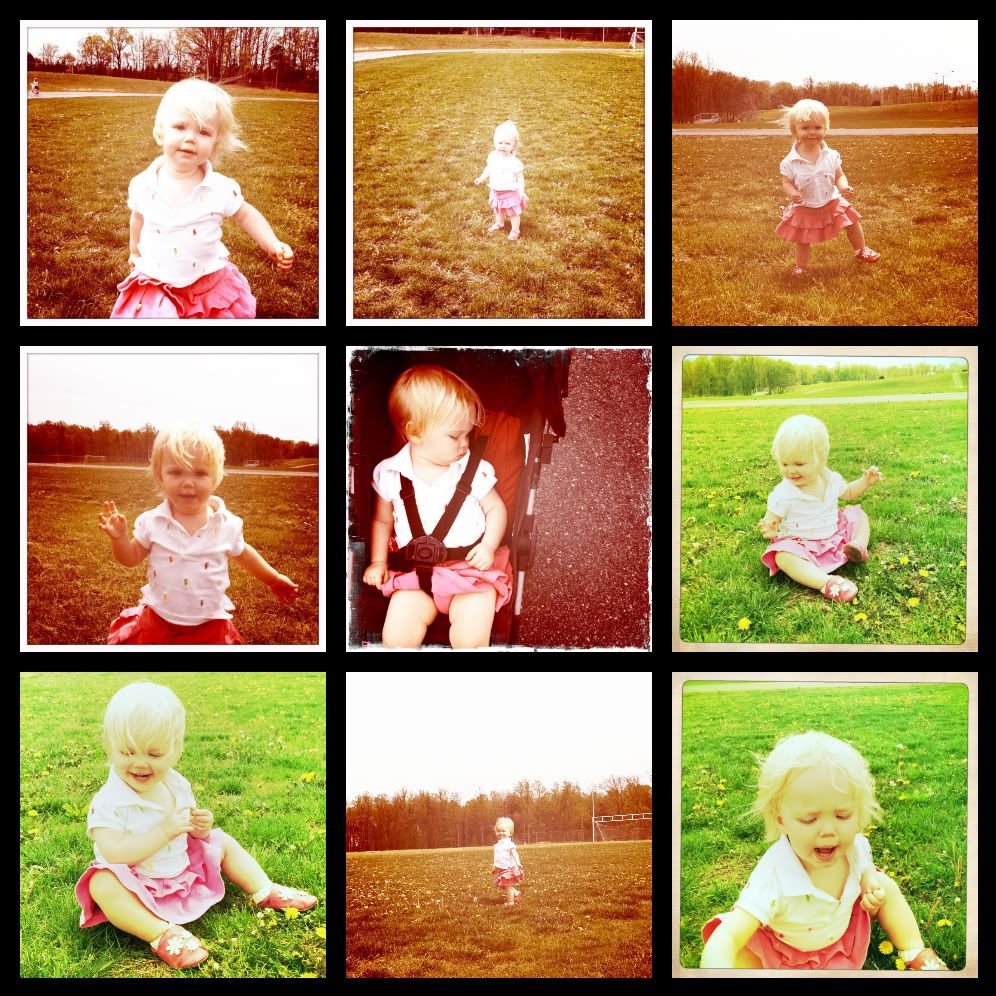 So when Molly slept, we parked her in the shade and Anna Cate rode and rode and I ran and ran. She was so proud she biked 8 laps, 2 miles, but she gets confused and tells people she bikes 8 miles. (By the way, my brother rode RAGBRAI at age 10 on a bike not much bigger than Anna Cate's so maybe a RAGBRAI is in her future). I'm happy I've figured out how to take both my girls running with Anna Cate in a bike and Molly in the jogger.
We went back to the track a few days later, but this time, Anna Cate biked there which included going up and down hills and making turns. She packed a picnic lunch for Molly and herself so they sat in the shade and ate lunch while I ran. I used to
worry
about how I would fit in my own work outs with everything else on my plate, but I'm thankful that we are making it work. Even though the Chocolate Easter Eggs have held me captive a couple nights already, I'm trying really hard to set a healthy example for my girls and keep peace in this household since I'm a lot nicer person to be around when I've gotten a work out in.
(
The pictures above are with an Iphone app called Hipstamatic. I don't exactly know how to use it or how to change the lense options and I usually just shake the phone to let the settings be chosen randomly, but I love playing around with it and these cool 1950ish picture tones
)
Looking back on the week together, we appreciated the time to partake in simple things like blowing on dandlelion puffs, cooking out and sidewalk chalking our driveway...and playing around with the Hiptamatic app.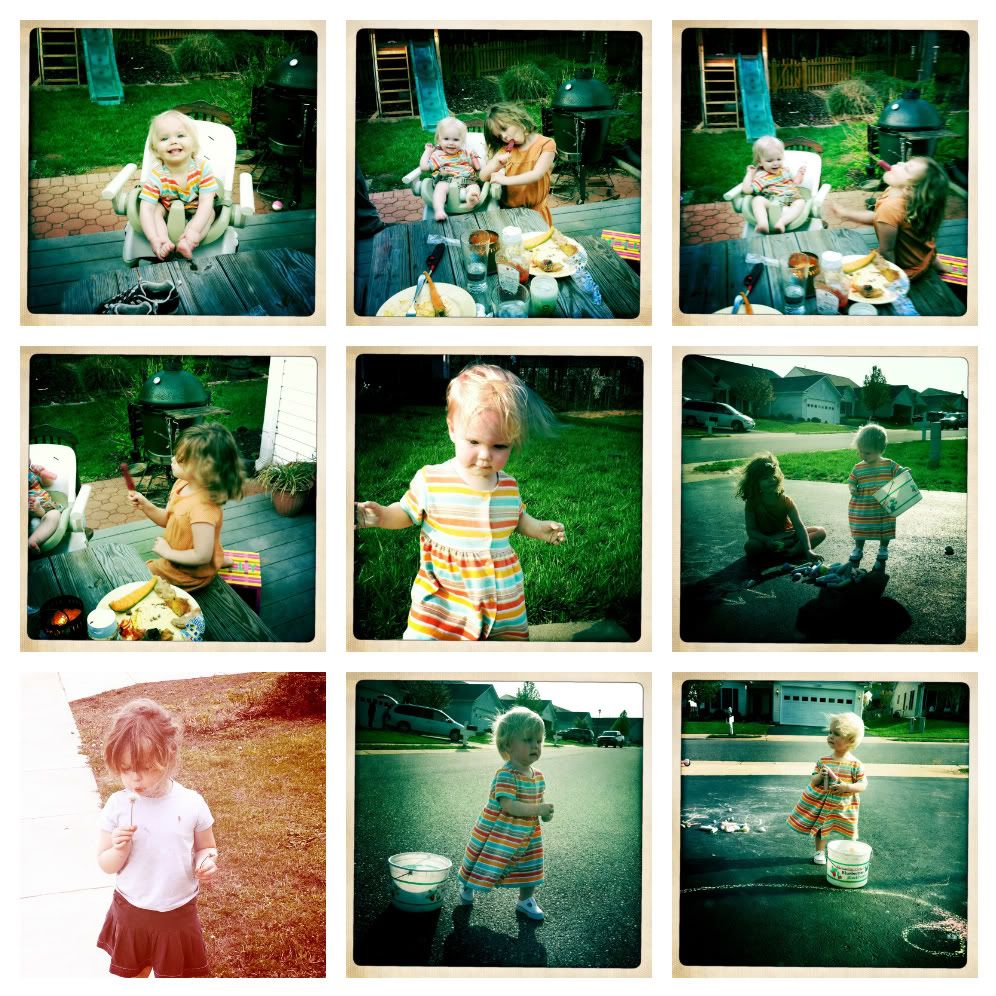 BJ joined in some of the fun by coloring Easter Eggs.
And we did some not so simple things like trying to get both girls to smile and look at the camera for an Easter shot/ Mother's Day gift opportunity. Smiling and looking at the same time didn't happen but I'm pleased with the shots and so thankful for my dear friend Erin Silver for sharing her home and yard for this gorgeous landscape, and trying to help me get the girls to cooperate with a pose or a grin.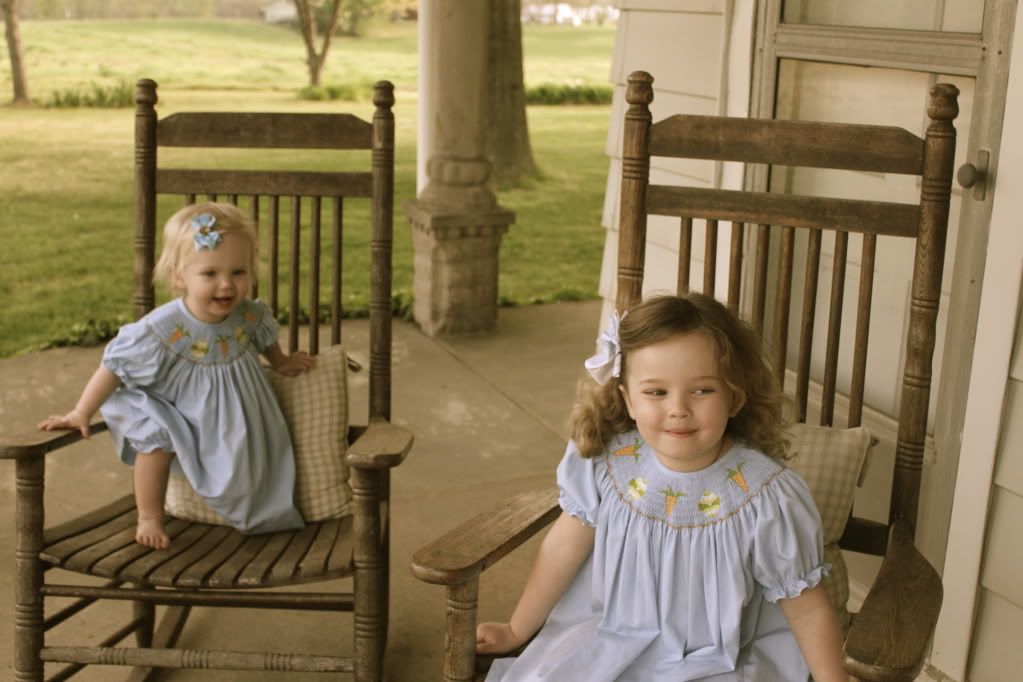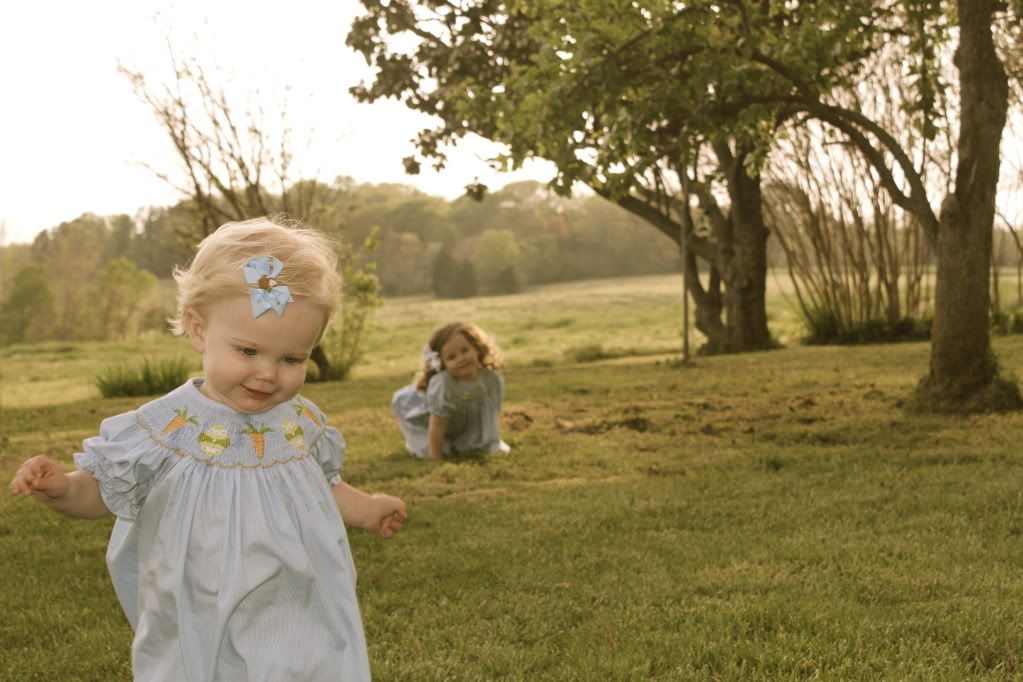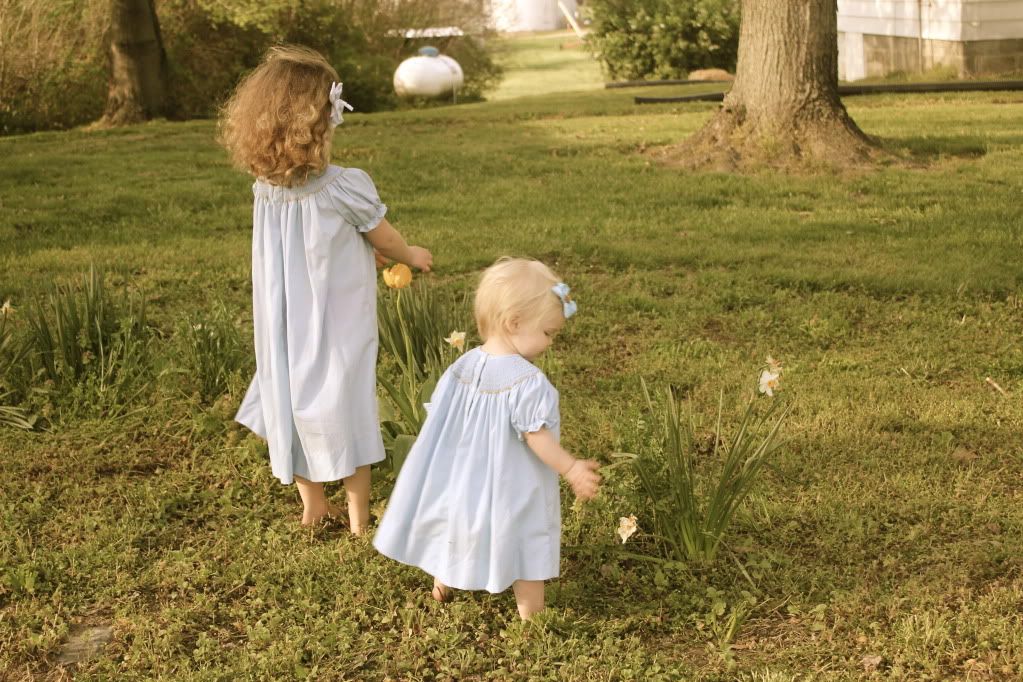 We also did a fancy thing in celebrating Leana's 5th birthday at Pinkadilly for a delightful afternoon tea with our friends, Norah and Nana Sharon before her big and fabulous gymnastics party.
Like the warm tea and delicious treats, Spring break was both soothing and a bit delicacy for me. And, I'm learning to appreciate that the simple things can be the delicacy, too.
So while I didn't go anywhere for Spring Break, I just enjoyed the fact that I didn't have go anywhere to make it special when there are tea parties or learning how to ride a bike and working out a lot or feeling productive by getting caught up on our housework. I'm learning that it is these simple or fancy or traditional things like running in a field, or watching the cutest 1 year old carry chalk around and dot a black pavement, or experiencing Holy week through the eyes of a child that make me think this is my big story here. This is better than a trip right now because that would be a lot of schlepping and disturbed sleep patterns, after all. This right now is the story of our life, the epic tale of this stage with these precious girls and our dear friends and family. More to come in a few days on Holy Week and Easter celebration.
Each day is a little life.