Tonight I turned the heat on, have a cup of herbal tea and am enjoying the chill of Fall, but I'm still a little cold...my body is still used to warmer temperatures.
We are saying goodbye to warm weather and welcoming the signs of Fall in Nature, where I often seek comfort in metaphors for life and in whose landscape I realize I am but a living creature experiencing the seasons myself.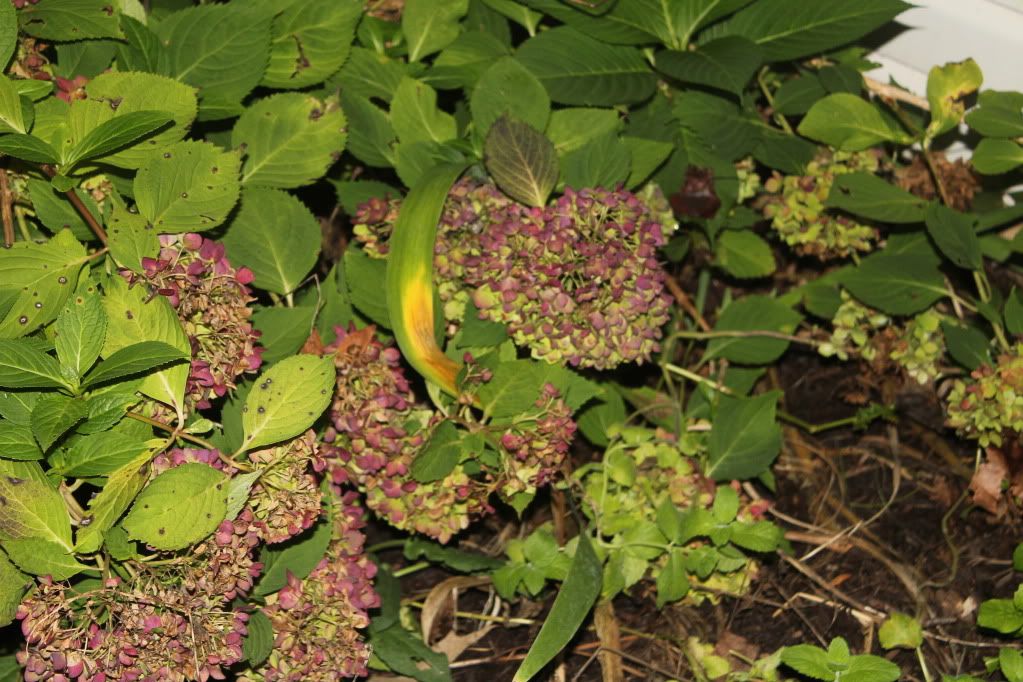 Rather than feel badly about not clipping these when they were vibrant and blue, I've used dried hydrangeas throughout my home. I think I like this shade as well. And I've still been able to find a few bright ones.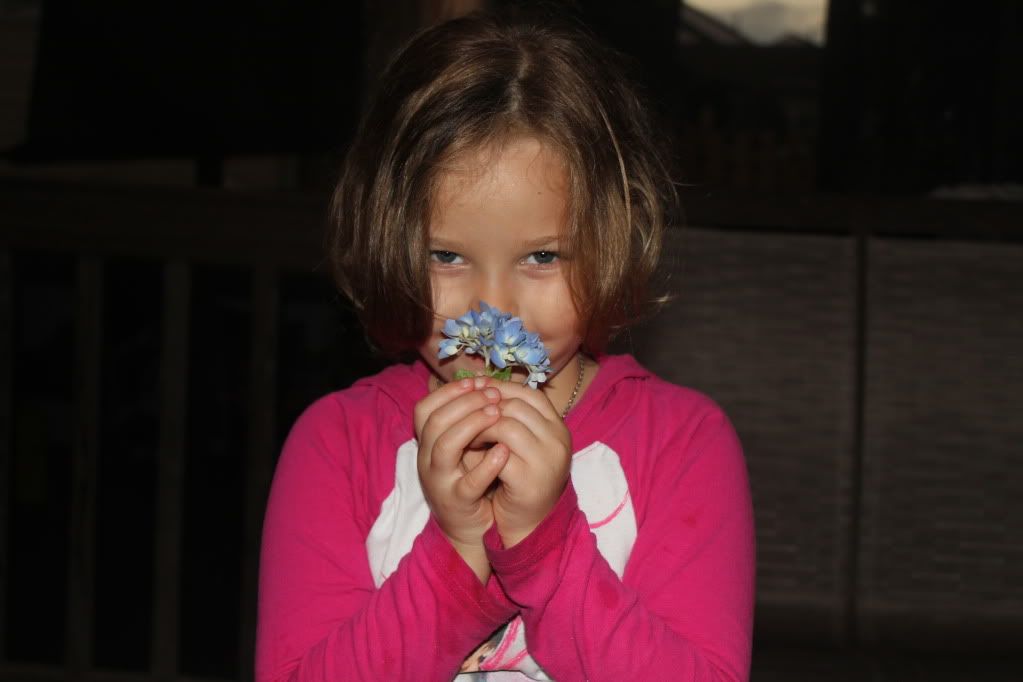 Before all the summer flowers died, I decided to try a craft with Anna Cate -- pressing flowers. I learned to do this from my friend Jessica, who learned it from her grandmother and I used to do it a lot when I was single. In fact, it is the only craft I think I ever felt confident about.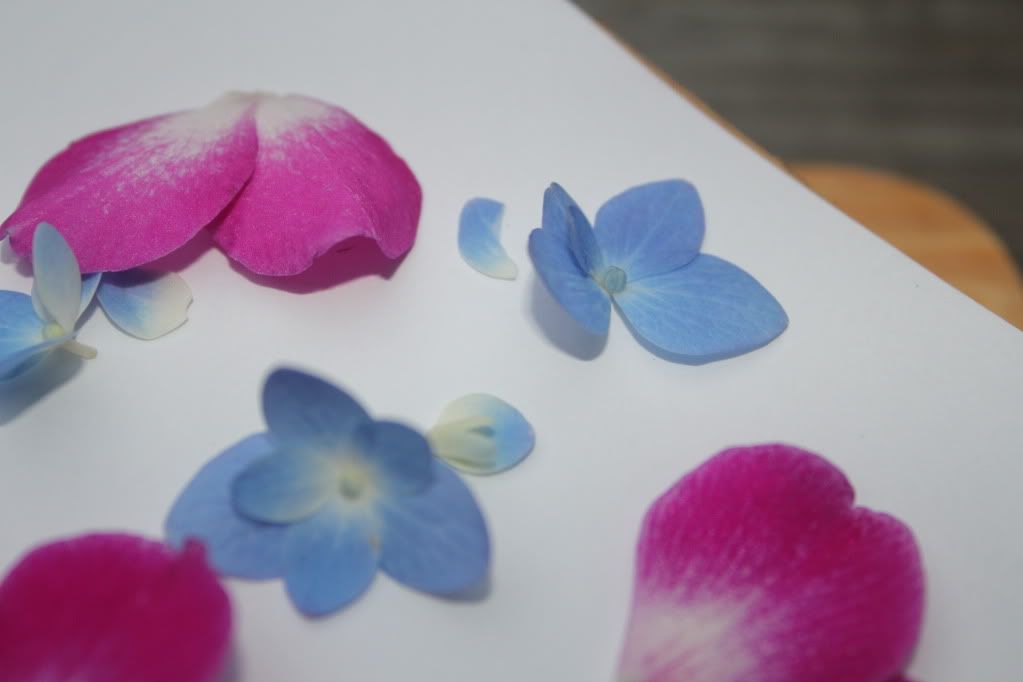 It is really easy to press flowers. You just pick out the petals and put them in a phone book, but I have a fancy little press that my Mom gave me.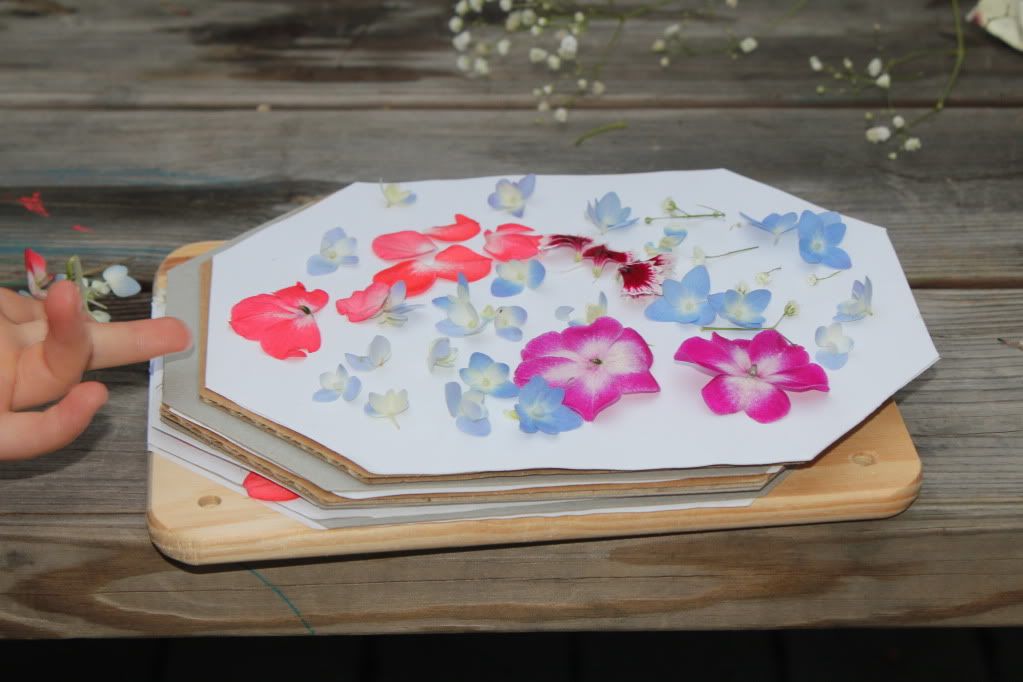 Next weekend, we will uncover them and try to make stationery or something presentable with them.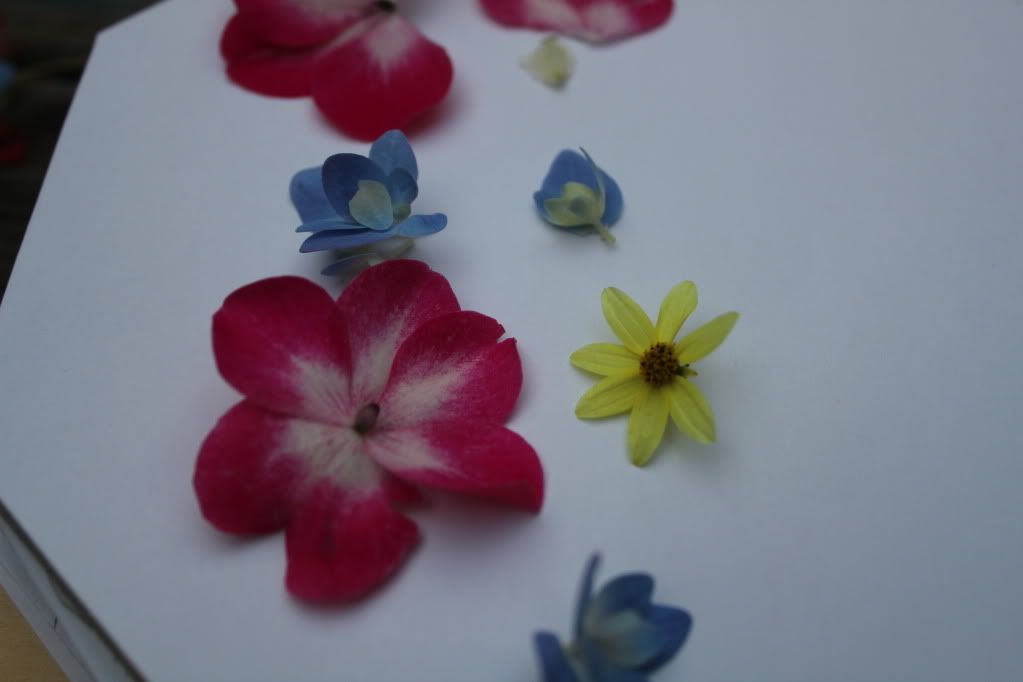 I found it ironic how these simple potted flowers were absolutely breathtakingly beautiful all alone. Almost prettier by themselves. I bet if flowers had personalities, these are introverts.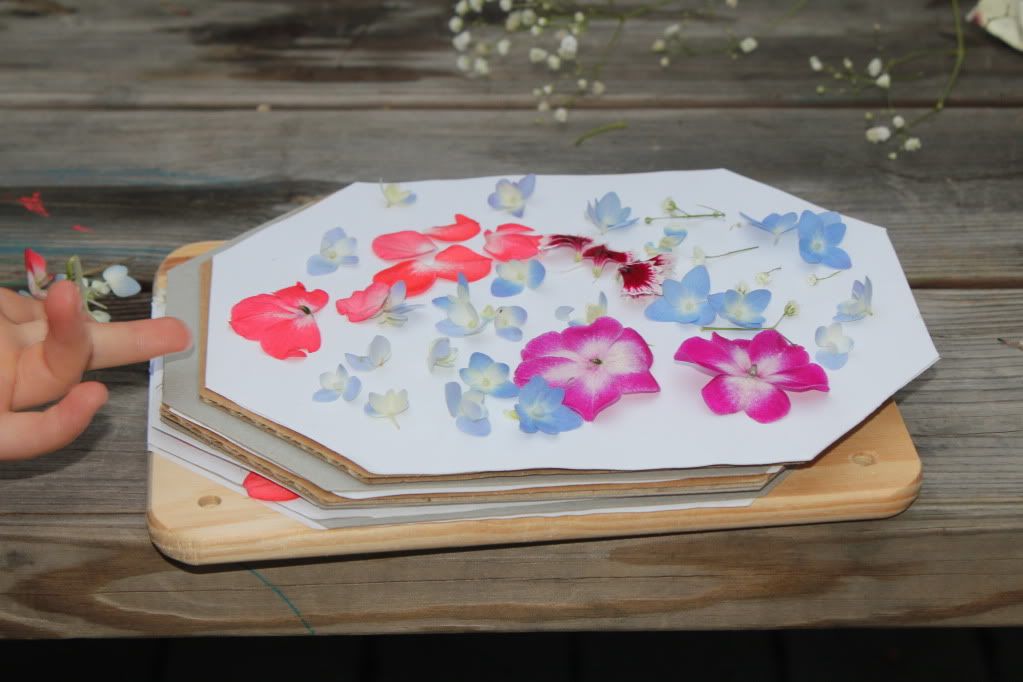 Hydrangeas are much more like myself, an extrovert. They look better in a bunch.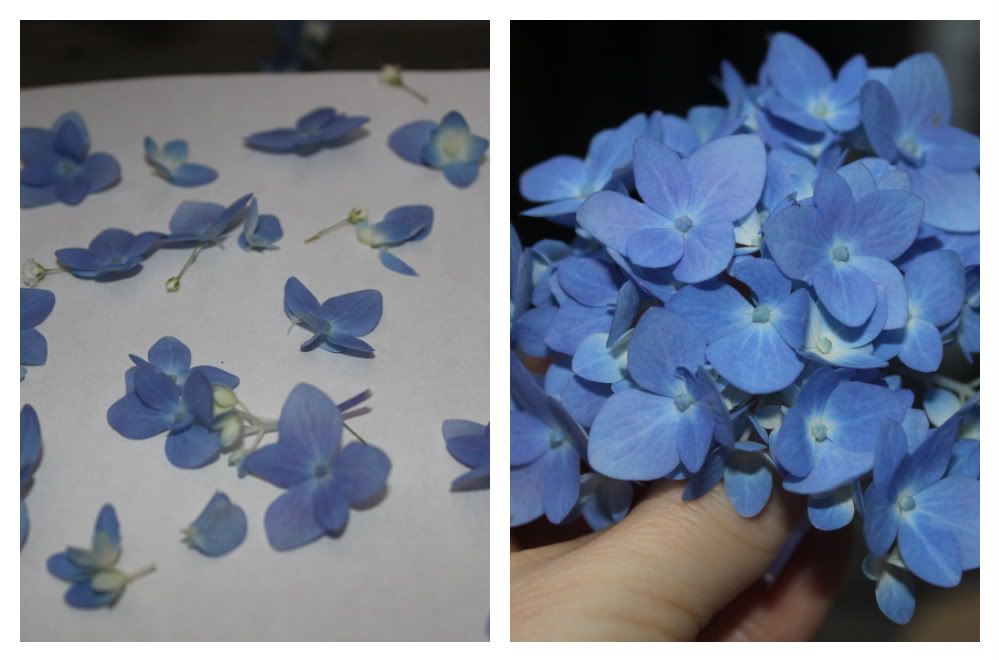 The reason I've spent so much time and space on flowers is becuase as I was trying to save these colors and make something presentable, maybe for a present, for a future craft with Anna Cate, I was comparing it to my life. I'm just trying to savor the vibrance and try to make something presentable out of my life. Since I've gone back to school, I really miss Molly.....I really miss the relationship I think we would have if I spent my days with her.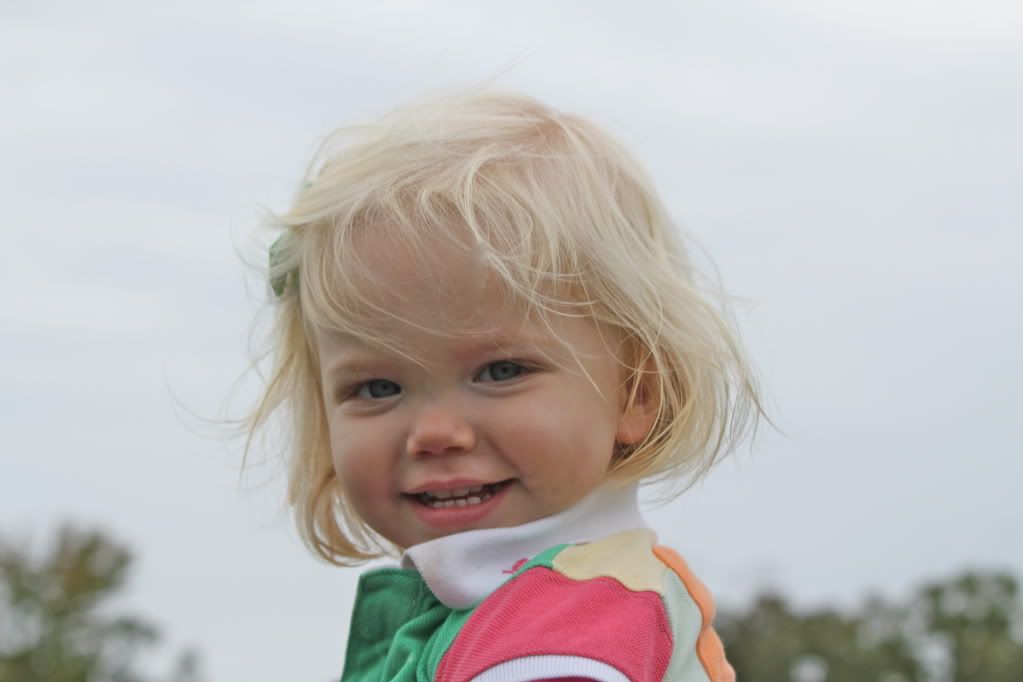 I feel like there is so much of her life that I'm missing. I was lucky enough to stay home with Anna Cate for 2 and half years, a point where she was very verbal. When she started day care, she could tell me all about her day. I feel like I've always been in touch with what is going on with Anna Cate. Even her going to Kindergarten has not made me feel any less connected to her, but missing this year with Molly has been sad for me. Last year Molly nursed the entire school year, so we had that connection.
And, then on top of sadness there is guilt. Molly goes to bed around 7:30 and I work out a couple evenings a week and I'm not willing to give that up because the alternative is so not my shade. So I juggle it the best I can and I play in between all the other things, and when I put her to bed when I'm not at the gym, she mumbles as if she thinks I'm understanding what she is saying. That makes me feel good. Some nights, I even go into her room and scoop her up and rock with her so she knows how much I love her, or I know that I tell her as much as I can.
Don't get my wrong; I'm ok -- I love my job (read my teacher blog here), I know Molly is cared for in the most fabulous place, but this life just wasn't the "shade" I'd imagined sometimes and it just goes by so fast and I really only have so much energy and so many priorities. But by goodness, I'm doing the best I can to make this life presentable. I'm preserving the petals I can; sometimes I'll miss out on a few, but I am going to have to trust the next season when Molly can talk and we'll feel connected again. Those will be vibrant petals.
"I hope you'll remember me like a pressed flower in a notebook; it may not have fragrance but will remind you of my existence forever in your life." ~Unknown
While my daughter may not have the quantity of my presence, I pray that she has the quality of my existence in what I am presenting in this life and to my daughters.
And quality time we do have -- we savor the family time we have on the weekends...like amazing family meals created by BJ.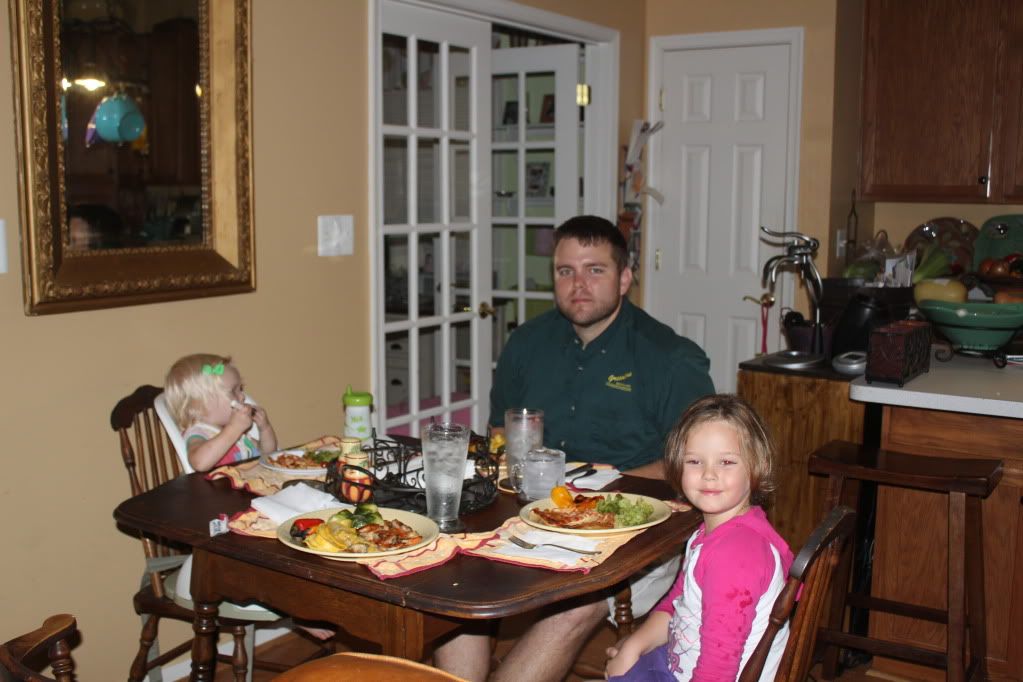 (This was Molly's first night at the table without the high chair tray...it is the little things)
BJ has become quite the master chef on his quest for health. Just tonight, he found out he won 2nd place in a 6 week "better body challenge" though our crossfit gym.
(BJ above with Adam, the owner and the most committed trainer or personal coach ever! Both of us feel so lucky we benefit from his expertise and motivation)
Words can just not describe how proud and how in awe of him I am. Also, I'm loving the chef in him. We have completely given up carbs and sugar. Additionally, he gave up dairy. For 6 weeks, not one processed thing passed his mouth and he followed a strict Paleo diet. What I've learned by watching him is that creating meals take time, and that is the way it should be. Food should not be quick and easy, but that is no excuse. He is truly an inspiration and if you need an inspiring story, his is one. I want him to devote a blog to his total transformation, mind, body and heart. Since he is too busy working out and preparing food in top of being such a wonderful Dad he might not have time, so just check out Cross Fit. I promise you'll be inspired.
The best thing for me is knowing how we are both passing on to our daughters the value of a clean and active lifestyle.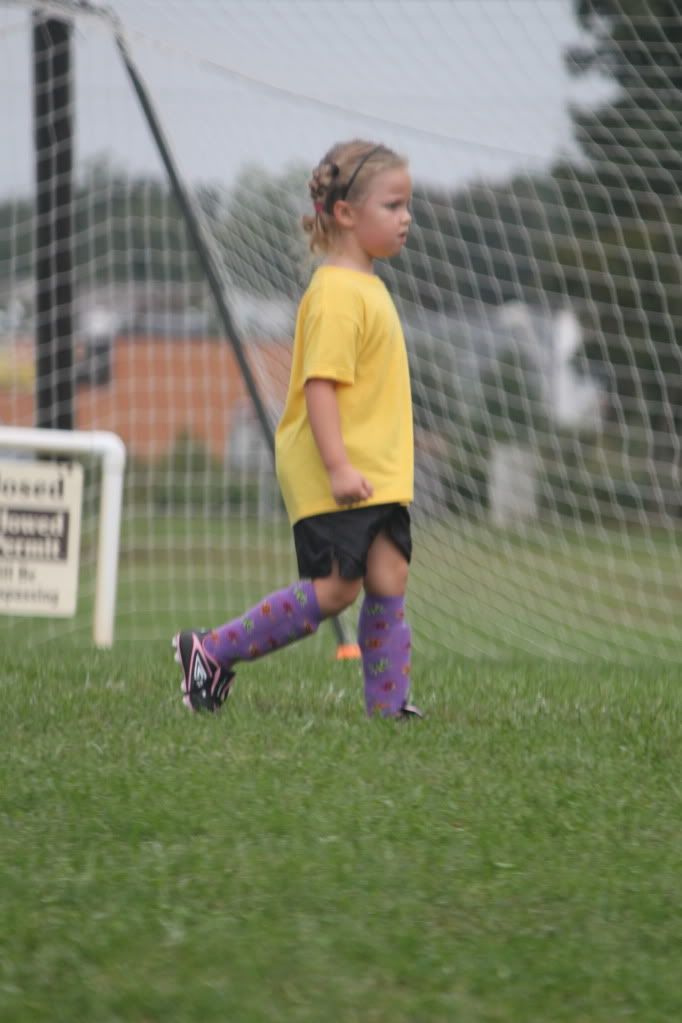 And every now and then, it is ok to indulge! At the end of the six week challenge, BJ wanted fried chicken so a meal at KFC was in order. (But he got right back on the wagon in less than 12 hours as he got up at 5am on Sunday to run 10 miles in his record time) and Molly loved eating a chicken leg right off the bone and licking honey off of a biscuit. The girl LOVES to eat almost as she loves to move, or loves shoes.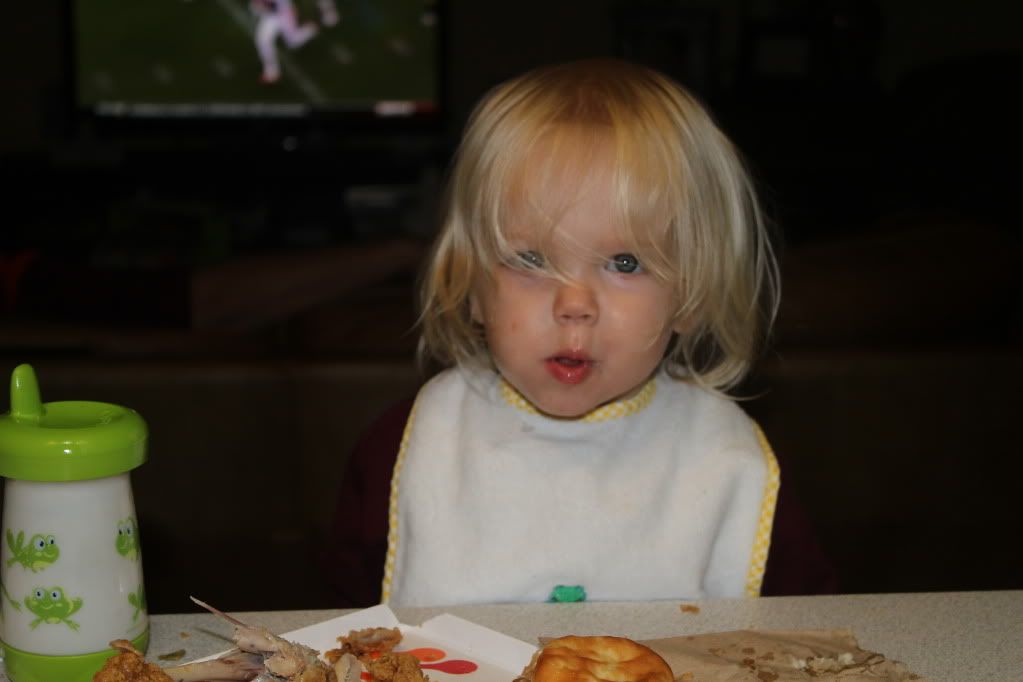 Oh, and she loves her Daddy.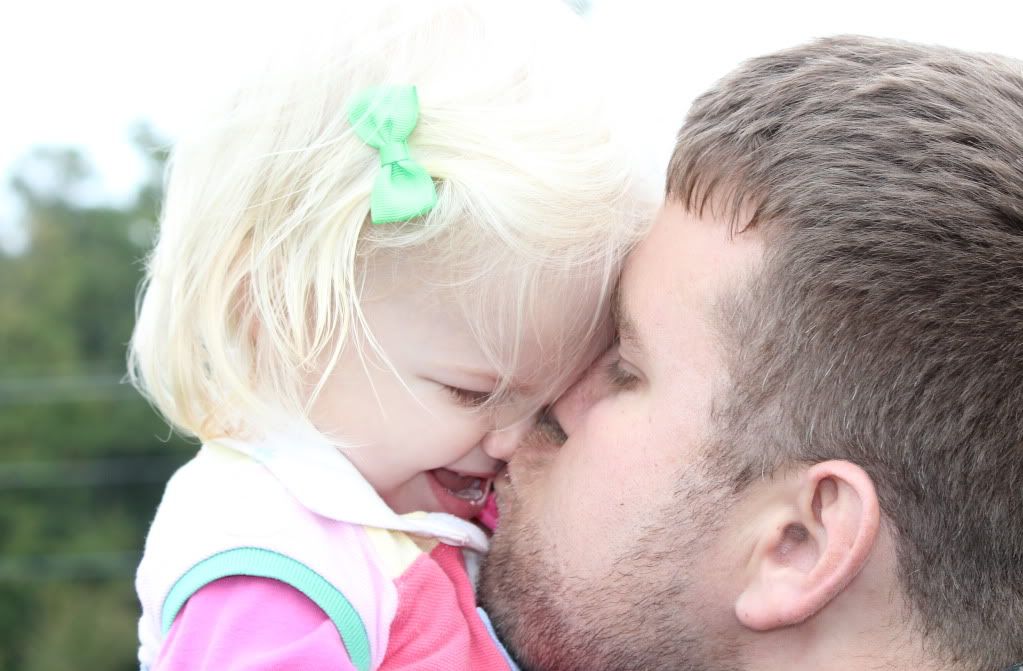 The colors of abundance in our life far outnumber the hues of longing for more. This is our life, our journey and I cling to the moments like these above. I know they are what make life up after all. Speaking of those moments, I'm about to go slip into a quiet nursery to metaphorically "press a flower" -- to steal a moment with Molly Mae. She won't remember it in the morning, but I will.
The Journey
what you had to do, and began...
and there was a new voice
as you strode deeper and deeper
the only thing you could do--
the only life you could save.