I grew up in a church where we went on Sunday morning -- the church in which my father grew up, and where his father grew up. I sat on a pew between my parents (and brother) and my Granny. I spent most Sundays holding her hand during service, so I know about the importance of feeling connected to a church. BUT I also went with my family to visit many others....to Baptist revivals, Church of Christ Sunday night services, many pot luck lunches, African Methodist Episcopal celebrations, Seventh Day Adventist Sabbath services. I have walked to church with the Amish, and listened to rural Pentecostals play and sing music stirring my soul. In college, I visited a Methodist Church but found my nitch across the street at a Presbyterian church.
When I visited Budapest, Hungary I worshipped at their national cathedral. I have worshipped and visited with monks in a trappist monastery in Iowa, taken communion with people of all sorts of faith walks; I have reflected with awe upon icons in Eastern Orthodox churches all over Russia.
I have stopped in the streets of Egypt to honor the call to prayer for Muslims.
I have met my husband and some of my dearest friends at this point in my life in church.
Where we go to church now is a big part of my family's life, and it is a good thing.
I've become a two-time-a-week going Baptist in a church I love whose opportunities abound. My children have so much good around them in this church, and at the end of this month Anna Cate will join this fellowship, but I've been thinking....
How do I make sure that my children still know that you can find good communities, fulfilling spiritual experiences elsewhere?
I don't want my kids to believe that the Spirit is contained in church or that one building or community represents the mulititude of beautiful faith experiences.
I know that you find good people in church and you see fruits of the Spirit all over and I want to pass along this understanding, but it isn't something you just say. You live it, or in my case you were schlepped to churches and revivals. But quite frankly, I am just not sure I have room in my life for that. I wonder if t
here really isn't very much I can do about this and think on that quote "some time we spend so much time giving our kids what we didn't have that we forget to give them what we did have." But an opportunity arouse...
Last night at our neighborhood grocery store, BJ noticed flocks of families shopping with lists and filling paper bags and when he inquired about it, a family explained. "We go to the Salem Fields Community Church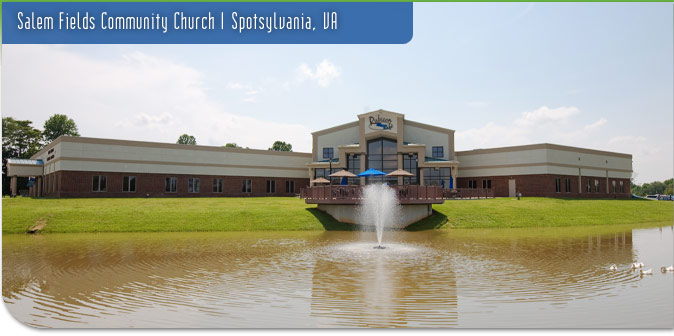 [a contemporary church across the street from our neighborhood]
and tonight we have left service to shop to fill up trailers of relief supplies for the vict
ims of the hurricane." BJ then commended their church on the good they are doing in general, then the guy said, "oh yeah, our church is a great place. You should come tomorrow morning." BJ replied that he appreciated the invitation and we already had a church, but here is $20 for your supplies. In BJ's relaying this story to me, I smiled and thought, "we should go."
The service was filled with beautiful music and after some praise music, there were images of New York as a lady sang "New York State of Mind." One of the ministers said, "today we are going to be the message rather than your hearing one" and the project was explained...the bags, the lists, the trucks. And if you didn't have money, time was needed to sort the supplies and make cards.
So, the King family got a bag, went to the store to fill it and then back to the church.
We were blessed to have witnessed a message in the grocery store line, empowered by the chance to be a message amongst a family of faith , and I was grateful to relive and share with Anna Cate and Molly a message of my childhood: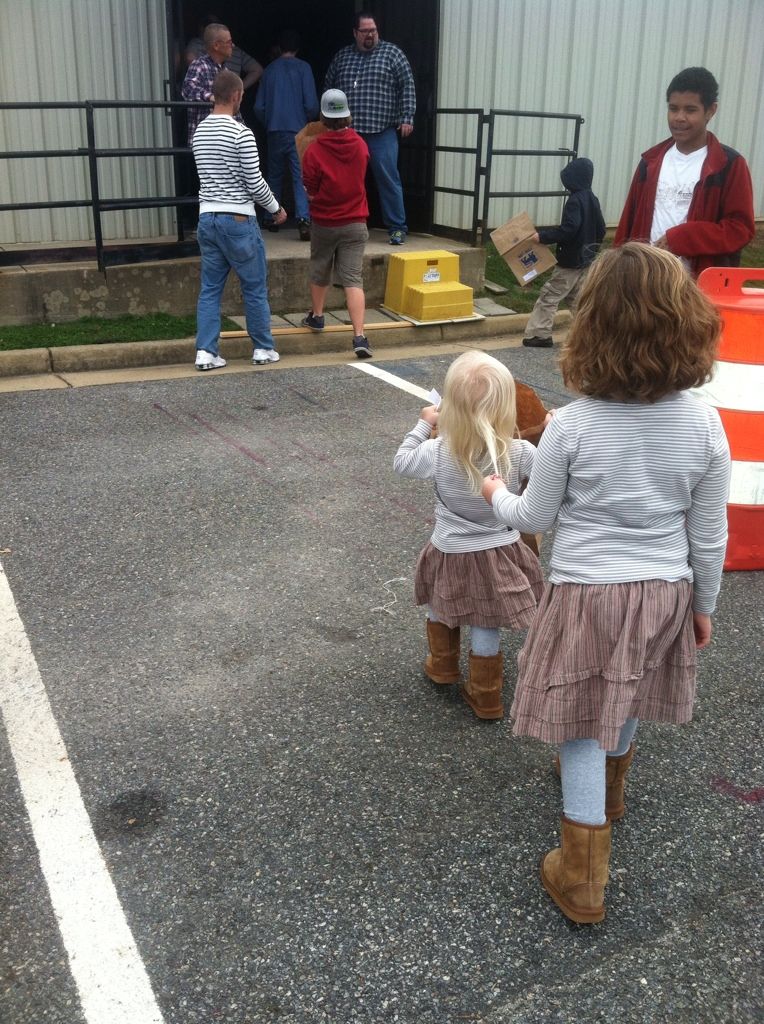 You find God and His flock everywhere.