"Style is knowing who you are, what you want to say, and not giving a damn."
―
Gore Vidal

Sometimes it seems my life is typical, which bothers me a tad. I am a teacher; my husband is in "sales" and we have 2.5 children (two girls, one dog). We live in a neighborhood that looks like many neighborhoods across the country, on a street where many houses look the same. This might be why I want my home to look different, the girls birthday parties to be different, and my parenting style to have a unique mark.

Since I want our home to have character, on that long drive home from Tennessee after Christmas vacation, I began to think of how to transform our front room to a place for me to read and sip tea and invite guests with charm. I used my smart phone to look up my amazingly talented friend Melanie Edwards (who is an interior designer) and her pinterest board for ideas. When in Nashville, I visited Anthropologie and fell in love with this yellow couch, but since it is like $6,0000, I just used Anthropologie for inspiration....and Melanie's room ideas on pinterst. In the same silly, superficial vain where I fret about life as typical, I realize I don't have much style but just enough sense to know who does. . . . . including another friend who has both the eye and hands to create character in a space a s well as in a family. She also paints furniture as a side business. So Debbie came over, told me what I needed to do, which included shopping my house by rearranging furniture and pieces, putting away pieces I don't love to look at, and creating a space for your eyes to rest.
This shelf was $20 at an estate sale in Centerville; Debbie took the colors from these curtains I got at World Market to create such a fun and funky look. I kept drawing myself to green and turquoise. The gallery collage on the opposite wall includes lots of pictures we've gotten from another talented friend, Jennifer.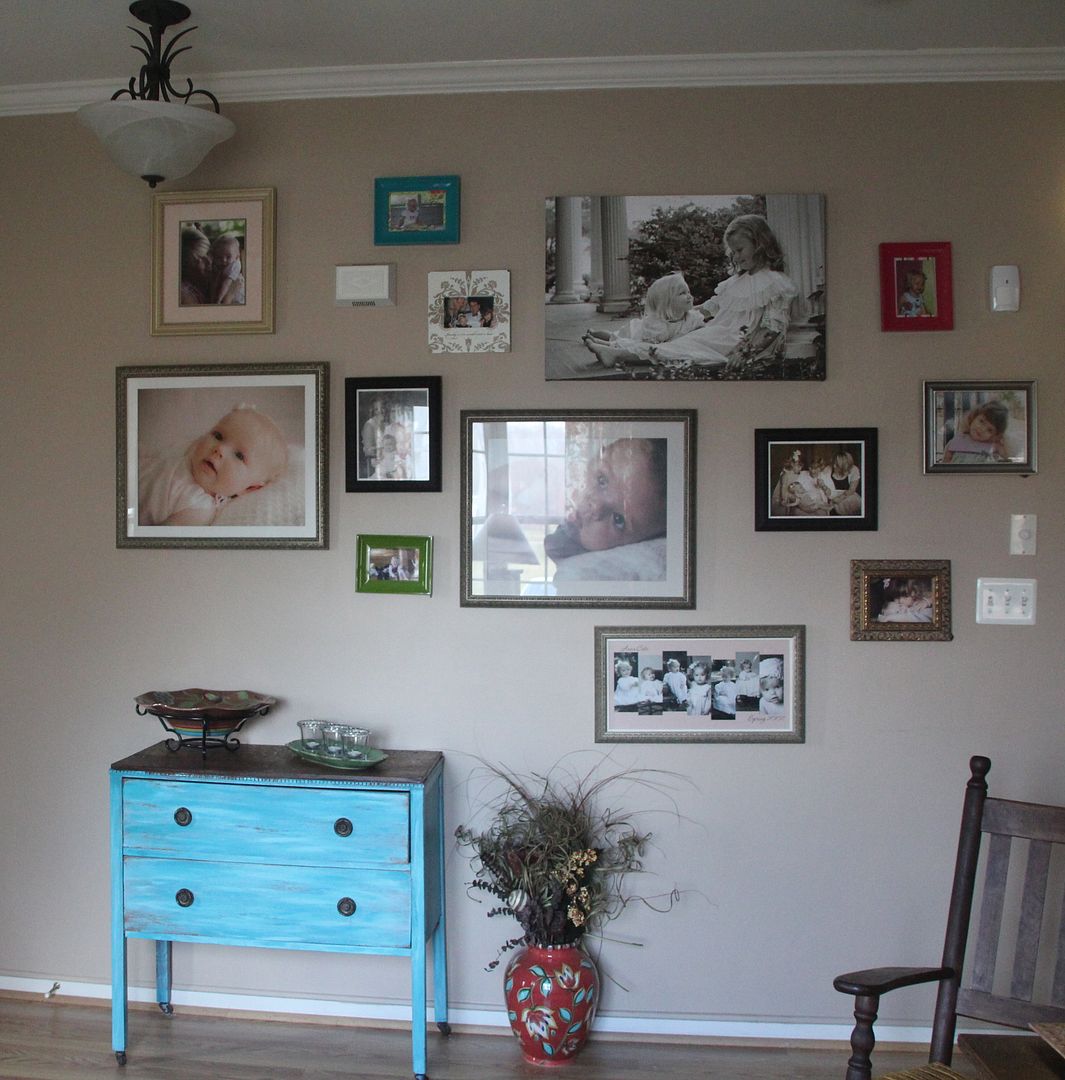 This chest of drawers was an antique purchased from a house sale in Centerville before I moved to Fredericksburg. I've never thought about this before now, but that house is the one where my brother and his family live now. Debbie stained the top and gave it a vintage turquoise look that I love.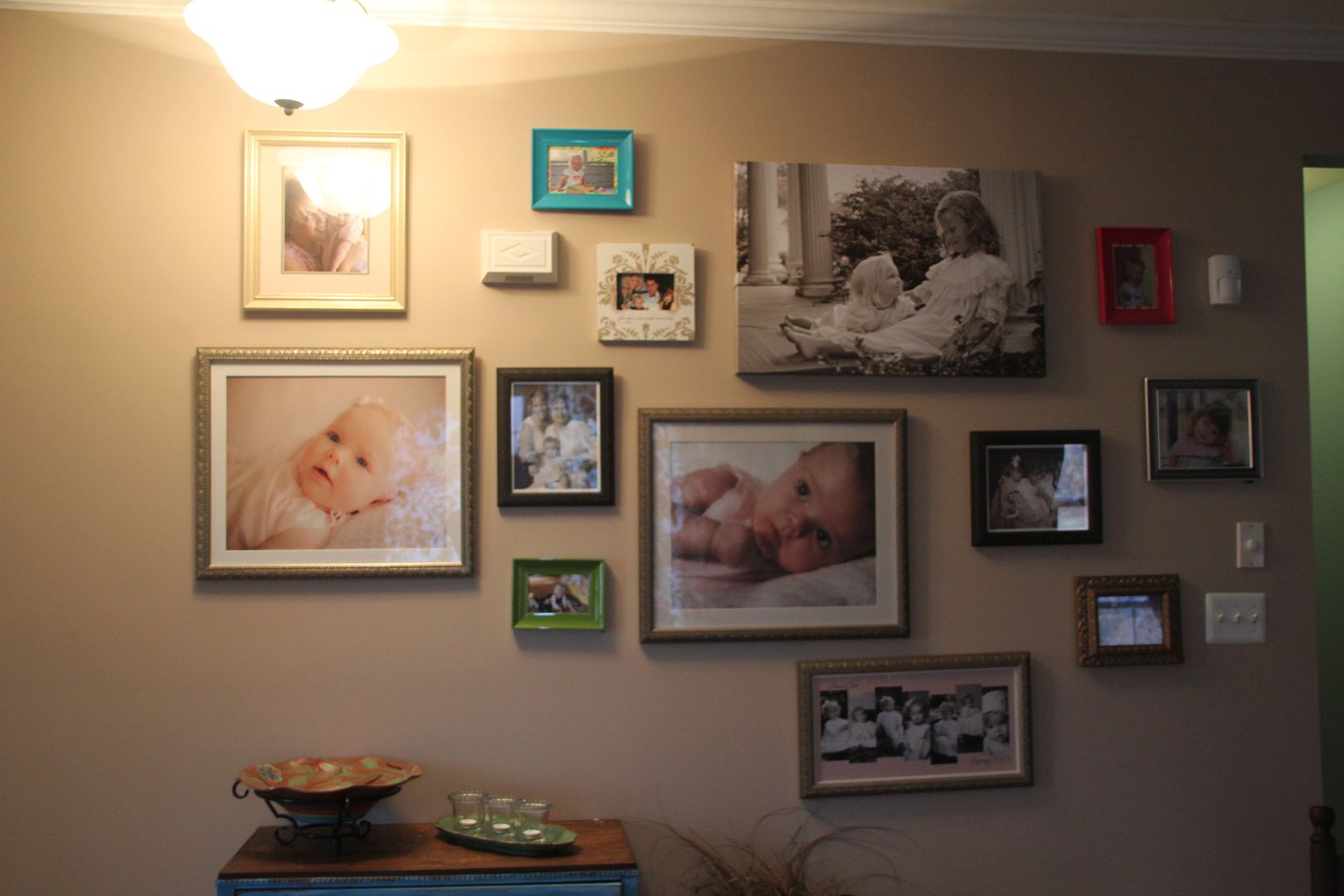 This tea cart was my great grandmother's and I had never noticed the date on the handle. Thankfully, Debbie left this unpainted giving the piece and my home even more character.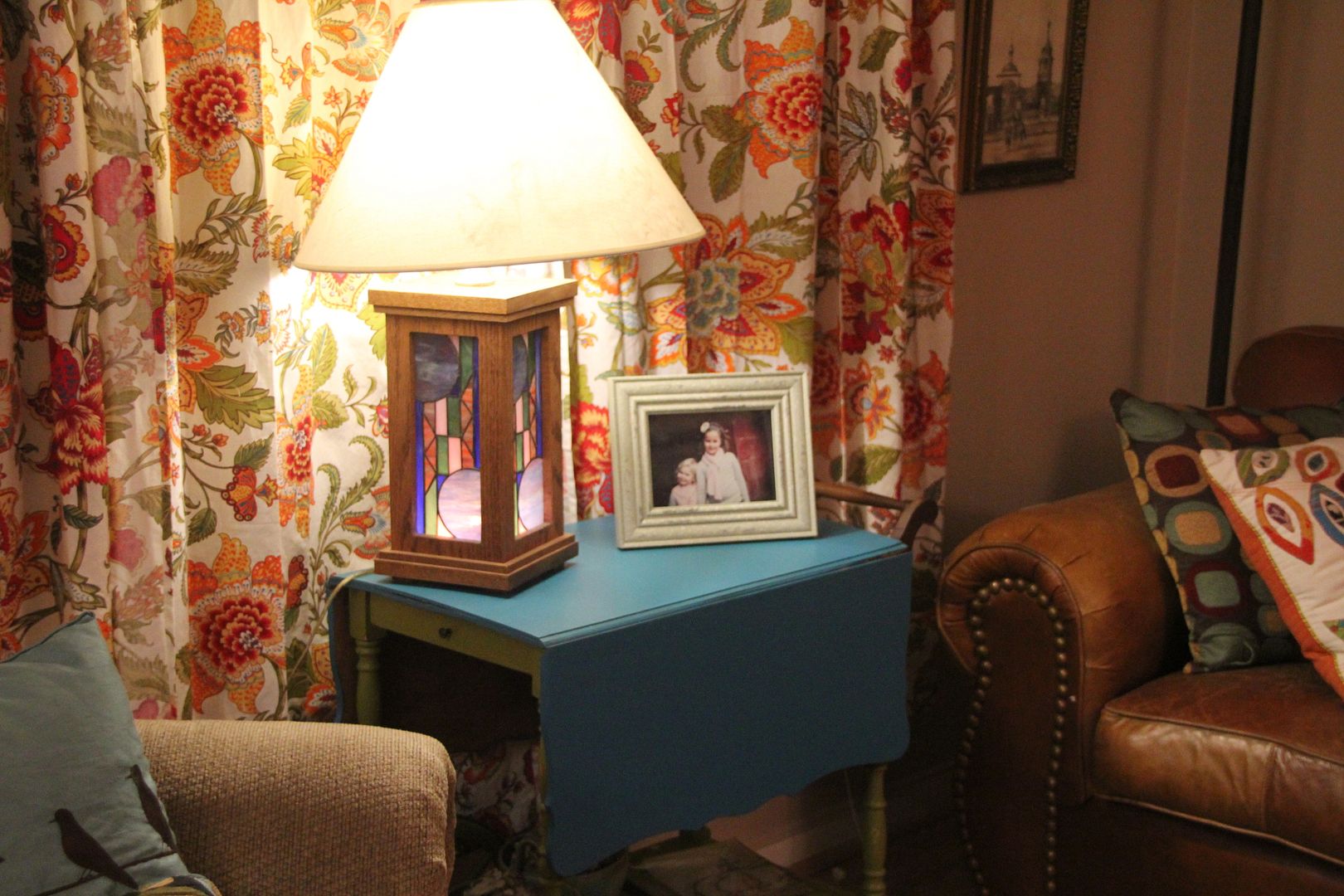 So, we created my little space, where I'm writing now. A place to read, to cuddle, to get away from the TV.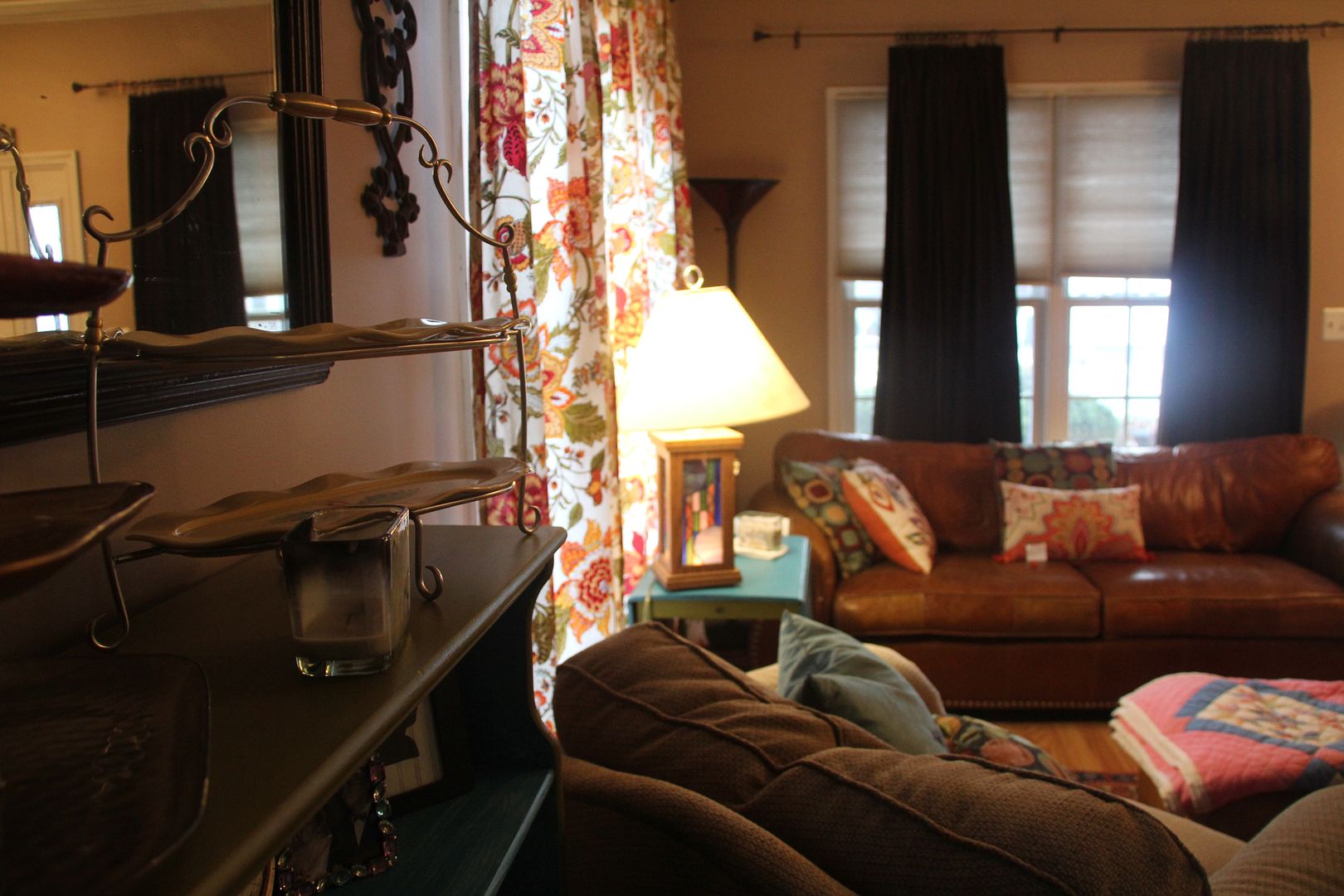 Last weekend it sort of all came together when BJ hung the pictures and I picked out some pictures that Jennifer (talented photographer friend in Tennessee) took in December. On Monday, we were given this gift which is the perfect touch of style.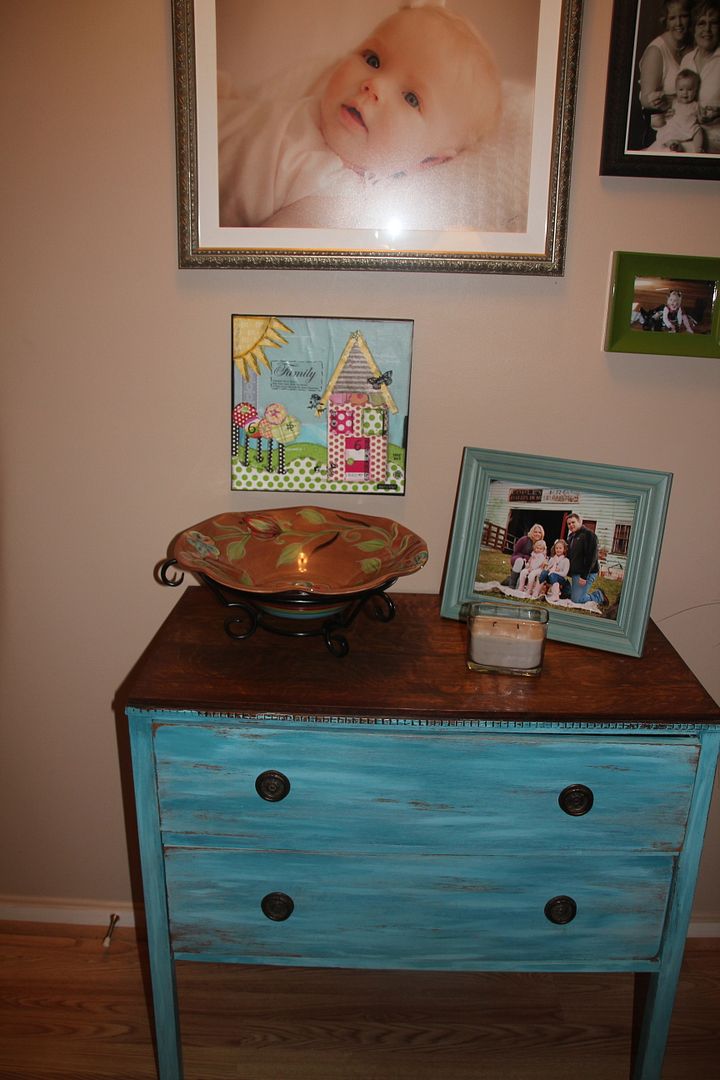 The canvas framed piece of art came from a Facebook gift/challenge BJ accepted. T

he deal was that the first five people who commented on his friend's status would get something handmade that they didn't know what it was- BUT those five people then had to do the same thing and post the challenge on their page to keep it going.
He picked it up Monday morning and when he called me, he said, "you'll love it. It will look great in your new room."
So when he said he took the challenge, he didn't know what he would be getting or that it would go in this room. The artist? None other than my friend Melanie whose sense of style (and pinterest board)
inspired the room in the first place!!!

The colors, green and blue, the major colors in the picture are the themes of the room, and that little funky house on the picture represents for me that my house, my life may look like others but it's not. It's polka dots, and stripes and random numbers, but maybe in a way my home does look like others. And that's ok, too, because part of my style is finding and experiencing these connections.

BJ is doing the challenge on Facebook sometime during the year, and I'm also going to do it here. The first five people who comment on this blog will get something homemade from us (but you have to pass it on in some way yourself). So leave a comment and tell me a recent connection that has happened in your life OR your favorite room of your house and why.
A major disclaimer: it will not be as cute as Melanie's!
-----------------

Now on to our making a mark in things outside of this room.
Anna Cate has learned how to ride a bike sans training wheels.
While Debbie and I were talking home decor, Anna Cate and her kids got into BJ's tool box, took off her training wheels and taught her.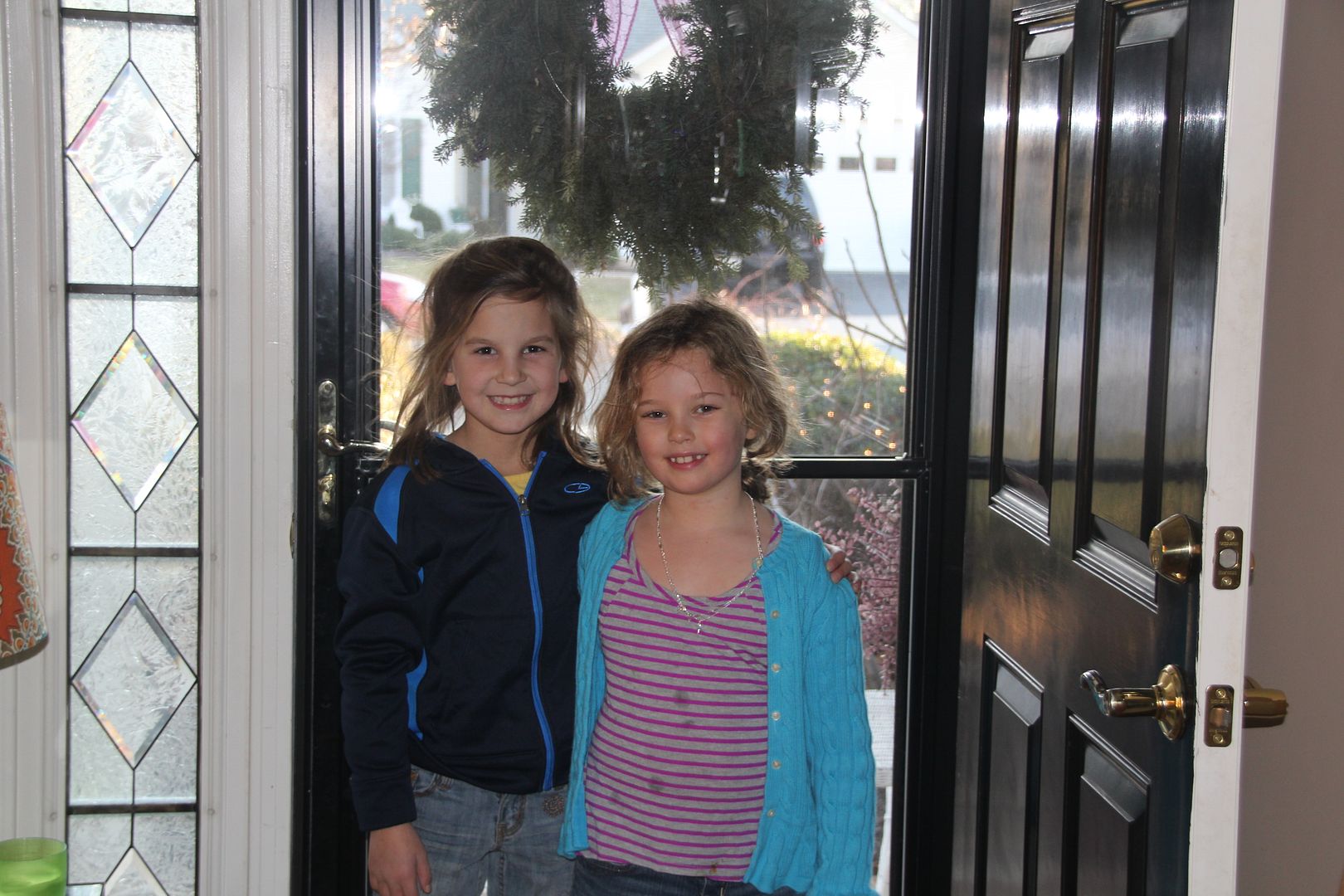 Sarah was a fabulous coach and is a sweet girl.
BJ's birthday was the 8th and since I have not the talent to make a cake, but wanted the girls to participate I wanted my friend Chas to make him one with her.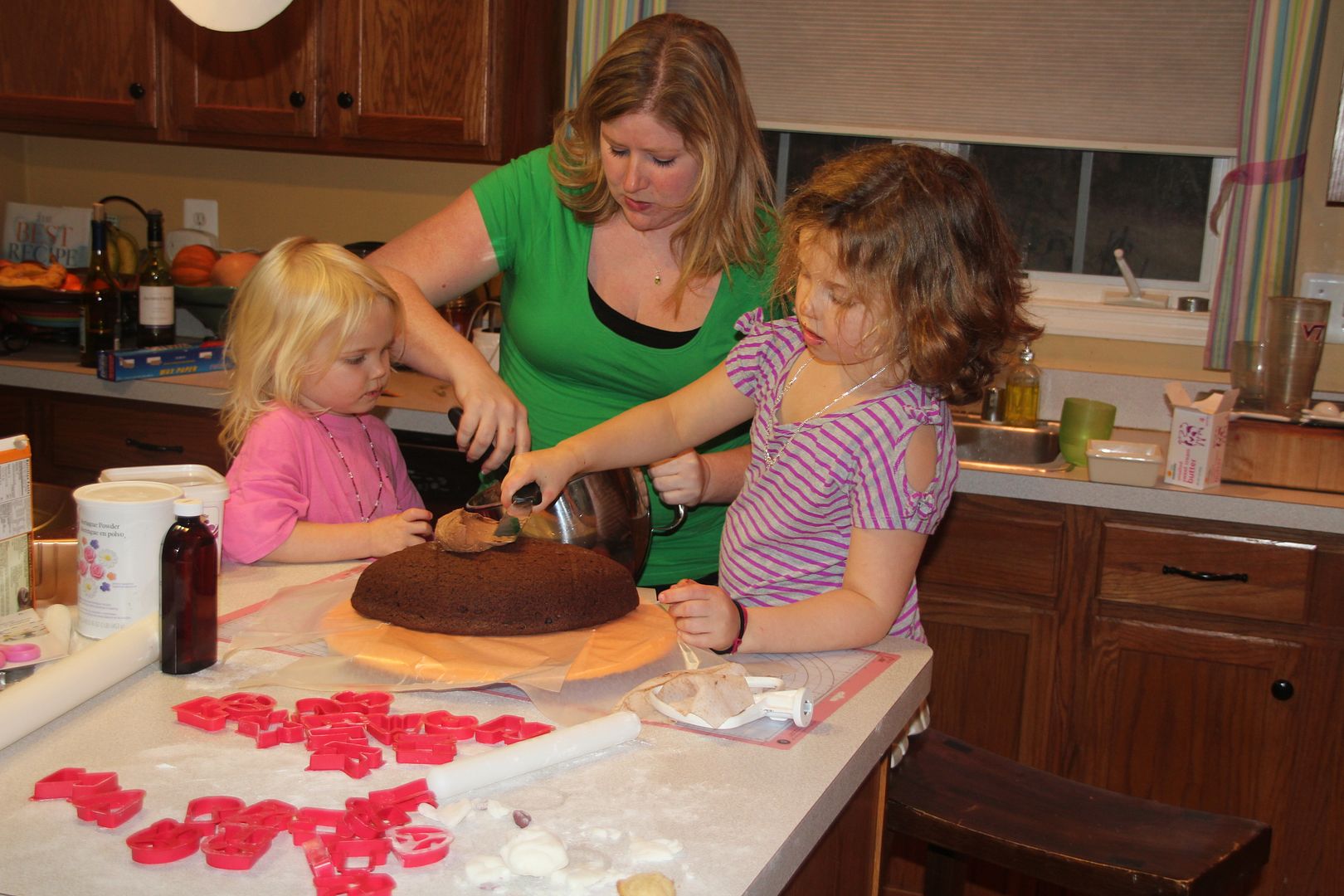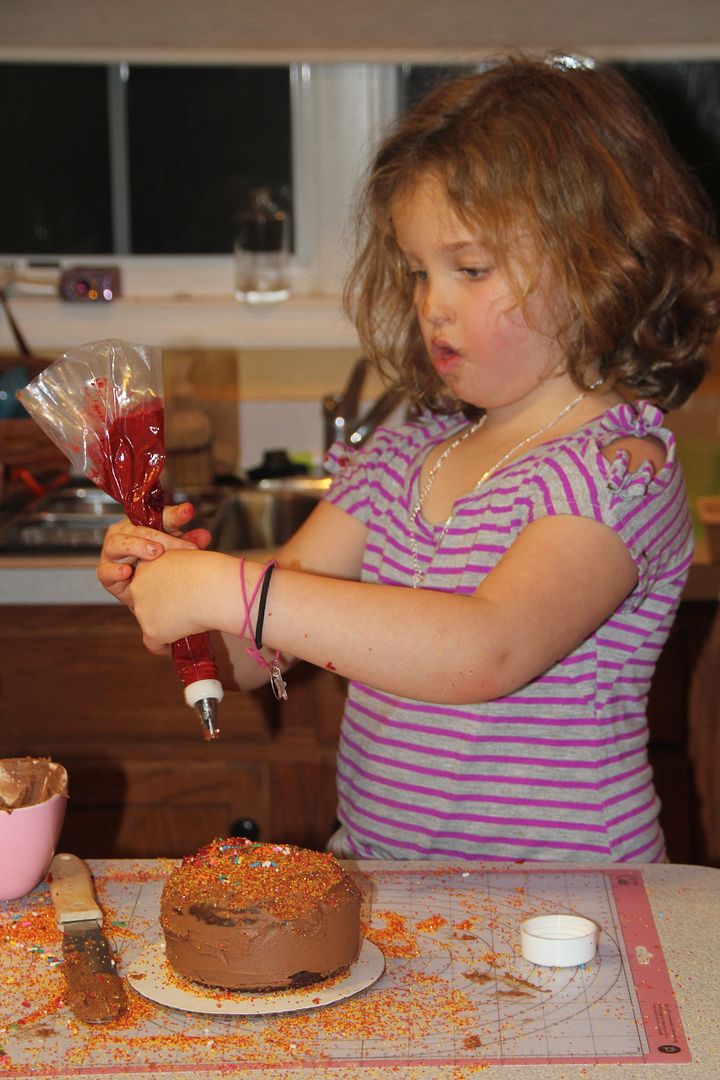 We've decorated for and enjoyed some snow days together.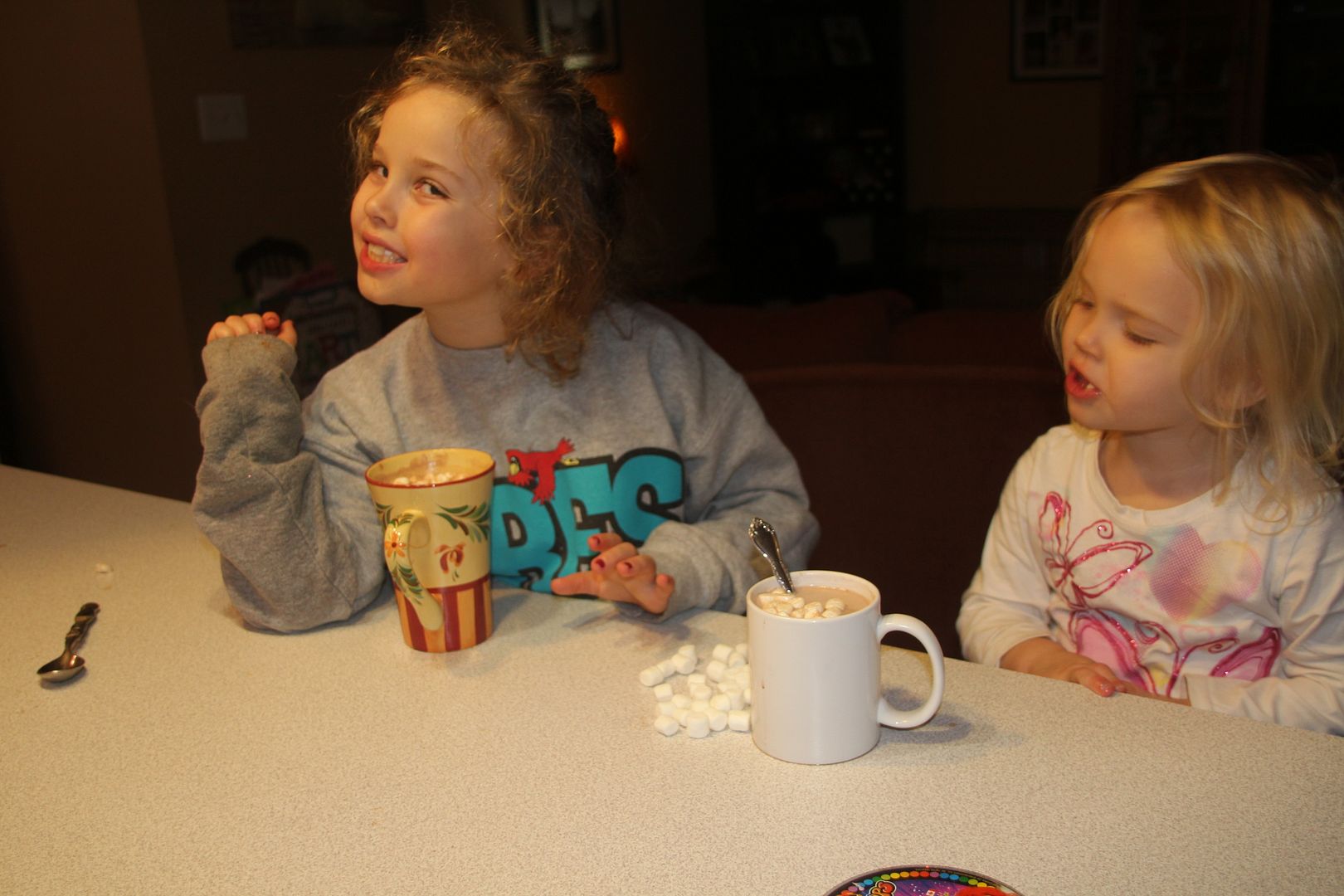 And decorating for Valentine's Day includes using candies that are years old.
Our friends, the Pences, have moved to live much closer to us and it is fabulous!!!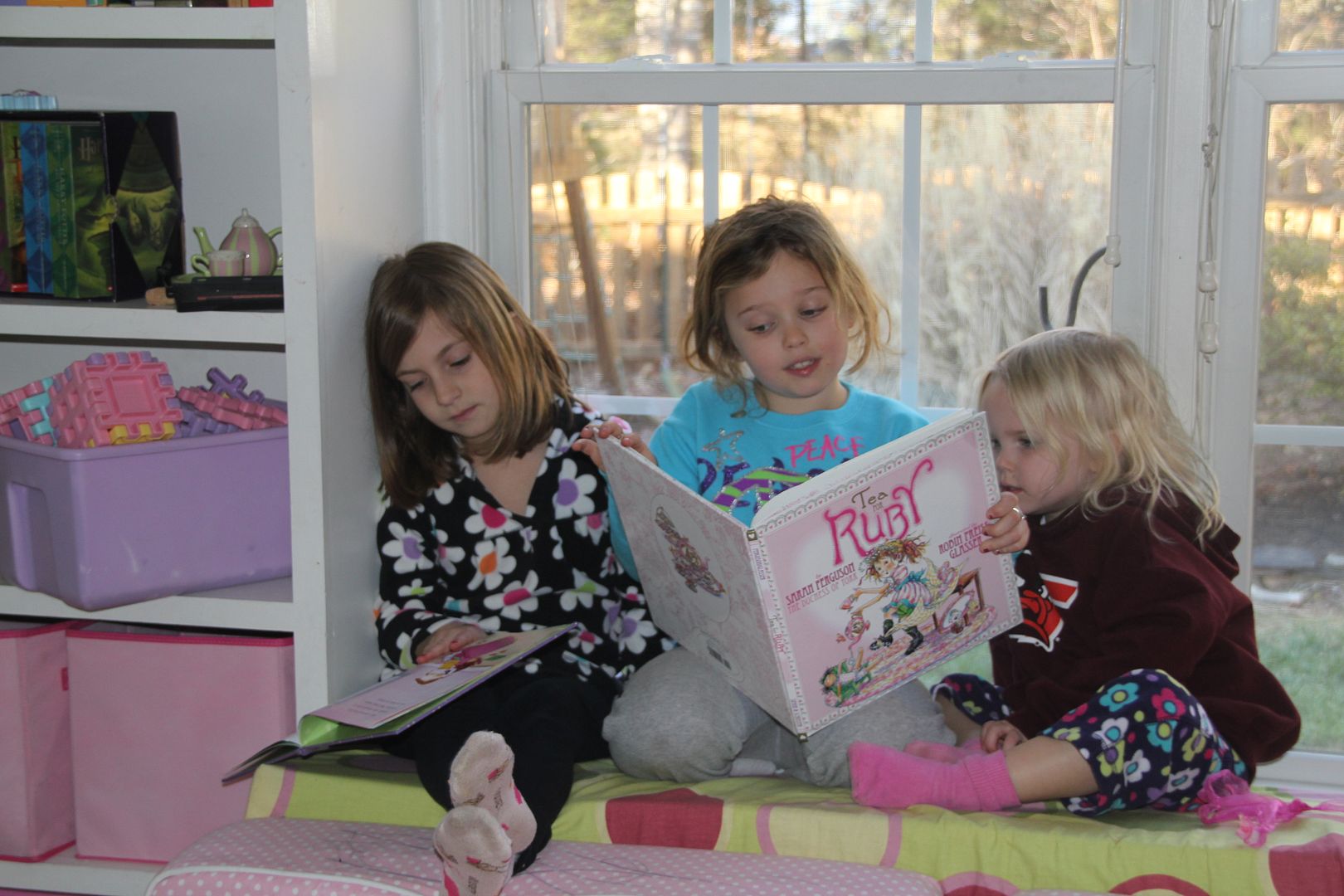 The kids play and work out so well together. Anna Cate and Leana do crossfit kids, which is probably another post.
And speaking of style....check out Molly Mae doing the workout in cowboy boots. She demanded to dress herself and I think had on no less than 4 different prints or patterns. Molly's personality is developing and her sense of sass is her style. She says the funniest things but often I don't know whether to laugh or send her to time out. Last night, she told me when I told her to let Anna Cate talk, too, "you need to zip it up." On the way home from church on Wednesday night, after I suggested we all sing Jesus Loves Me when she wanted to sing by herself, she said, "you guys are RUINING MY LIFE."
Last Sunday, Anna Cate's youth choir sang at church and in picking out this dress, she told me she would wear the smocked dress BUT NOT THE BOW.
She's developing her own sense of style. After her report card, I told her she could request a treat but let's think of something other than food. She asked for a second dog, and after some reflection after that denial, she said, "how about red lipstick?" Today, when Leana was here this morning, Molly Mae, Anna Cate and Leana enjoyed donning the red lipstick, but we had to wipe it off in time for her Father-Daughter Dance tonight. I tried to straighten her hair for the first time ever.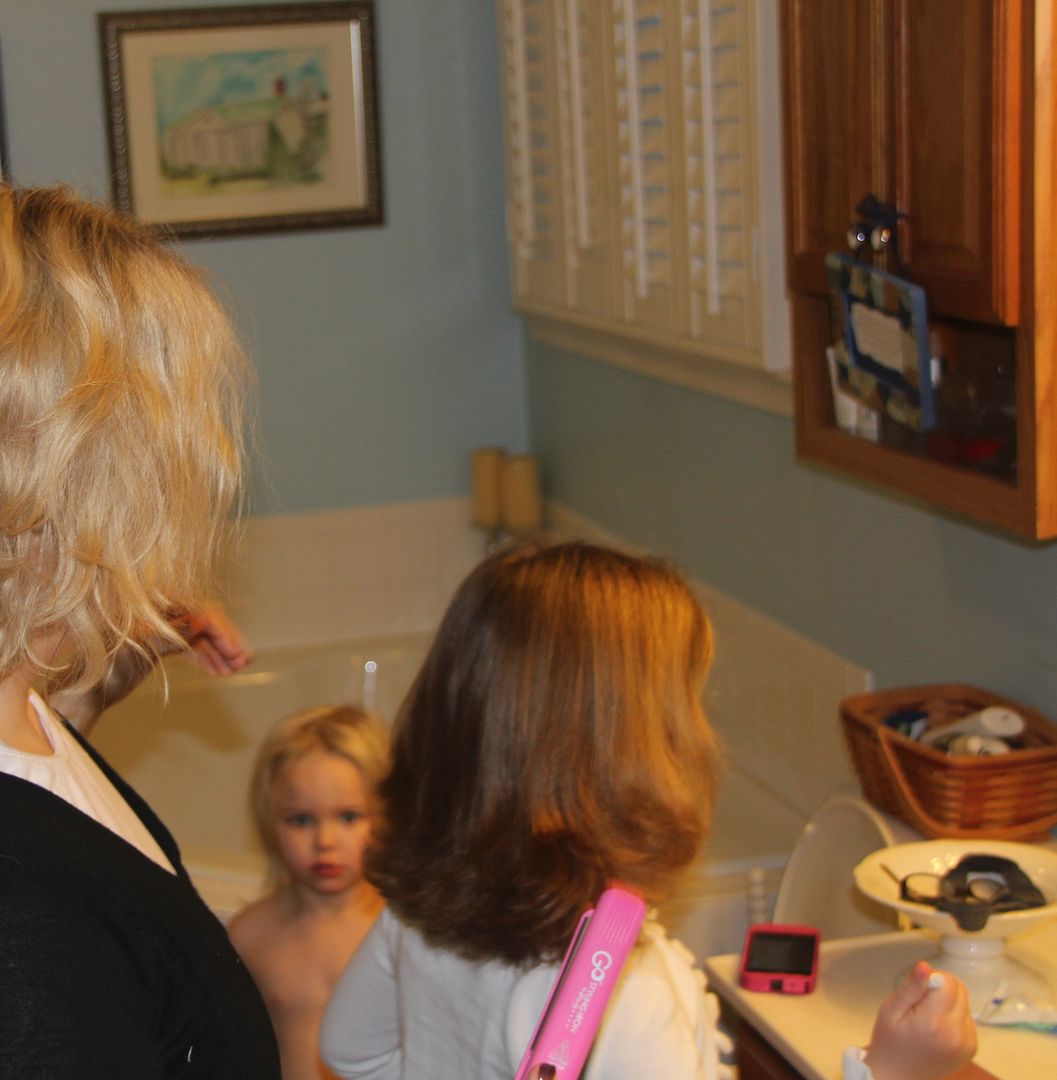 She looked precious.
Molly and I enjoyed a Mommy-Molly date as well. No pictures of it but memories.
So I think about style, making my mark and I see the details, the connections. Pink cowboy boots, beautiful art that represent the connections of life, and these "typical" experiences that connect me to women, parents and children whose houses or lives look the same, but thankfully I know talented ladies whose gifts help me create and celebrate our own style. I'll close with some family pictures Jennifer took while we were in Tennessee, showing her talent and maybe even our style.
I love the scene on the train tracks as I reflect on this quote:
"The journey not the arrival matters." – T. S. Eliot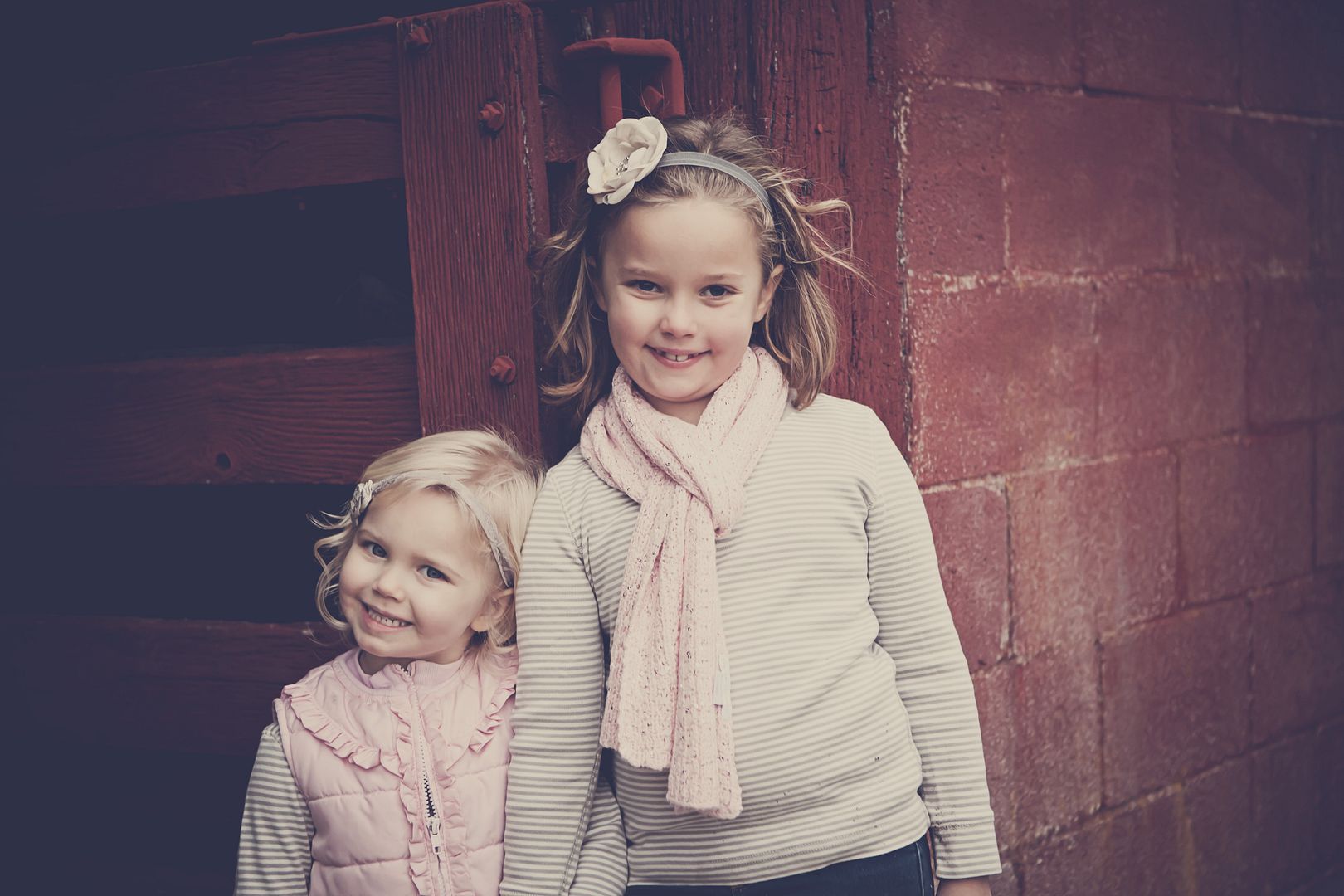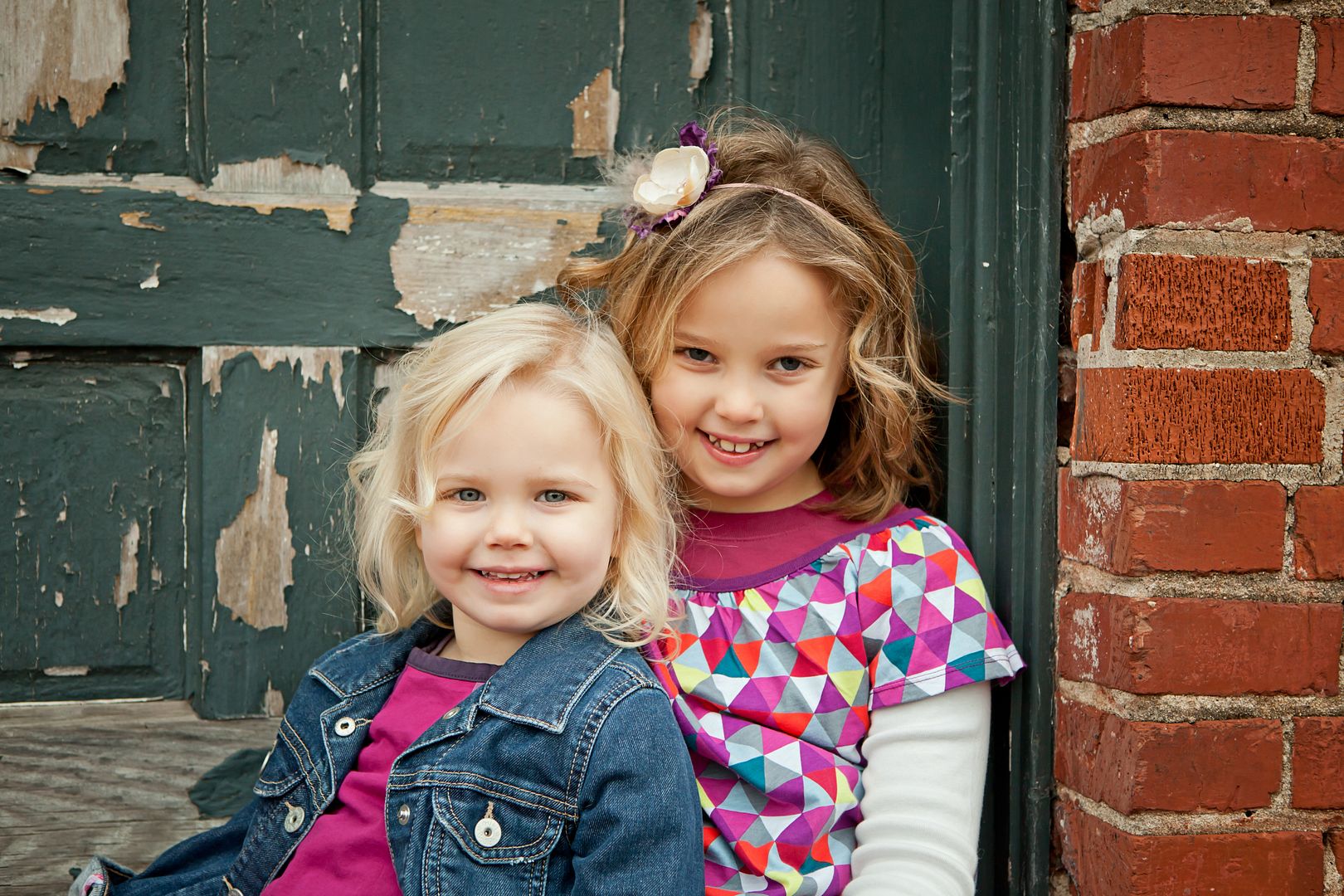 The look on Molly's face below is a great window to her personality.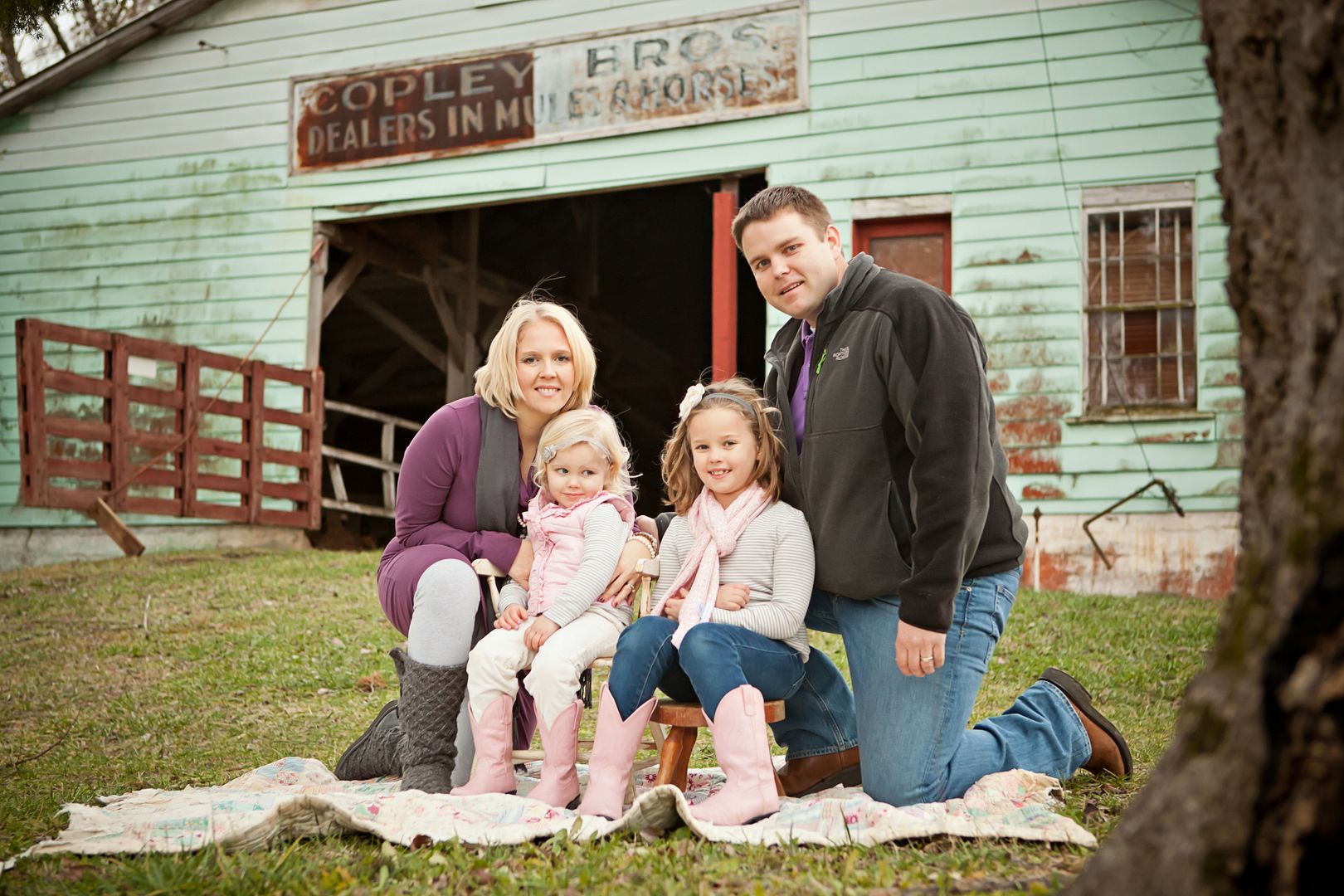 This old barn sits in front of the cemetery in my home town. BJ said he loved that sign, which I never noticed. Jennifer took the girls through the barn for more pictures and I loved these scenes.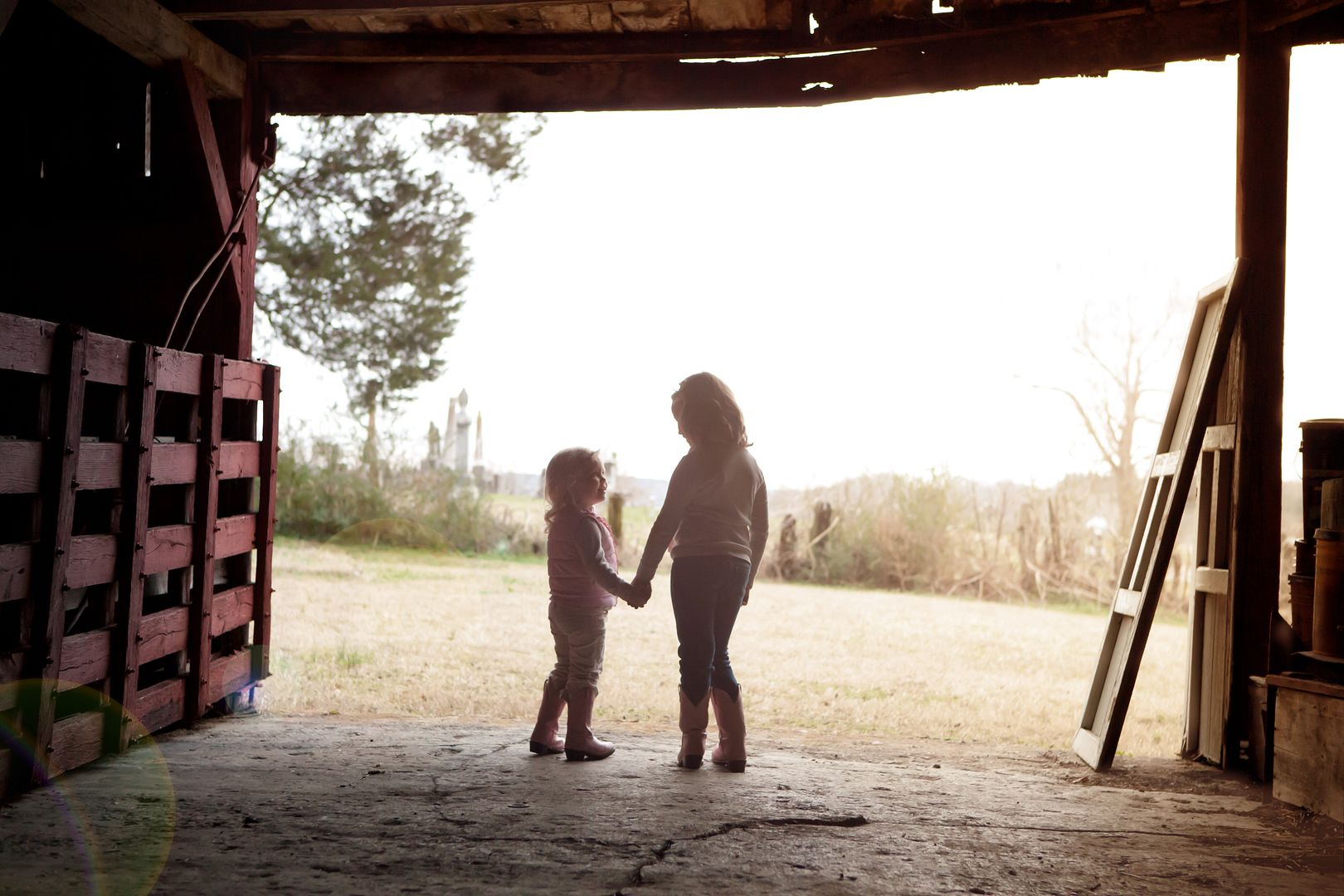 When we were talking about which ones I was going to buy, she noted that you can't really tell its graves in the background or that she can edit them out. Yet I know that they are dancing and holding hands in the shadows of a graveyard, a place where my dear grandparents were laid to rest. And there is beauty and symbolism for me in that scene. You dance through life, you look at the people that matter and in the backdrop are those that have gone before us. Scenes and symbols are the
style that transcend my typical life or the ordinary backdrop of a picture.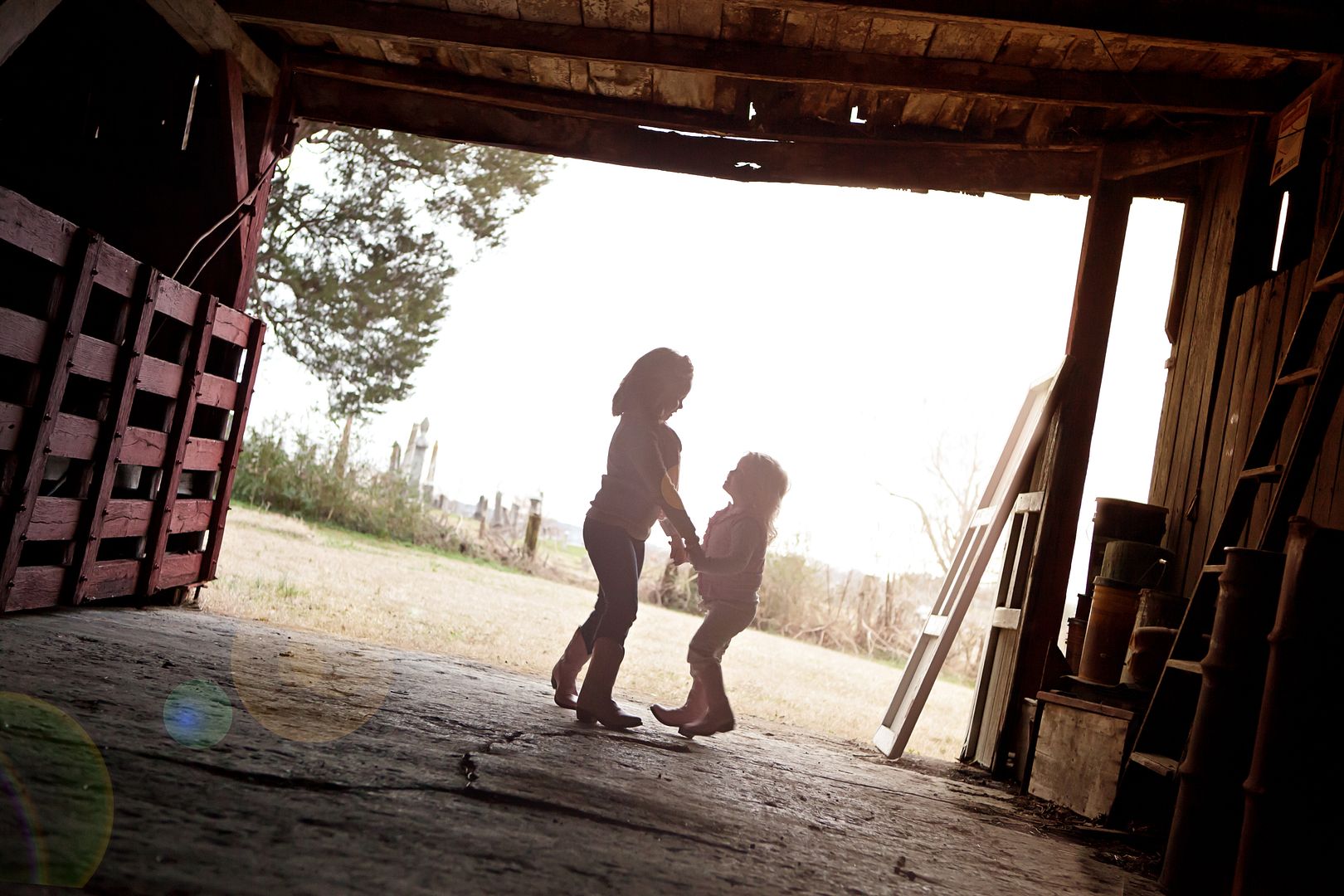 Dance, then,
wherever you may be,
I am the Lord of the Dance,
said he,
And I'll lead you all,
wherever you may be,
And I'll lead you all
in the Dance, said He.
--Lord of the Dance Hymn
by Sydney Carter