Layers of love and memories here. The bib lays on a tablecloth that once was draped upon my Granny's table. On this day, it set for the table Mom, BJ and I prepared for this year's Thanksgiving, Molly's first.
Crafting personalized place settings, cooking with each other, setting our table using a mix of my wedding China and the crystal from my Granny's table, a husband and Dad who "took care" of the turkey, food, fellowship, and spirits with some whipped cream in the face of a friend combined with many more moments to savor, toasts to share and memories that were etched in all of our minds (well, all of us save Molly Mae) leaves me grateful for our Thanksgiving in 2010.
I know it is a tad late to be blogging about Thanksgiving, but maybe that is the story here for me. Sure, everyone is in the mood to be thankful during the month of November. You know we all do it; we recount our blessings, verbalize our gratitudes. But as Thanksgiving winds down, black Friday slashes not only prices in the marketplace, but also our perspective. Instead of focusing on what I have, I think about what I have to do. In flipping a calendar page, my gratitude turns to desires for accomplishments. My focus we hold so dear for celebrating the harvest with our family, for me at least, is replaced with seeking perfection, beauty and that Norman Rockwell portrait. I start thinking about the gifts money can buy or finding enough time to get it all done.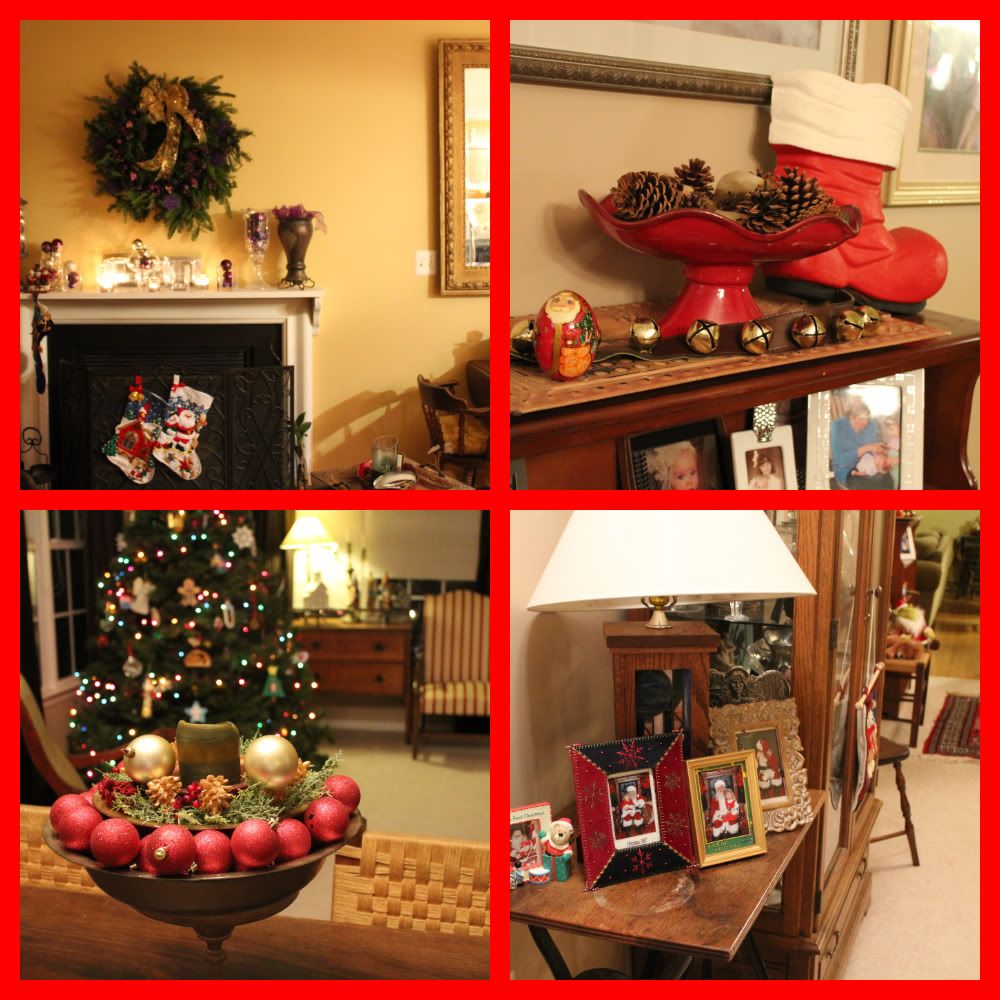 I love the Christmas season, I adore seeing the decorations, planning the activities that are the experiences Anna Cate will remember, but I have to admit that it is stressful. I can feel myself losing focus.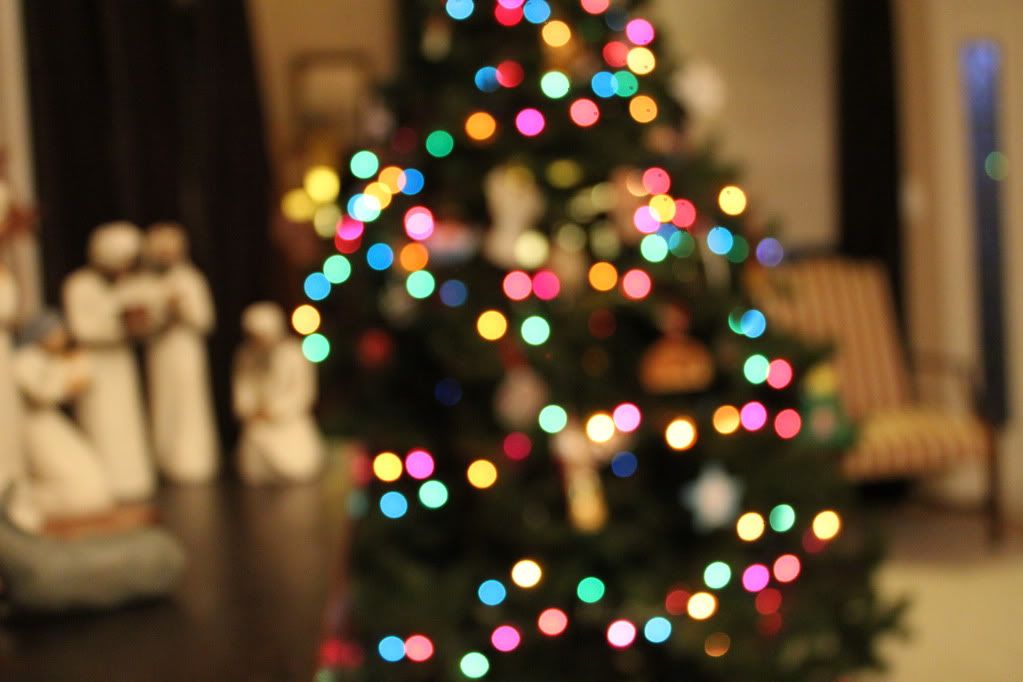 My heart should be filled with the sentiments of advent, not the stress of the status quo for the season. Unfortunately, that nasty little thing called the ego wants it all to be beautiful and perfect. I want to send a Christmas card that wow my friends in a timely manner; I want the lights on my house to turn heads. We're filling our weekends in December with activities for Anna Cate, for these holiday memories in the infant stages are precious to me. But, I want to challenge myself to cling to the season of Thanksgiving, let the spirit of gratitude linger, for thankfulness to shine a bit brighter than my quest for beauty and perfection in this season.
I'm answering that challenge by lingering a bit in the recounting of our Thanksgiving holiday together.
Nana and Daddy Doug came up on Tuesday so Mom could help me cook, and Daddy could play with the girls. He and Anna Cate had a date to the movie "Tangled," and even got to see it in 3D. Daniel came down Wednesday; he and I got up Thursday morning to run the Turkey Trot (not together since he is pretty much lightening fast). He finished in the top group, and I think it was my fastest 5k ever: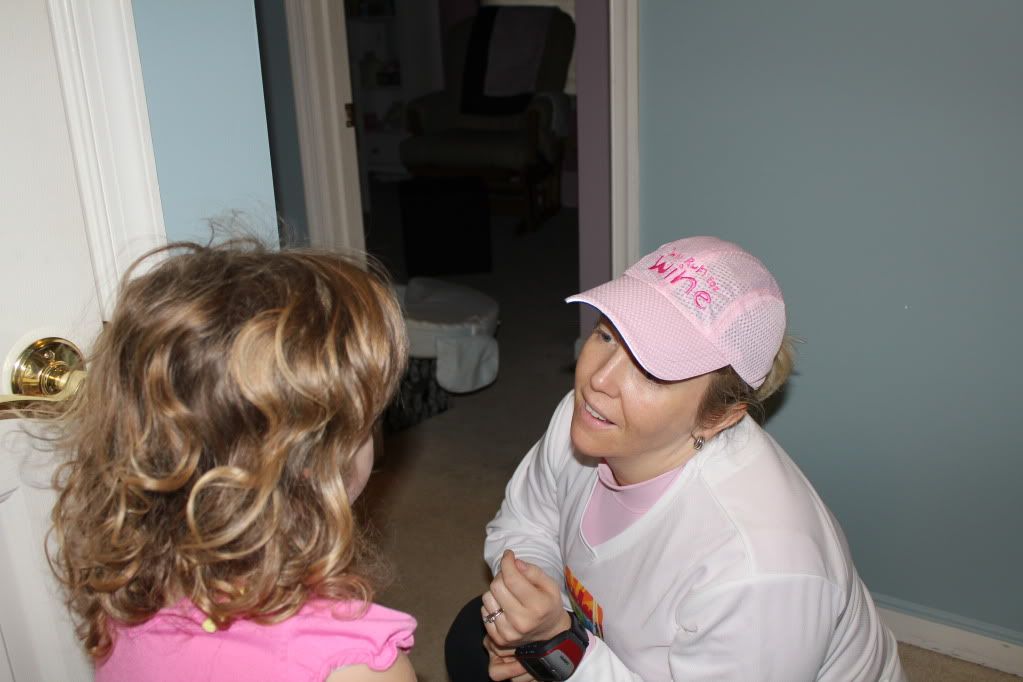 ....ok, maybe since I've been out of college. I'm still pretty damn grateful to this body. It isn't a thin or as fast (beautiful and perfect) as I'd probably order from a menu if I were choosing, but I'm finding myself more and more at peace with this vessel for my full life. I'm finding ways to love it, appreciating what it does for me and my family. I am praying I don't overindulge this Christmas, which would leave be less than grateful!
My mom's time here was spent taking care of everyone, something she does well. Juggling cuddling time with Molly, playing with Anna Cate, taking care of Daddy, and cooking with me seemed to fulfill her wishes for this visit.
Mom commented that Molly Mae smiles a lot more often that I'm able to catch in pictures, so here are some tonight after bath: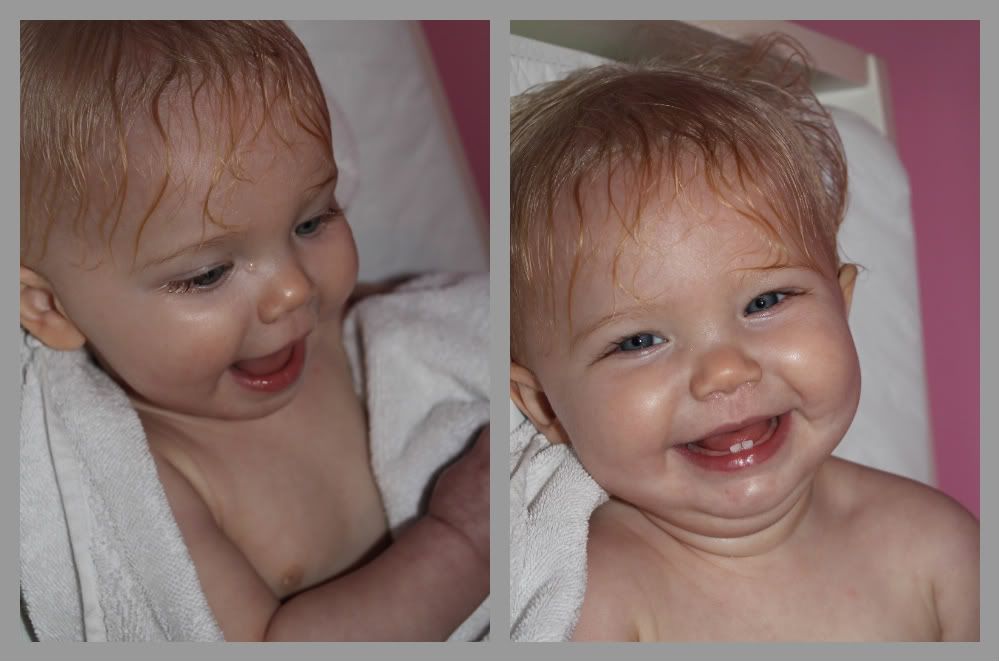 My parents stayed through churc
h on Sunday.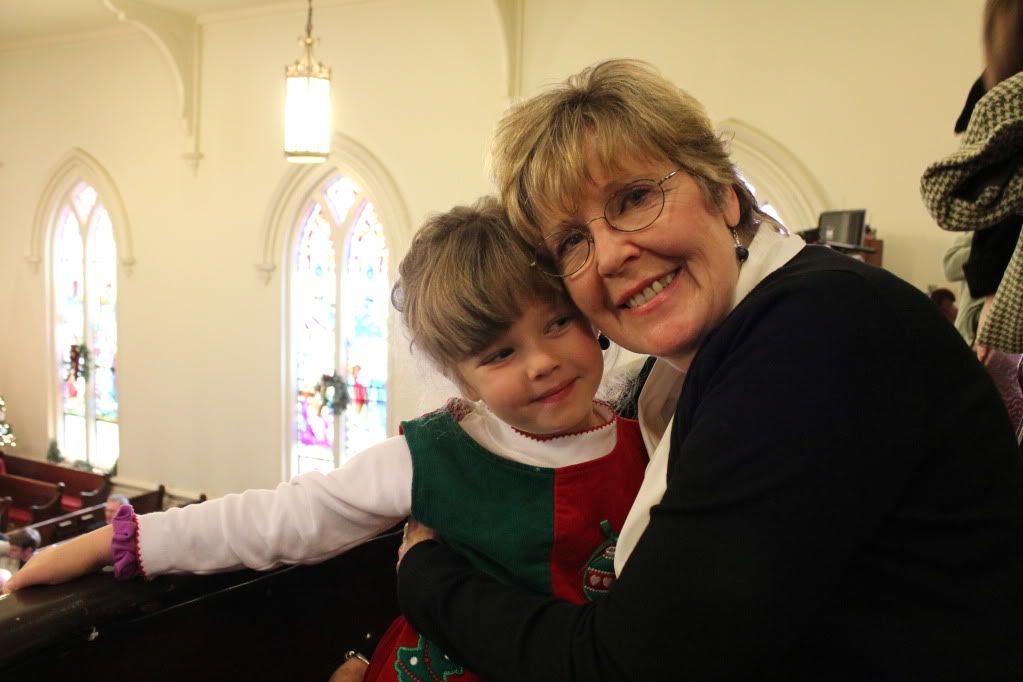 On Saturday night, they babysat so BJ and I could have a date to watch the VT game with friends.
They were fantastic babysitters, hosting a tea party, of course, and I came home to a clean kitchen.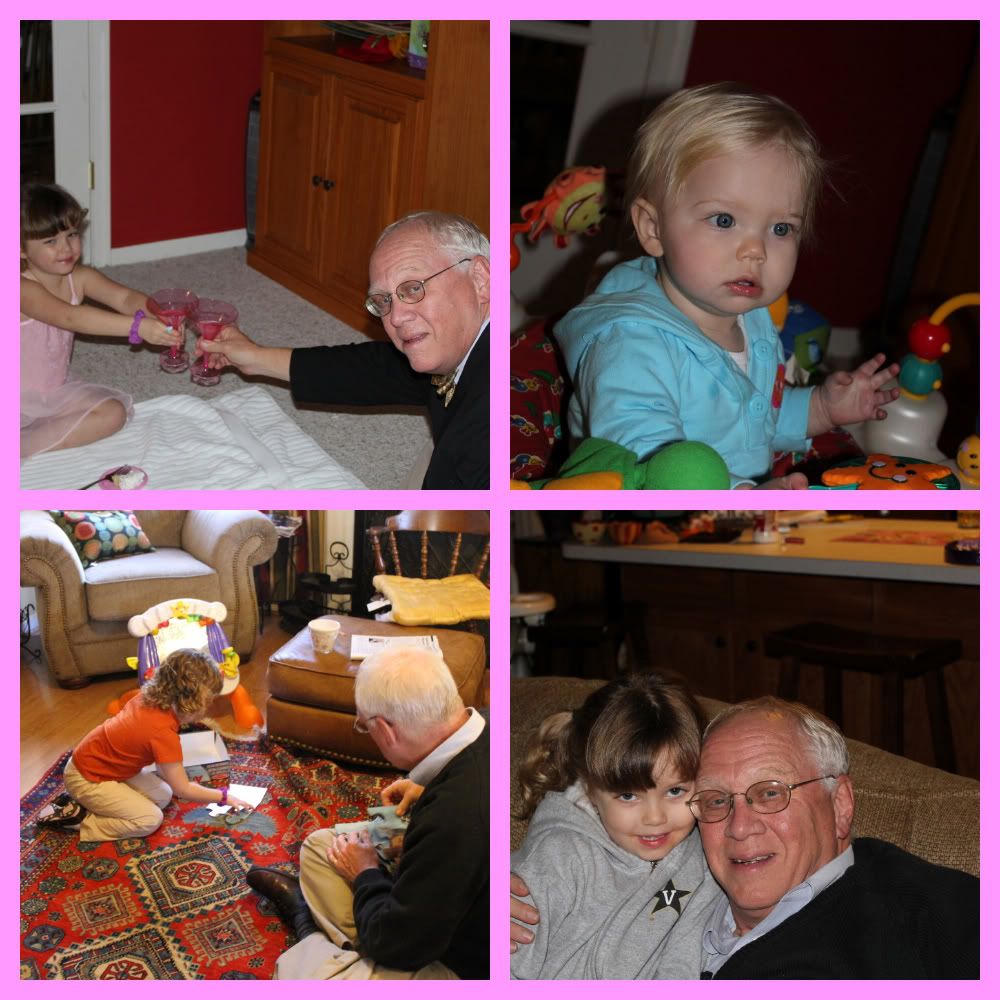 (Nana lets Anna Cate wear make-up for the tea parties)
Thank you Mom and Daddy for coming up for celebrating Thanksgiving in our home with our family.
I'm reminded of what BJ said our first Thanksgiving when my parents came up to spend it in our house in 2007, when it was still quite new to us (the home, not the holiday). He said before the prayer, "times like this make a house a home." That is the perspective I want for all my days, not just my holiday with the formal table setting, but all the moments that make this place our home. For the family and the times, I'm grateful. I'm trying to celebrate all that I have in light of all that I want this Christmas. Indeed, what I have in my life is actually not a "that" but a "who."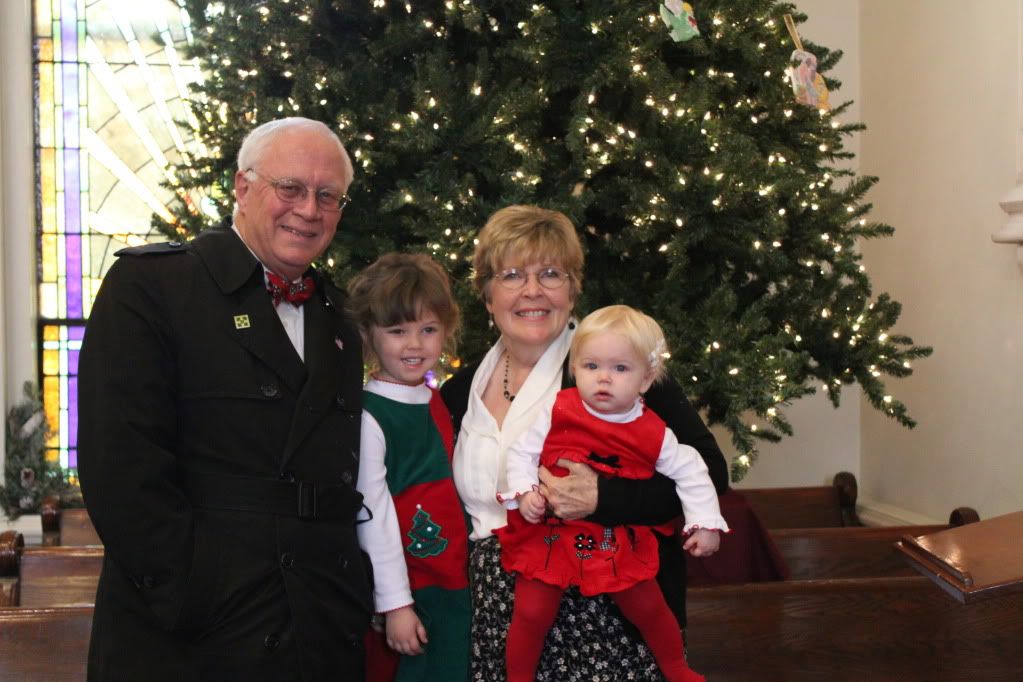 A thankful heart is not only the greatest virtue, but the parent of all other virtues.
-- Cicero