I had to use it atleast once...Good Golly, Miss Molly!!!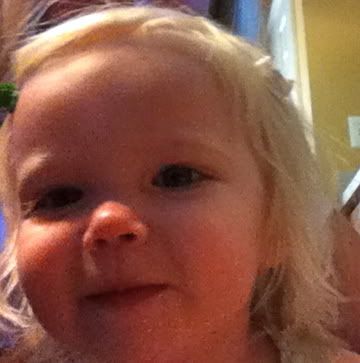 Molly is now a year and a half. I celebrate half birthdays. Like a birthday, it is a time to stop and reflect, but it is heavy on the reflecting since it is light on the party planning.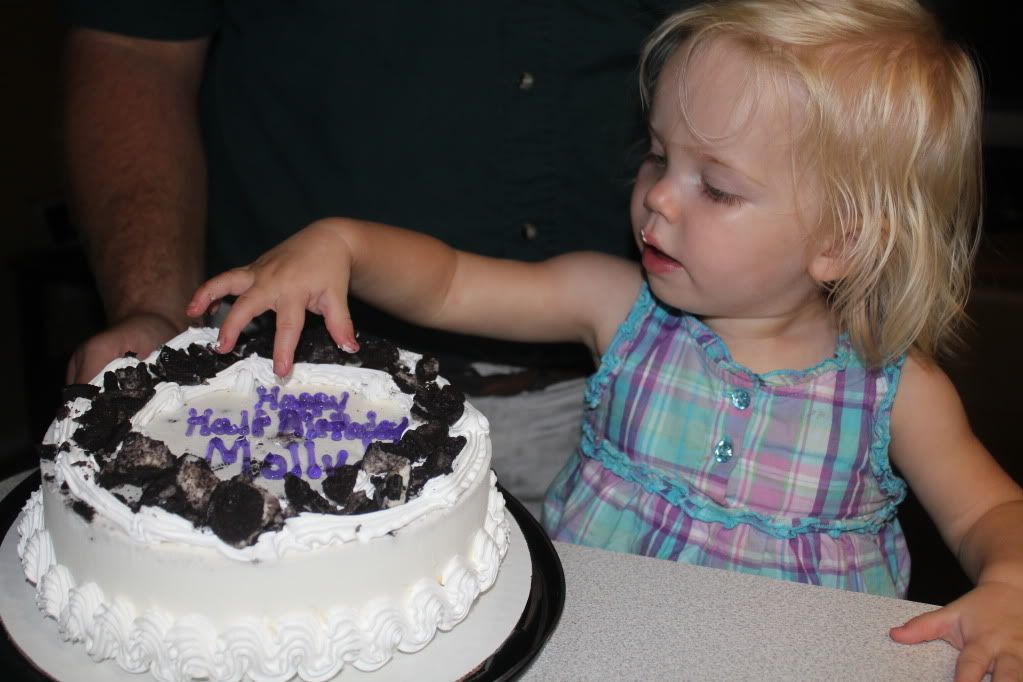 On Friday afternoon, BJ picked up this cake all for her....but she shared with her sister and me.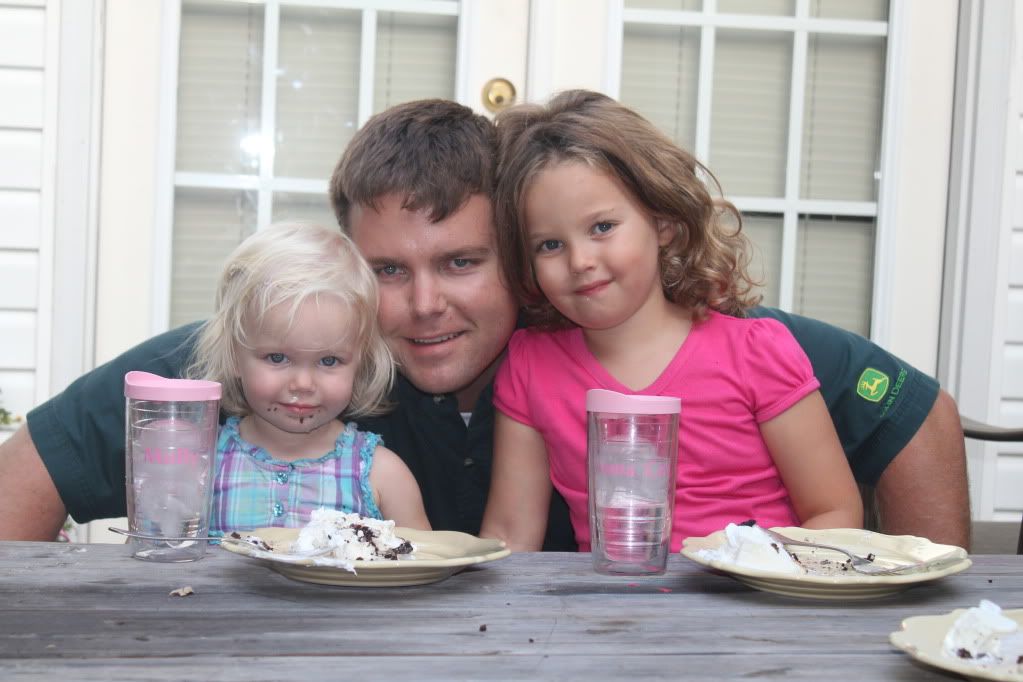 She is losing her babyness more and more every day although I still refer to her often as 'the baby.' She is becoming a little girl, a busy little girl at that. She is strong yet loving, coy yet boisterous, curious and independent. I still tell her almost daily, "I'm so glad we had you, Molly." I watch her and am excitedly learning more and more about her personality as she develops.
One of the funniest things she does is say no to everything with meaning. If it is not no, it is uh-huh as she shakes her head. I guess she thinks the negative is the correct response to everything! Often when I ask for a kiss, she says no, and I have to steal them. When she is in the giving mood, she puckers up and it makes my day to hear her pmpmpp. Tonight, she leaned in to me and rested her forehead on mine and was quite generous with the kisses, and let me tell you, money can not buy that kind of bliss.
She is intently aware of how things work and can entertain herself for a long time (well relatively long for her age) with stacking blocks or containers, or pouring water.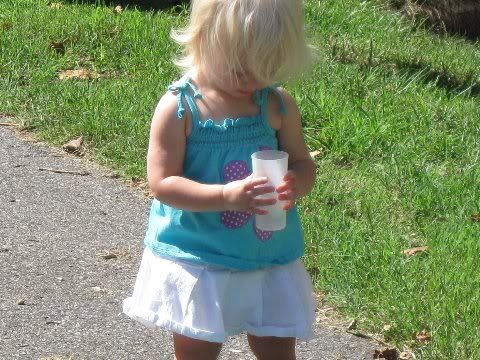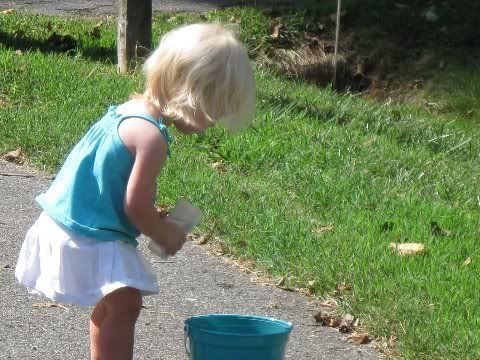 A rite of passage at Miss Diana's home is when the children move from a high chair to the bar so I think she especially looks like a big girl in these pictures.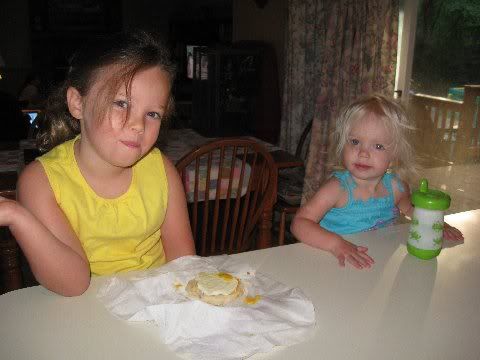 As I felt as Anna Cate went to kindergarten on losing my little girl, I think I'm losing my baby in Molly, but I'm doing all I can and that is enjoy the journey.
After school on Friday, we had a quick play date to celebrate a full week of school.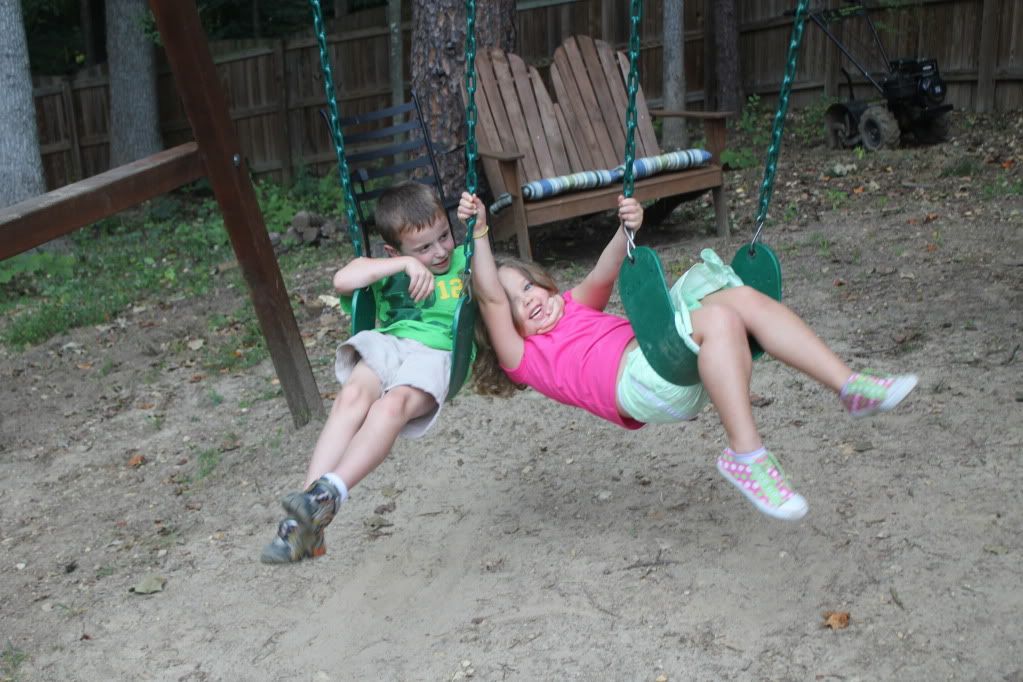 On Saturday we were treated to fabulous brunch at a dear friend's home, Mum Mum to the girls.
Marian taught first grade for several decades and is one of those women who is part teacher, part grandmother, part confidant, part friend, and part angel.
She wanted some time to connect with Anna Cate in the beginning of the school year with gifts of books and reading.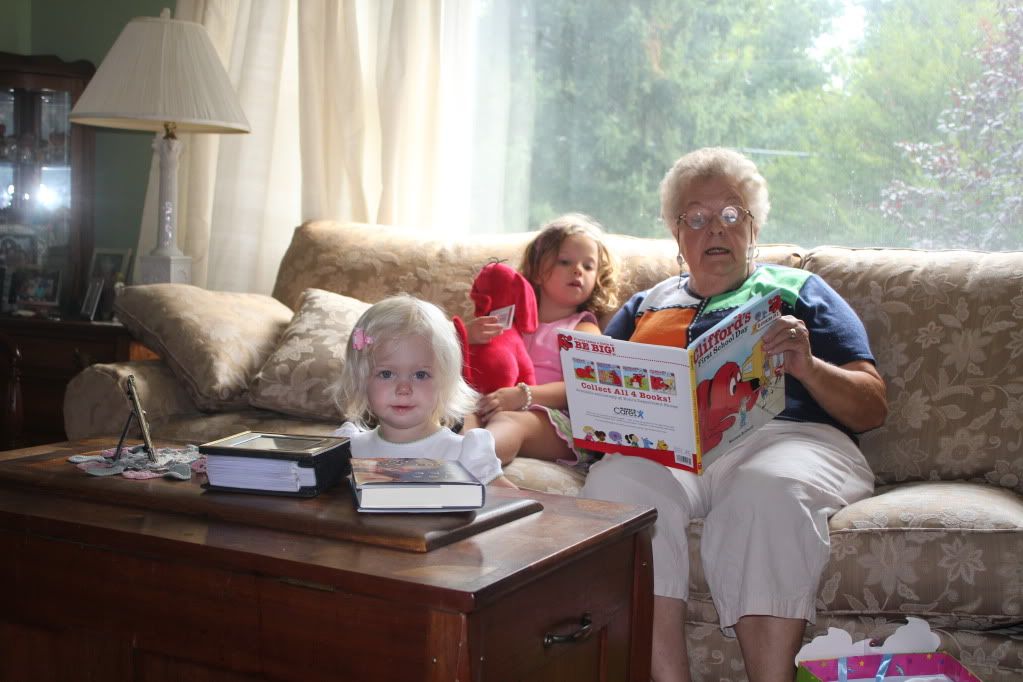 Molly made sure to get in on the fun.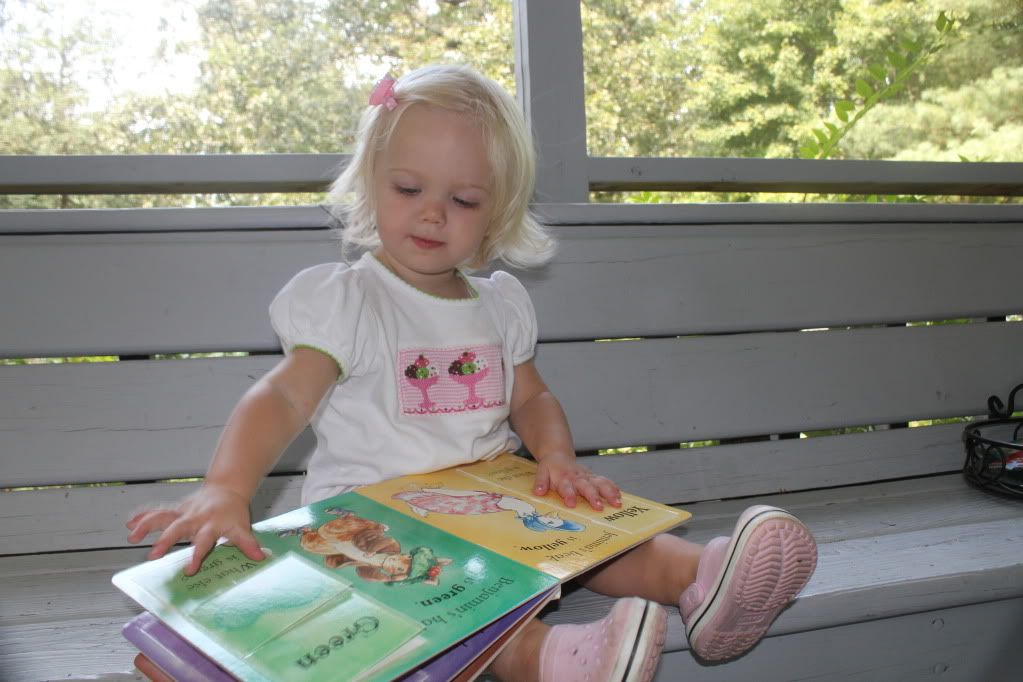 She loves books and seems to enjoy them a little longer than Anna Cate did at this age.
Marian made us feel welcome with a picturesque Saturday morning porch setting.
And her home made bread and jam.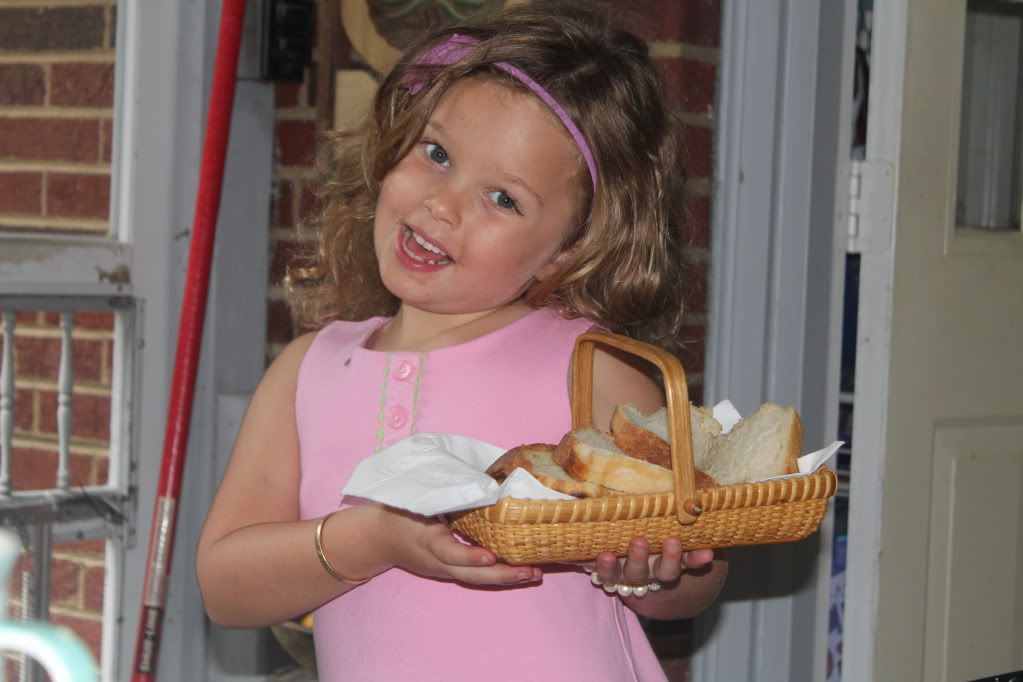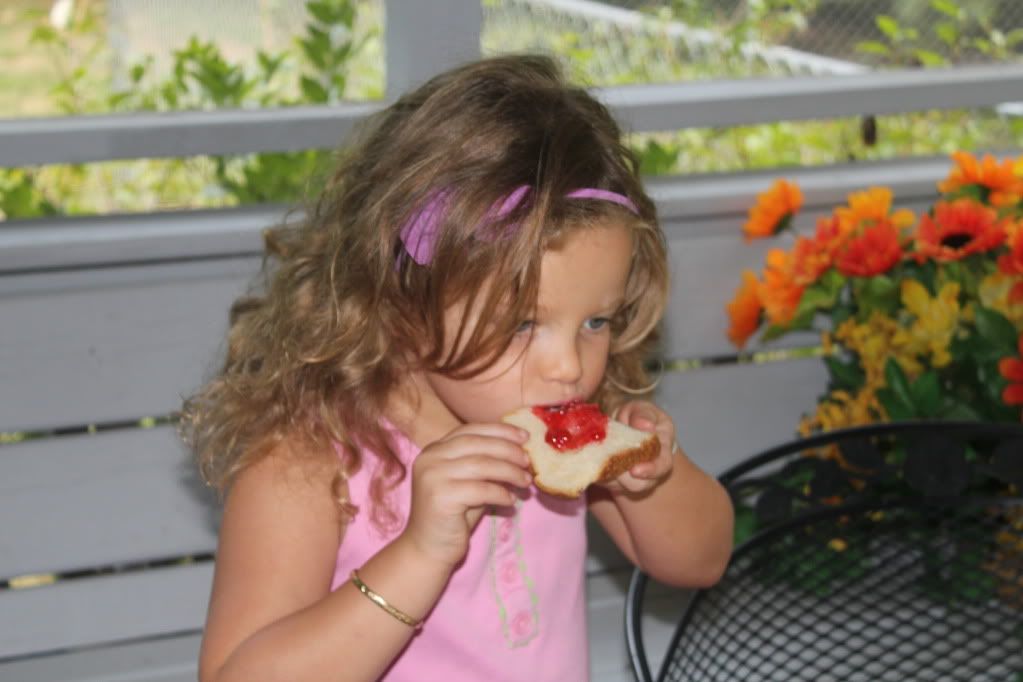 The high chair set for Molly was made in 1907 and Marian sat in it as a baby.
It was a grand brunch where we felt special and honored, and comfortable.
The pages of life turn...
I find myself noticing less what I'm losing and more what I'm gaining as these girls grow. I'm losing my baby yet gaining another precious little girl, I'm losing a little girl yet gaining a little pal.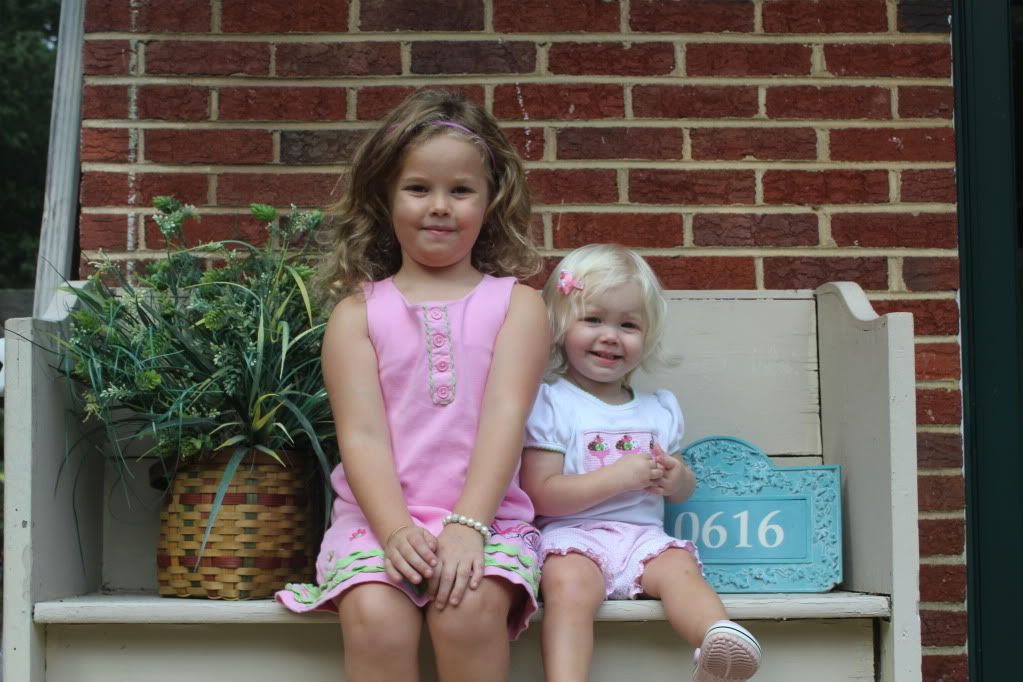 But enough about me, what I'm really noticing lately is this sisterly bond they are giving each other. And it is only fitting on the time that I celebrate Molly's half birthday that I rejoice in this bond, for September 2nd is the birthday of my brother. It is our bond, his and mine, that makes me celebrate theirs, Anna Cate and Molly's. As a parent, knowing your children will have each other makes the work worthwhile and eases a bit the inevitable failures my parenting will present. Anna Cate and Molly will have each other and that is more valuable than anything I can teach or material securities BJ and I can provide. I know this because I have this bond in my brother. As I often say, he was the best gift my parents ever gave me.
I love you, Molly Mae and Douglas IV...the babies in my family.
Our brothers and sisters are there with us from the dawn of our personal stories to the inevitable dusk. ~Susan Scarf Merrell