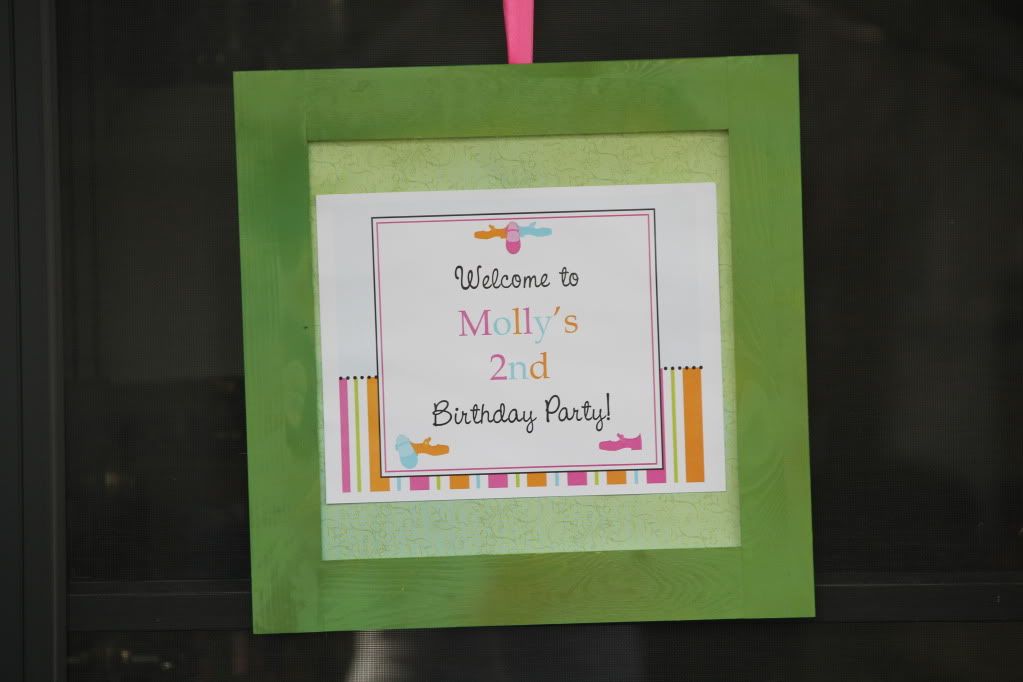 I don't know if that is true, but our little girl certainly loves shoes so when discussing the theme of her 2 year birthday party, my brilliant husband said, "what about shoes?"
The shoe theme was very fun.
I know I take her parties a little over the top, but it gives me great pleasure to take an idea, get the fabric, put the colors together and create a celebration of my child and of the people whom she loves and who love her. I wave the banner to welcome the celebration of Molly, of friends, of our shared journey.
I wish our home was bigger so I could invite everyone dear to us, to her.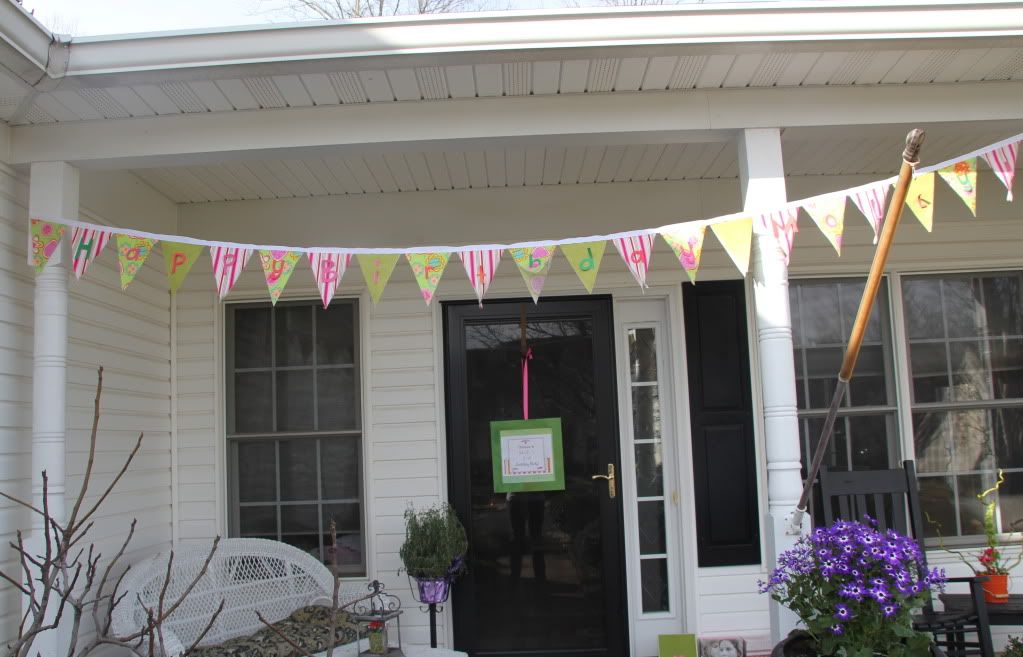 For me, a party is as much about celebrating the connections in her life as celebrating her life. What I'm trying to say is that I do this to say "hey, thank you for being a part of her life" and plus I really like themes, colors, flowers and food as well as entertaining. I borrowed a lot of the pieces, used friends' help who are more talented than I, and scoured the internet for easy ideas. But all the frill is just the backdrop for the reason we gather -- the human connections.
I enjoy brigning people together, the celebration, the multi-generation symphony of friendships.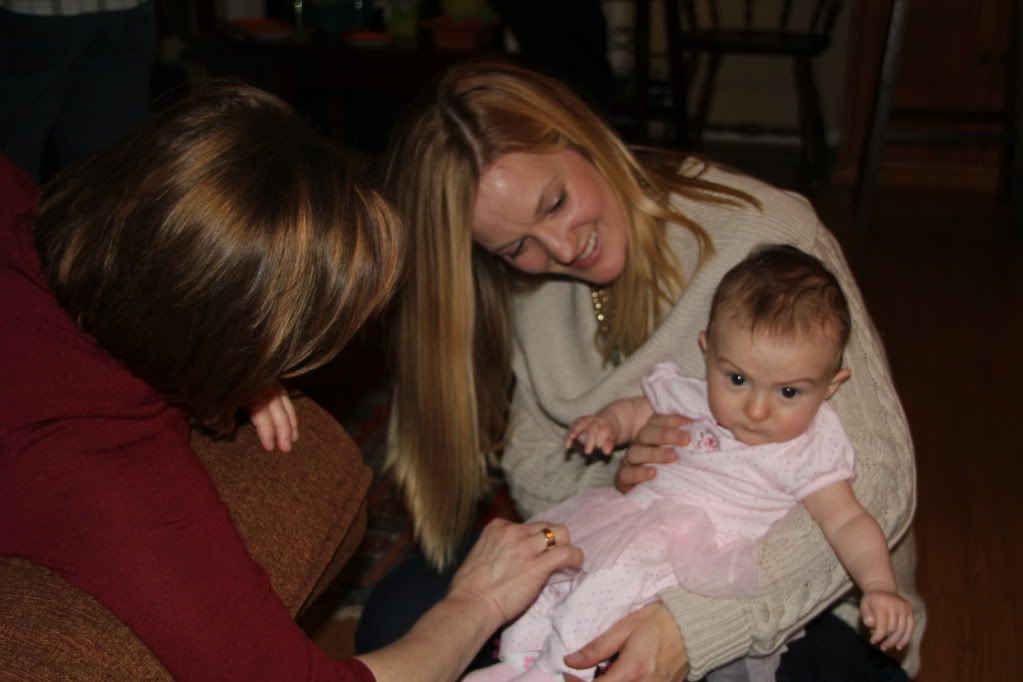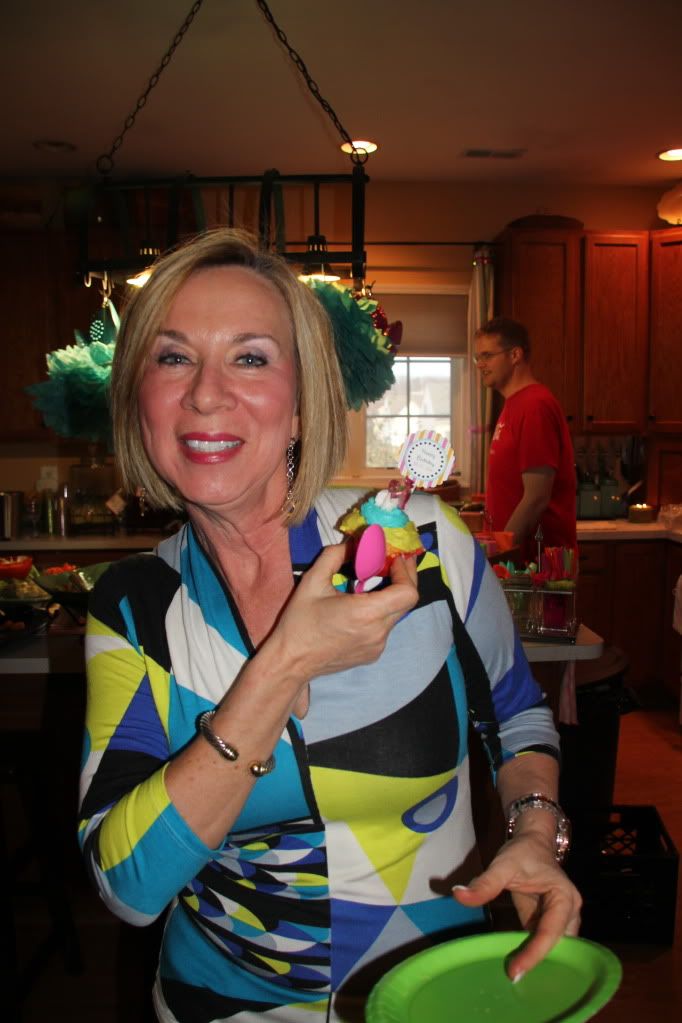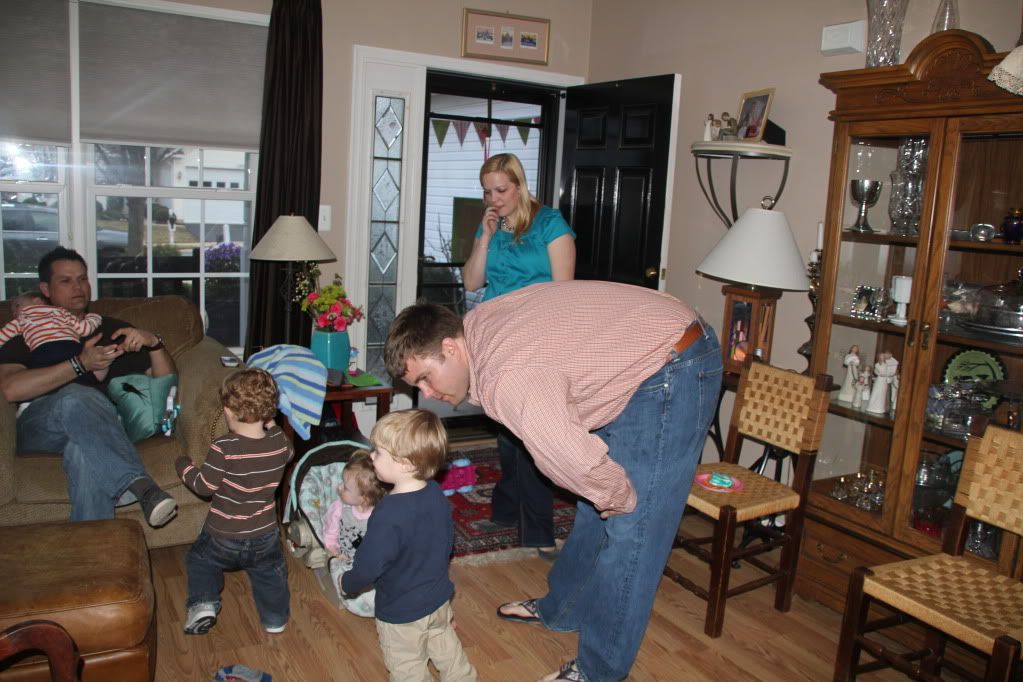 The fabric inspired the crazy colors: turquoise, orange, pink and green.
The best part this year was that Molly knew it was her party.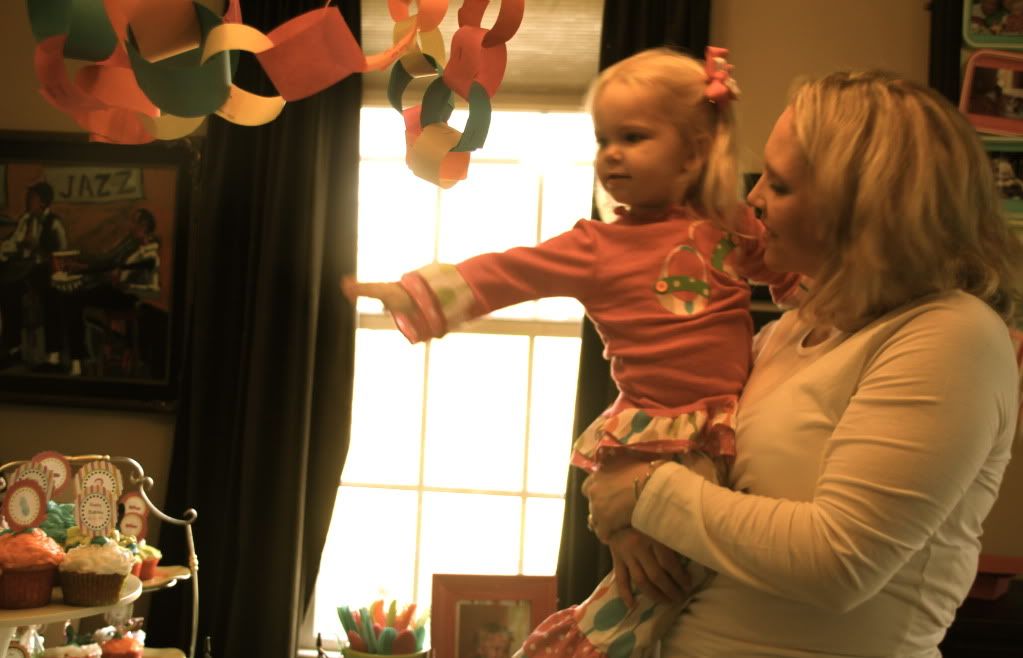 At one point in the party, she climbed up on this stool in front of everyone and when I asked her "why did we have this party, " she threw her hands up in the "I don't know" gesture.
Whatever the reason, she was content.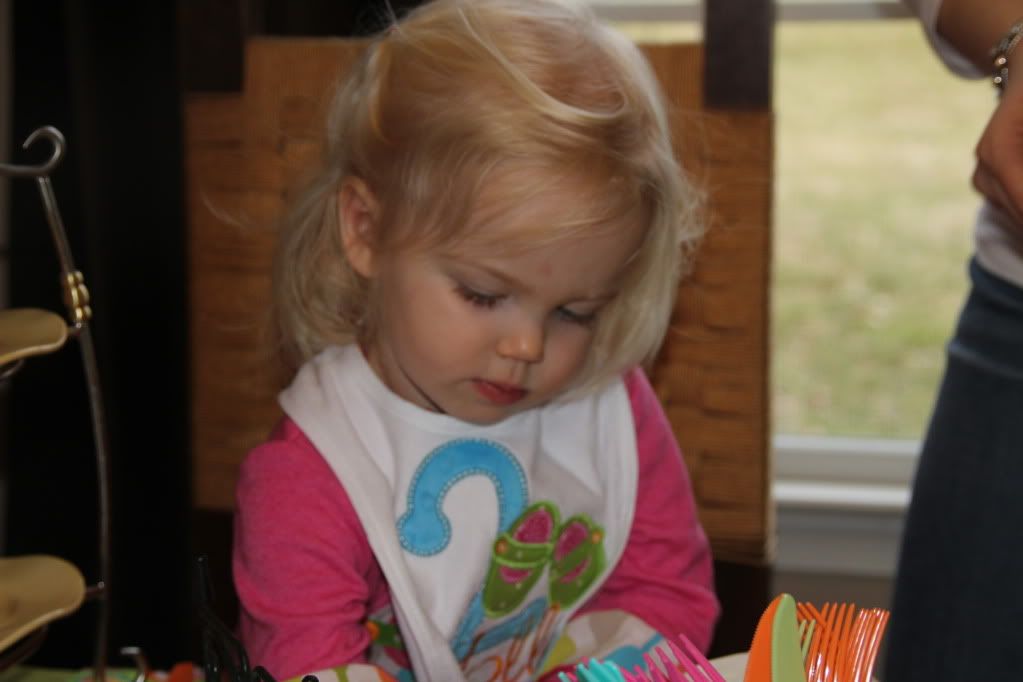 The smile emanated from her little soul as we sang her Happy Birthday.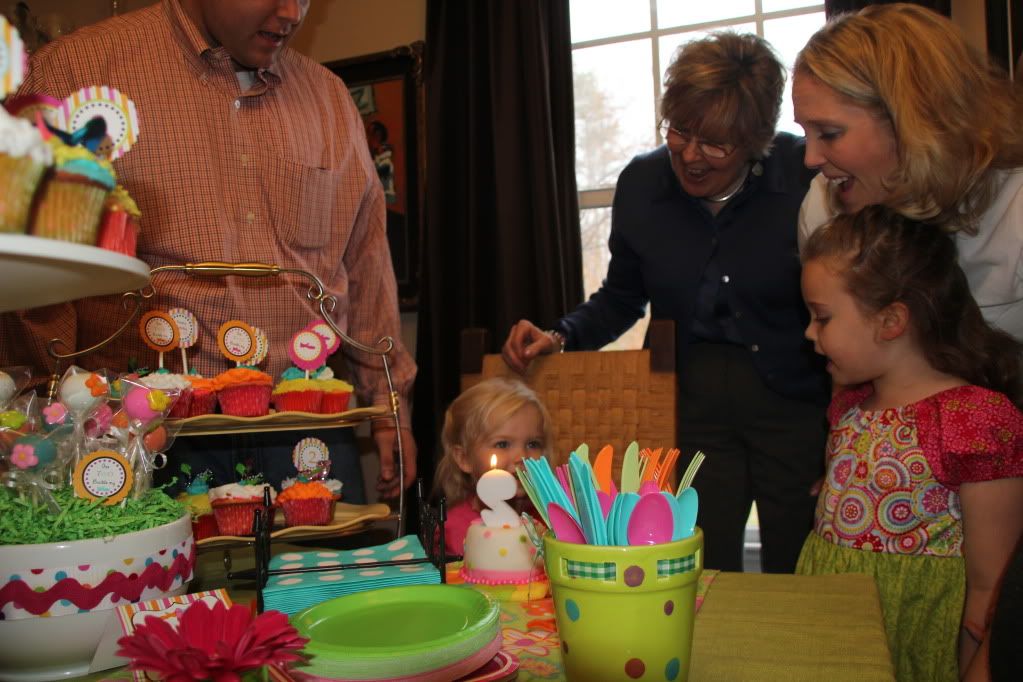 She picked up her fork to eat the smash cake, and then looked up and said, "I want pop."
But don't worry, this cake did no go without some love.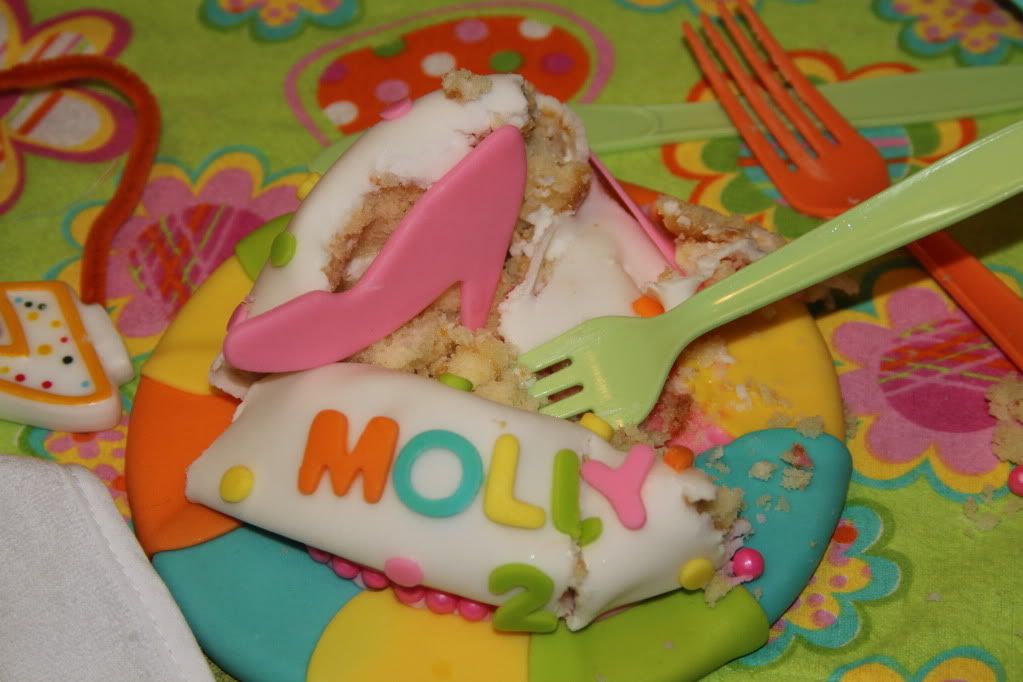 Credits:
First, this was a team effort. BJ and Mom were so helpful.
Molly helped make the cupcakes and when she ate them, she'd say, "I made these."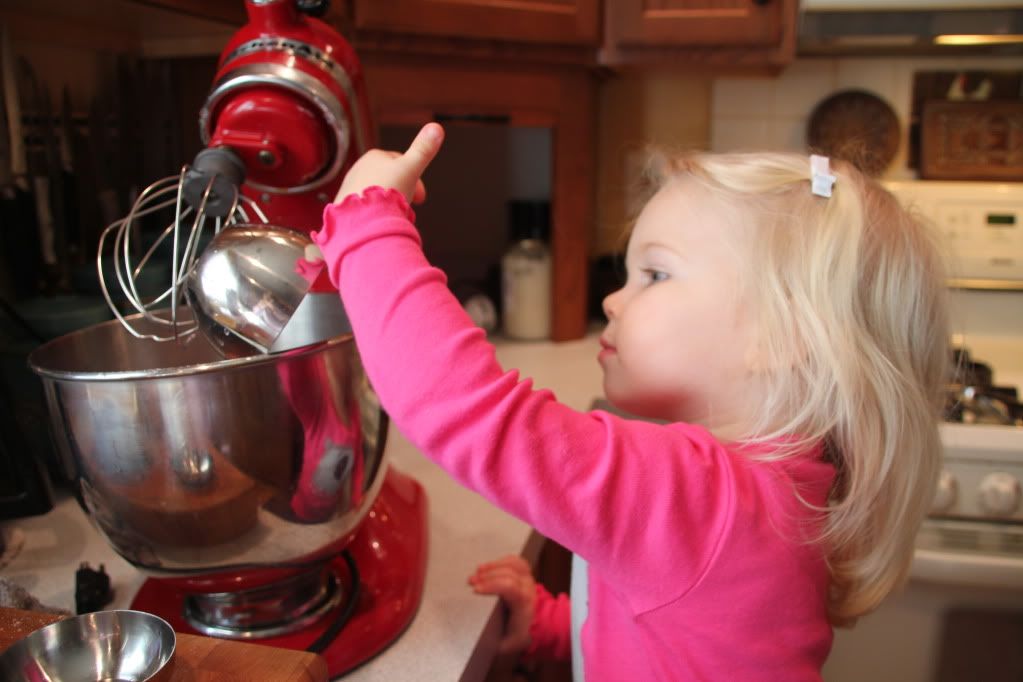 And, this girl was awesome!!! So helpful. I'm not going to lie and tell you that her behavior was pefect through all the attention on Molly, but all in all, she makes life easier, not harder and for that I'm grateful.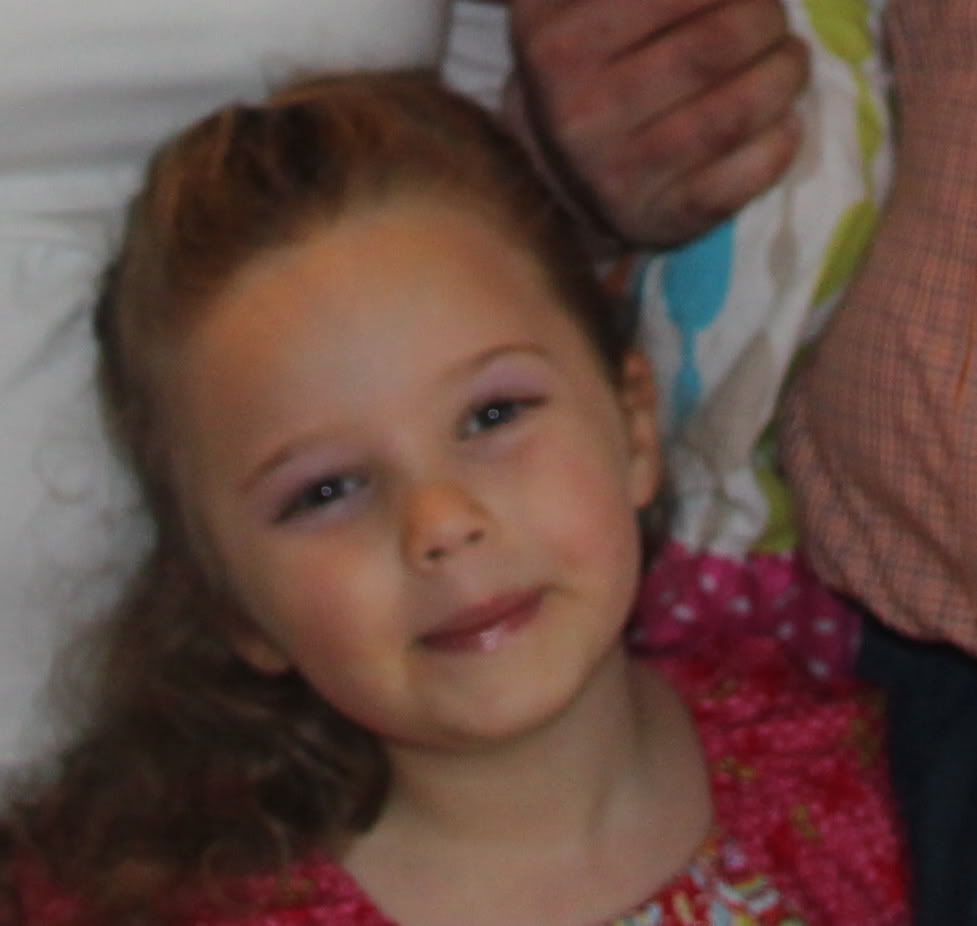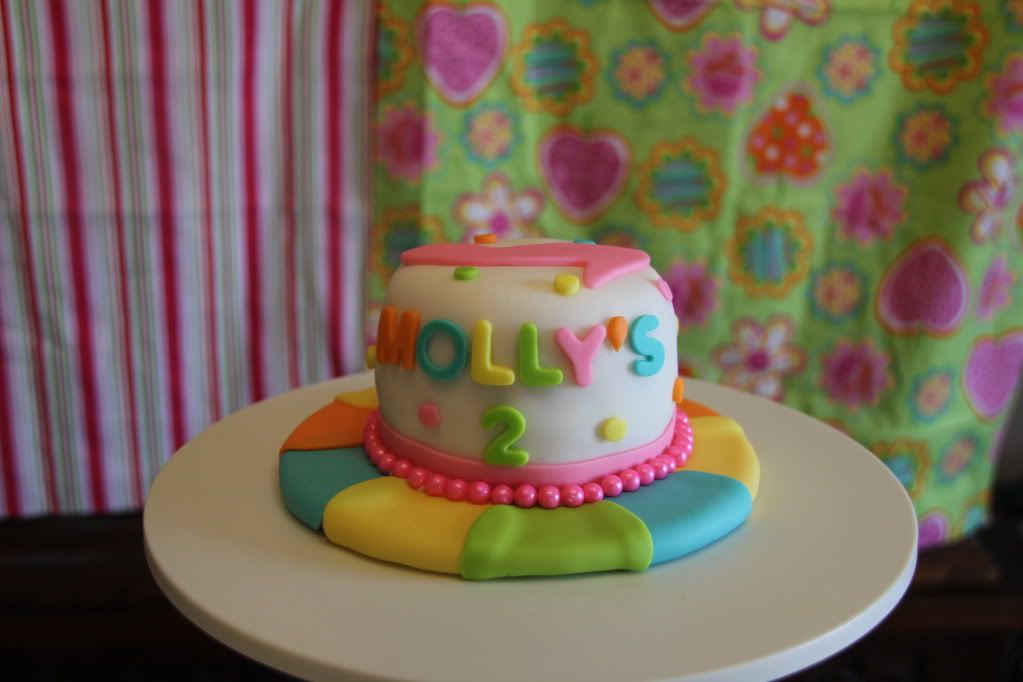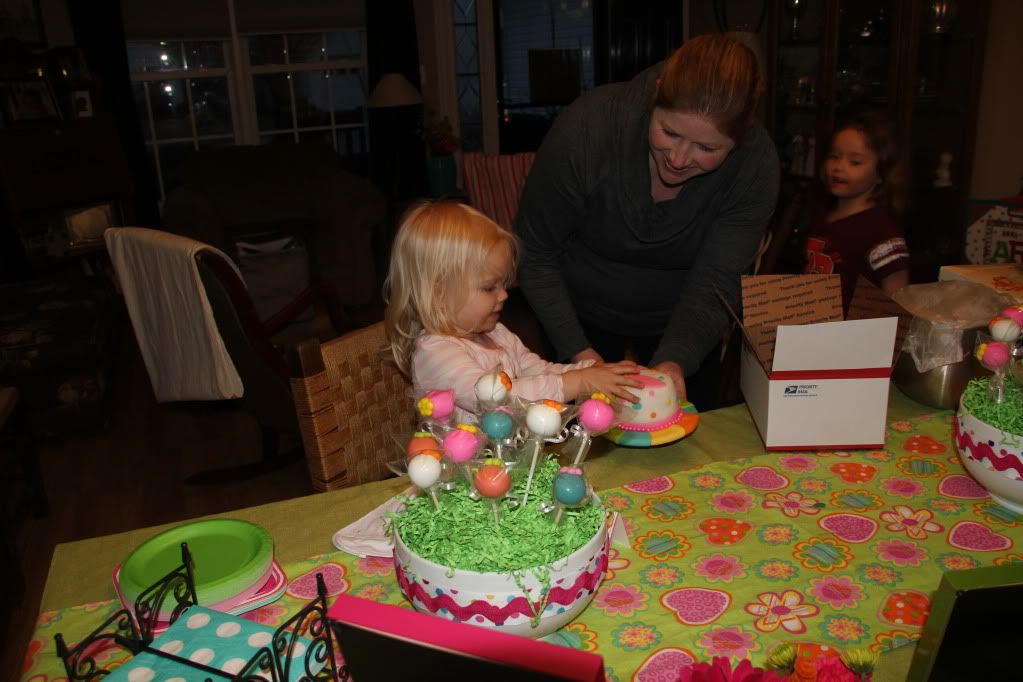 -Molly's Smash Cake, Cake Pops and Favor Cookies are from my super talented friend Chas with Mommy Bakes (find her on Facebook by clicking here). She brought it by the house to set it up and help ice some cupcakes. Molly eyed those pops for almost 24 hours!
My friend Marie made these beautiful turquoise poms to hang from the ceilings!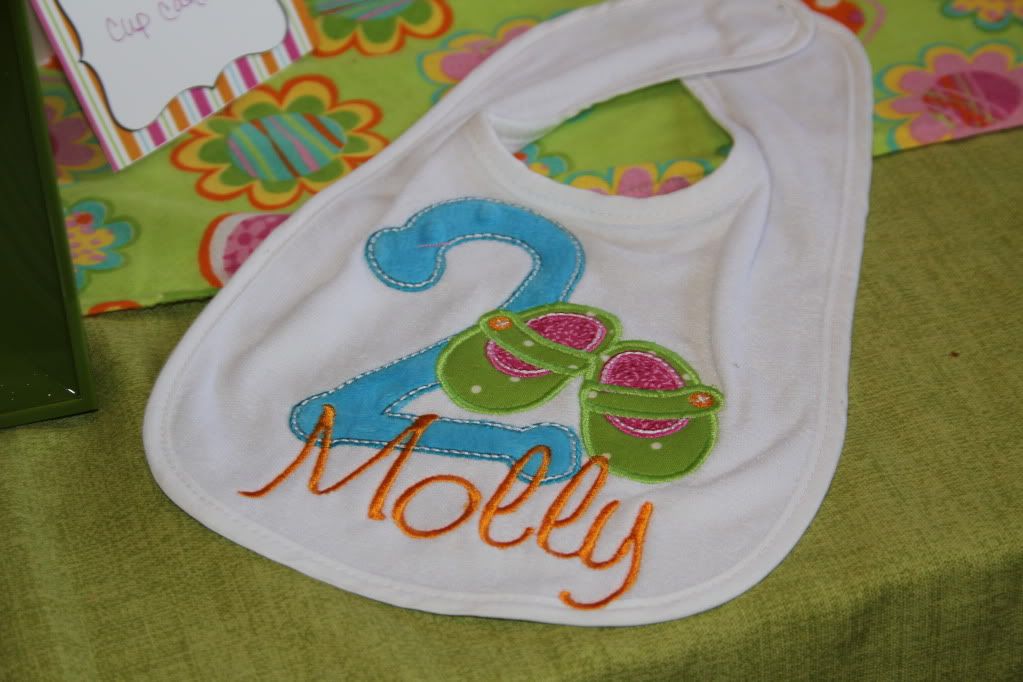 -Bib from Beth @ (http://www.etsy.com/people/mylittlehedgehog)
-Molly's outfit and bows are from Lil Bug clothing at Sweet, Sassy Boutique. I sent her the fabric and she helped me with the design and to customize it with the shoe applique. (http://www.etsy.com/people/sweetsassyboutique)
-All printables (cupcake toppers, tented labels, and door signs) are from A Blissful Nest http://www.etsy.com/shop/BlissfulNestStudio
-Shoe shaped soap from Sherry at Soapsational Favors. http://www.etsy.com/shop/SoapsationalFavors. She has a very fast turnaround and sent an extra bag for "the birthday girl" with about 10 extra soaps.
- I made arrangements with flowers from my friend Carolyn Helfrich (http://carolynhelfrichinc.com/). Believe me, her arrangements are spectacular and much better than mine, and her taste is phenomenal but she is so generous and shared her tips on colors and flowers.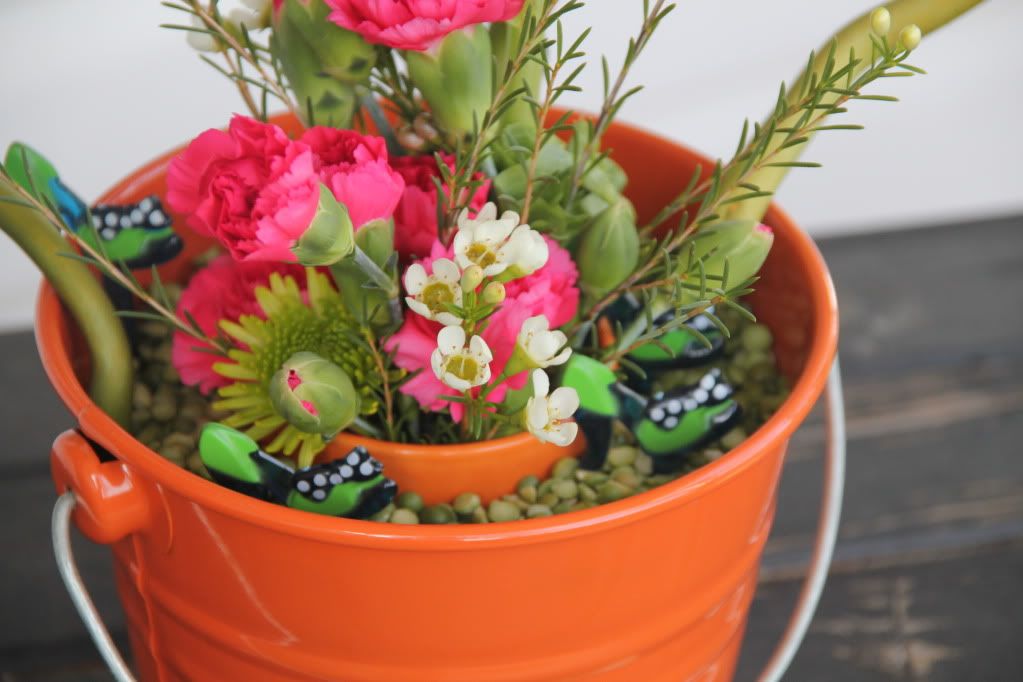 She also let me borrow all the orange and green pieces! I would NEVER own anything orange, but I have to say I loved the orange for the party.
- My friend Lindsey Haun (mother of Molly's best friend, Owen) let me borrow her beautiful turquoise pieces.
-Anna Cate's Outfit, table cloths, runners and banners were made by the talented Liz Spears, seamstress extradonaire in my hometown, Centerville, Tn.
The above is just 4x6 photos on paper plates, a spin off of pinterest idea using paper plates for a back drop.
The letters for the banners were cut out by my friend Kristen, who is a kindergarten teacher. It is so good to have kindergarten teachers in your life!
------
Mom has had the chance to stay a few days after the party and on the way home from church and spending time with some of my friends yesterday, Mom said how much she loves my friends. In reference to two in particular, she said she appreciates how much Patti and Norah love me. I jokingly said, "well you act as if I'm a hard person to love." She quipped with just how much she appreciates people loving her child. And even though, I joked
I do get it -- I'm also grateful for those who love my children, who lift them up.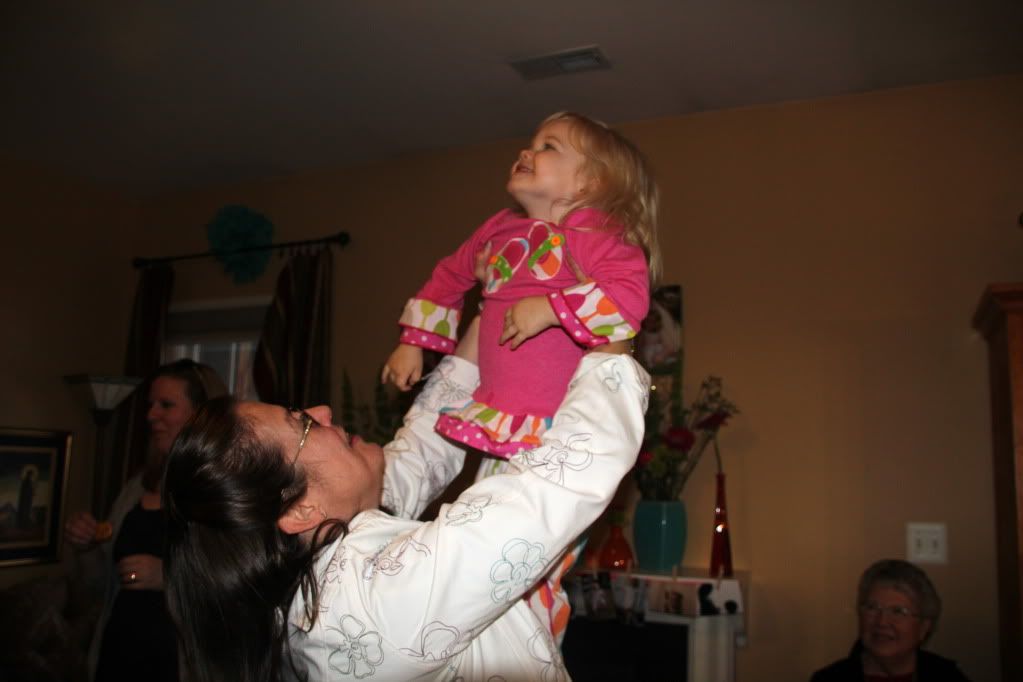 That is worth celebrating.
Where there is love, there is life. —Gandhi